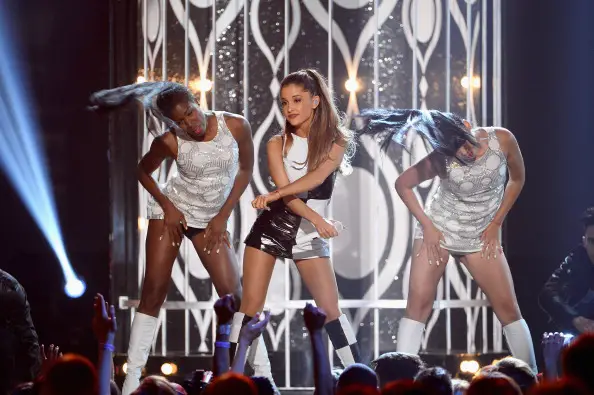 Watch the performances from Sunday night's Billboard Music Awards 2014! Shakira, Ariana Grande, OneRepublic, Miley Cyrus, Katy Perry, Imagine Dragons, Lorde, Ricky Martin, John Legend and Robin Thicke performed.
Plus, click for performances from Carrie Underwood and Miranda Lambert, a holographic Michael Jackson (NOT KIDDING!) and Jennifer Lopez.
Click for a complete list of Billboard Music Awards 2014 winners. PLUS even more VIDEOS.
Iggy Azalea & Ariana Grande – Fancy & Problem – Billboard Awards 2014
OneRepublic – Counting Stars – Billboard Awards 2014
Shakira – Empire – Billboard Awards 2014
Katy Perry – Birthday – Billboard Awards 2014
Imagine Dragons – Billboard Awards 2014
Ricky Martin – One Love, One Rhythm – Billboard Awards 2014
Lorde – Tennis Court – Billboard Awards 2014
John Legend – All of Me – Billboard Awards 2014
Miley Cyrus – Lucy In The Sky With Diamonds – Billboard Awards 2014
Robin Thicke – Get Her Back – Billboard Awards 2014