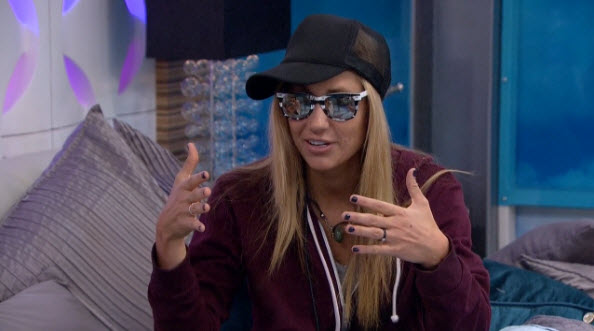 Big Brother 17 Spoilers Week 10 POV Ceremony Results
As expected, James used the Power of Veto on himself, and Vanessa nominated Julia to replace him. Vanessa, Liz, Austin, John and Steve will band together to evict Meg come Thursday.
Meg pitched a last ditch offer to Vanessa last night: Meg would throw the next HoH. She promised her vote to Van, which means James would vote for her too, because they vote as a team. If James wins HoH, he can put Meg up in place of Vanessa. He's promised to do that. Vanessa is sceptical James would follow through, and in the end, she decided to turn down the deal.
Vanessa promised Julia a $10,000 gift if she were evicted this week–an incentive for being a pawn. That is, until Van was told in Diary Room that houseguests weren't allowed to offer bribes as incentives. Oops.
Vanessa has been retelling her conversations with James with plenty of exaggerations, actually claiming that he insulted her horribly and had to calm him down. She had to calm down James, the coolest head in the house. Right.
NONE of the houseguests think the next Double Eviction is going down this week. Steve, the BB expert, has assured them the DE will come next week. The surprise is going to be fantastic.
If anything changes in the next few hours, I'll update this post. But Vanessa seems dead set on her plans. Bye Meg.
UPDATE: Vanessa and John had a chat about next moves. He thinks taking out Liz would split up Austin and Julia. Vanessa agrees. She also plants some seeds about taking out Julia. A crazy flip this week is actually not out of the question. But so far, Meg is still the target. Vanessa is also considering strategies in case this week is a Double Elimination. Damn. I was hoping they'd all be caught completely off guard on Thursday.