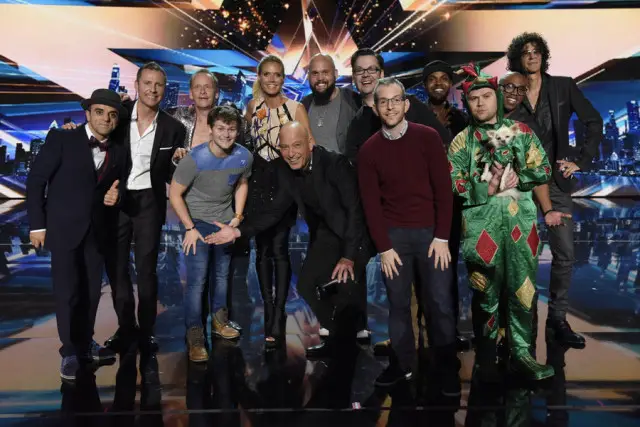 Pictured: (l-r) Uzeyer Novruzov, Paul Zerdin, The Professional Regurgitator, Drew Lynch, Heidi Klum, Howie Mandel, Benton Blount, Derek Hughes, Gary Vider, The CraigLewis Band, Piff the Magic Dragon, Howard Stern — (Photo by: Peter Kramer/NBC)
Tonight, judges Howard Stern, Mel B, Heidi Klum and Howie Mandel preside over the America's Got Talent reveal. Five of the 11 acts which performed last night will advance to the finals. We're live blogging the AGT results right here!
Plus, X Factor UK winners, Little Mix and AGT alums, AcroArmy perform!
First…A recap, including Uzeyer the ladder climber dude taking a terrible tumble. In a backstage clip, he admitted he hadn't done the trick in 15 years. Oh. We see him backstage being attended to by the medics. As they take him of to the hospital to be checked, he apologizes to his fans. Sads. Uzeyer is on stage tonight with a report. He feels a little, bruised, but otherwise, he feel great. The regurgitator guy. I can't watch this, sorry.
Time for the LIVE DUNKIN SAVE. Here are the three acts in danger of going home tonight. WOW. The pity vote came through for Uzeyer the ladder guy! Host, Nick Cannon, reminds us that there has been less than 1% difference between acts in past weeks. YOUR VOTE IS IMPORTANT, he says. Howard is surprised Gary is in the bottom. He doesn't believe Uzeyer deserves a second chance. VOTE GARY he says. Search for "Dunkin Save" on Google to vote.
Freelusion
Gary Vider
Uzeyer
Nick is backstage with the Dunkin Save contestants. Everyone is nervous! Time for the PRODUCT PLACEMENT backstage party. Whoop it up! Drink some coffee! Eat some donuts. Gary is so proud of his boob jokes. Oy.
Results!
Three Shades of Blue and Daniella Mass step forward. Mel is a little shocked to see these acts pitted against each other. They were both so good. America has voted! The first act going into next week's finals is… NEITHER! OMG. Both are really shocked. SWITCHAROO. That was kind of mean. Mel promises that both will have long-lasting careers. No way Three Shades of Blue was going through after performing first, and negative critiques from the judges.
Alondra Santos and Piff the Magic Dragon. The act going into the finals is…Piff the Magic Dragon! Aw, poor cannon fodder Alondra. Piff promises he has something really special for the finals. Howie isn't surprised "Keep it simple, stay the course, you could win this whole thing," he says.
Neil Patrick Harris drops by to pimp his new show Best Time Ever premiering next week after the final.
Next is a bit with little kids confessing who their favorite judges are. They all hate Howard Stern. "He's old," "Wrinkly" says another. Suddenly he surprises the kids in the classroom. "Why are you so grumpy" asks one kid. "There was no computer, no xbox when I was a kid. NO TOYS WE SUFFERED. I played with my underwear." The kids have no idea what his second job is. "Model?" one asks. That's correct, he says, striking a pose. He tells the kids Howie won't shake their hands because he doesn't like children. Howard trash talks the others! Who is the best? HOWARD IS! Some of the kids show off their talent. Howard teaches them how to dance. This is kind of cute! He sings "Old Man River" Better than Mel B! He leads the kids in a BABABOOEY chant. Funny.
https://www.youtube.com/watch?v=5zAAk-d-Fpc
Next, Top 3 finalists from last year, AcroArmy perform as Little Mix sing their latest hit, "Black Magic." Well, that was fun. The Little Mix album, Get Weird, drops in November.
https://www.youtube.com/watch?v=Jwxb69wBjac
The Professional Regurgitator vs Alicia Michilli – Alicia knows she's toast. The Professional Regurgitator advances. Heidi is SO HAPPY. He's her million dollar act. "If I could swallow you," said the regurgitator, "I would not bring you back up." Uhm.
Next, it's singer, Sharon Irving vs Paul Zerdin the ventriloquist. America has voted. The next act going into the finals IS…Paul Zerdin. Sharon Irving is eliminated. America got it right, says Howard. 'You're a little bit edgy, rock n roll." He believes the final will be between Paul and The Regurgitator. Hm.
It's time to find out which act won the Dunkin Save. America has VOTED! The act going through is…Uzeyer! PITY VOTES FOR THE WIN. Boy, did I call that wrong. He screwed up! He shouldn't be advancing. He can't speak, he's so overcome. The judges will pick the last finalist. After a little recap, here we go:
Heidi chooses Freelusion
Howie chooses Gary Vider
Mel B chooses Freelusion
Howard chooses Gary Vider
DEADLOCK!
Based on America's Vote: GARY VIDER GOES INTO THE FINALS!
Advancing to the Finals
Piff the Magic Dragon
The Professional Regurgitator
Paul Zerdin
Uzeyer – Dunkin Save
Gary Vider – Judges Choice
Eliminated:
Three Shades of Blue
Daniella Mass
Alicia Michilli
Sharon Irving
Freelusion
Top 10 Finalists:
Derek Hughes – Comedian/Magician
Oz Pearlman – Magician/Mentalist
Drew Lynch – Comedian
Benton Blount – Singer
The CraigLewis Band – Singers
Piff the Magic Dragon – Comedian/Magician
The Professional Regurgitator – Sideshow act
Paul Zerdin – Ventriloquist
Uzeyer – Acrobat/Danger act
Gary Vider – Comedian
In case you haven't noticed…THERE ARE NO WOMEN IN THE TOP 10. Zero. None. Nada. Zip. This has to be a first, on ANY competition performance show. Many singers were put through this season, but only 2 singing acts remain. And, except for the singing duo, The CraigLewis band, there are no groups–the other acts are all singles!
It's too bad one of the female singers didn't advance instead of, say, Uzeyer…