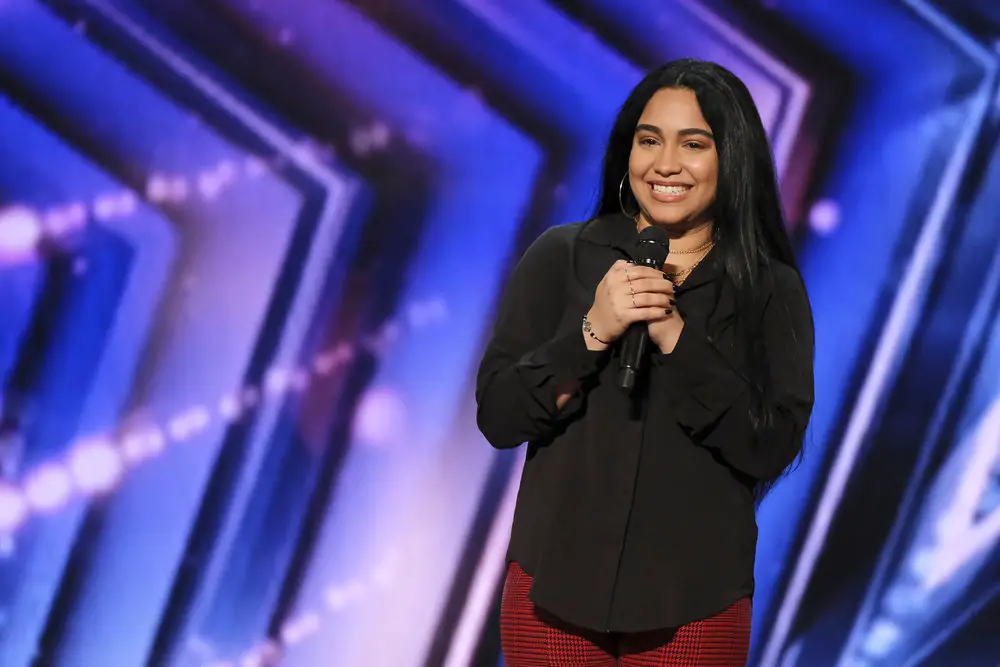 America's Got Talent closed Tuesday night (Read our recap HERE) with a talented singer Jayy, who is still able to share her talent despite enduring a person's worst nightmare. 
Before her performance, the 29 year old shared how  she moved to the U.S. from the Dominican Republic at age 15, and that her father predicted she would be on the show one day.  When Sofia Vergara asks if her parents are happy that she finally made it on the show, Jayy responds, "I'm gonna say they are. They are in heaven."
Jayy's parents were murdered during a robbery, she was a witness
Jayy then revealed the tragic story of how her parents, who owned a grocery store in Philadelphia, were murdered during a robbery, in front of her.  After the horrific incident, Jayy had to become the "big sister" for her siblings, which put a hold on her pursuing a singing career.  But now, to honor her parents who wanted her to follow her dreams, Jayy is singing again. 
Jayy's aunt was also killed during the robbery, which happened 10 years ago
News reports of the robbery reveal that Jayy (real name Jessica Nunez)  not only lost her parents but her aunt too. This September will be 10 years since the tragic event where Ibrahim Muhammed and Nalik Scott murdered Porfirio and Carmen Nunez as well as Carmen's sister Lina Sanchez at the store they owned, Lorena's Grocery, in Philadelphia. At the time, Jayy said her and her family prayed that they didn't sentence the murders to death as they didn't believe in it.
Jayy testified at trial for hours
During the trial, Jayy gave hours of testimony, detailing the gruesome crime. In less than two minutes, Jessica and her sister who were working cash registers had lost their parents and aunt. The case was  challenging,  but Muhammed finally confessed and a huge break in the case came when video footage was found of two other break-ins Muhammed and Scott had done. Both were convicted with life sentences without parole.
This is truly a tragic story and to see Jessica perform after all she went through is inspiring as she honors her parents and aunt. 
The singer delivered a moving performance
Jayy dove into an emotional rendition of Freya Ridings' "Lost Without You." Not pitch perfect, the performance was moving nevertheless, as she beautifully conveyed her pain and emotion. There is real life experience, sadly, that lends authenticity to the performance. I am not sure how Jayy will stack up to other vocalists on this season ,as there are several talented singers in the mix. She is not the best talent-wise, but she's still very good and will probably go far.
Sofia said that her parents are "clapping for you up there." Howie Mandel said that he believes that  "my legacy is my children" and that "her parents are here" and that he hears them through her voice. Heidi Klum said that she feels "every word" that she is singing. "It's your time," she says. Simon Cowell calls it "incredible," adding that to be able to sing a song with that lyric is "extraordinary." Contestants like Jayy is the reason he created the show. Jayy received 4 yeses and is moving on to the next round, Judges Cuts.
Jayy also appeared on La Reina Cancion as Jessica Nunez in 2019. Check out her audition HERE.
Watch Jayy share her tragic story and perform "Lost Without You"