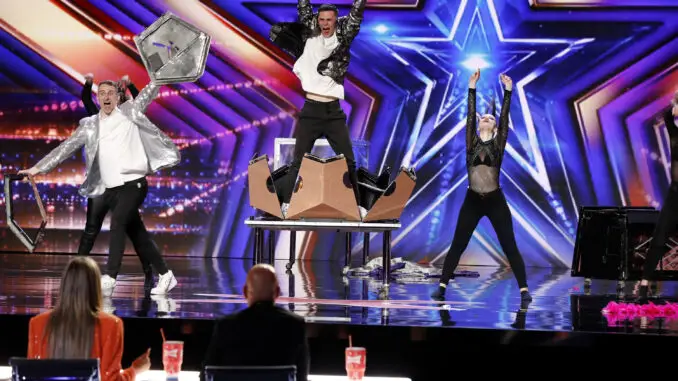 Talk about buttering up the judges. Illusionist Jannick Holste performed a unique act, set to air on Tuesday's America's Got Talent, that combined magic and dance. And all of it was performed against a backdrop of  "Chai Tea with Heidi" by Wedding Cake.
Jannick, who was a semifinalist in Das Supertalent 2021 (Germany's Got Talent show), introduces himself as a dancer who studies math. He claims to be a huge Heidi Klum fan, but the flattery doesn't stop with fellow German Heidi. Jannick gushes to Simon Cowell that he flew to the US to compete on America's Got Talent because "it's the biggest show in the world."
America's Got Talent 2022 Auditions 4 Spoilers – Meet the Acts (Photos)
However, when he kicks off his act, it becomes clear that it goes much farther than just a dance routine. He pulls out his props, a metal box and another contraption. "Is it magic or dance?" Howie Mandel asks. Well, it's both!
Is it dance? Is it magic? It's both!
As he dances to Heidi's song, Jannick fans himself while holding hands with a female dancer. From there, he proceeds to add to his entourage with a series of illusions that includes boxes, curtains and more. As each dancer "appears" the routine becomes wilder, until Jannick falls into a dramatic split. For the last illusion, one of the dancers disappears, only to reveal a male dancer who looks suspiciously like Jannick. His twin?
"My God Jannick, we weren't expecting that," Simon exclaims. "You are the ultimate in a suprise," says Howie. "I can't remember another magician that presented magic with dance!" Sofia Vergara loved the magic. "It was very unexpected," she says.
Naturally, Simon had to throw in a few shots about the song. "The vocal on that song was like someone had trodden on a cat," he joked, adding, "Your act was fantastically good and fantastically bad at the same time."
In the preview, the judges all give Jannick a yes, and he's on to the next round.
America's Got Talent airs Tuesday on NBC at 8 pm ET/PT.