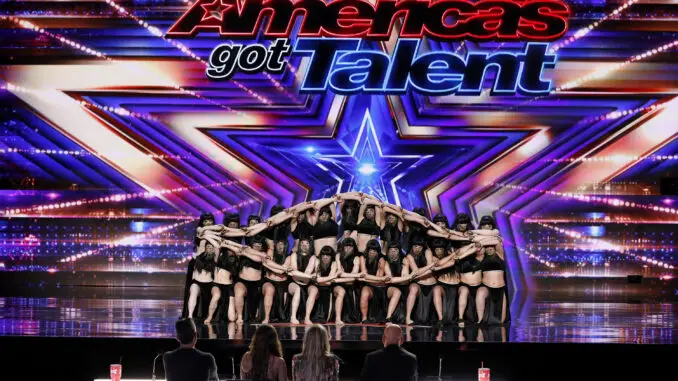 America's Got Talent season 17 continues on Tuesday (June 21) with more acts including singers, dancers, comics and more. Howie Mandel, Sofia Vergara, Heidi Klum and Simon Cowell sit on the judges panel, while Terry Crews returns to host.
Featured this week: Two sings, one who makes coffee on Tik Tok while belting tune, the other a student at Berklee College of music. Also, World of Dance's Cubcakes are growing up, a talent show winning impressionist and more.
Check out the list of acts auditioning on the fourth night of auditions, plus a photo gallery at the bottom of the page. And for a look at many of the acts viewers will meet this season, check out our America's Got Talent preview. 
America's Got Talent 2022 Auditions 4 Contestant List
Additional reporting by Blake Busch
Chris James – Comedian – British-African comedian, but currently based in the US, had a successful career as a model prior to his transition into comedy. He has done some acting and voiceover work as well. He starred as Barack Obama in the dark comedy Obamaland. He has performed at numerous colleges and comedy outings. Watch his viral video from a Laugh Factory performance in a routine titled "Black British Accent." WATCH. Website Instagram
Cline Twins – Hockey Stick Tricks – Based in Ontario, Canada, the 16 year old identical twins (Connor and Carson) perform tricks with hockey sticks and pucks. They made an appearance on the Ellen Show in February of 2019, as part of a group of people doing cool tricks (over 11 million views. WATCH) They have over 60K followers on Tik Tok. Instagram
Connor King – Comedian – Connor started performing stand-up comedy at the age of 18 in Los Angeles. He is now based in Chicago and is a feature act for Zanies Comedy Club. His biggest platform is Tik Tok where he has 125.3K followers. Warning: most of his content is explicit. Instagram Tik Tok Bio
Cubcakes – Dance Crew – This Hip Hop teen dance crew is from Orange County, California created by choreographer, Thalia Ramos, who has worked as an assistant to a few professional choreographers. They made the Duels in World of Dance Season 2. The dancers were 9-12 while on WOD, so they should be 13-16 now. This crew also danced beside ANITTA at Latin AMAs and appeared on The CW's The Big Stage. WOD performance Website Instagram
Ethan Jan – Rubik's Cube pro – Ethan is from Redlands, California, and is a senior in high school. He has a large following on Tik Tok (409.4K) and holds the Guinness world record for the fastest time of solving a Rubik's cube upside down, at 8.91 seconds (WATCH). He was also featured on FOX's Game of Talents season 1 (WATCH). He also is an accomplished piano player. Instagram Tik Tok
Jannick Holste – Illusionist – Jannick is a stage magician and illusionist and was a semifinalist in Das Supertalent 2021 (Germany's Got Talent show WATCH). His work is very visual, making things disappear and appear. Instagram
Justin Rupple – Impressions – Justin is a comedian, actor, and impression/voice actor from Los Angeles. His impressions involve storylines where he places someone famous in a spot or scenario and acts it out. He appeared on the impression game show First Impressions in 2016 and won his episode (Watch). Additionally, he appeared in a Liam Neeson foreign film titled Operation Chromite. Notably, after the TJ Miller impression on First Impressions" he replaced Miller as the voiceover actor for Tuffnut Thorston in How To Train Your Dragon: The Hidden World. He has 288.7K followers on Tik Tok. Website Instagram
Kieran Rhodes – Singer – Kieran attends the prestigious Berklee College of Music in Boston where he studies songwriting and piano. He's got an easygoing and timeless style that infuses folk, pop, and alternative music. He co-wrote a song for Food Network's Restaurant Impossible. Performance for Berklee Two Track (Watch) Website Instagram
Kristen Cruz – Singer – Kristen is a 20-year-old vocalist from Irving, Texas who has been singing since a young age. With several viral covers, Kristen is known for her raspy vocals, and her covers of pop, soul, and worship songs while usually making herself an iced coffee. Her Tik Tok has 2 million followers. Her most viewed and liked cover of "Nothing Breaks Like A Heart" by Miley Cyrus has 28.9 Million Views with 6.3 Million Likes (Watch). Instagram Tik Tok
Kristy Sellars – Pole Dancer – Kristy won Australia's Got Talent Season 9 in 2019. Her act features graceful pole dancing alongside multimedia storytelling. Watch Kristy's Grand Finale performance HERE. NBC recently previewed Kristy's audition. Watch it HERE. Instagram Tik Tok
Lace Larrabee – Comedian – An Atlanta based comedian who tours nationally, Lace created Laugh Lab Comedy in 2017 which is a stand-up class for women only. She also co-hosts a podcast titled "Cheaties Podcast" and has been featured in numerous programs including The Weather Channel's "Weather Gone Viral", Facebook Watch's Queen America, and Viceland's Flophouse, in addition to a few FOX programs. Laugh Lab website Instagram
Manny D'Mago – Magician – Based in Los Angeles, Manny bills himself as a magic and psychic entertainer. Instagram
Mayyas – Dance group – This Lebanese dance crew won Arab's Got Talent in 2019. Check out their Arab's Got Talent Golden Buzzer performance HERE. They are the first Lebanese/Arab dance crew to appear on AGT. Instagram Tik Tok
Testa – Danger Act – He appeared on Romania's Got Talent where he performed numerous dangerous stunts like sticking things up his nose like a drill, walking on fire, and walking on knives. Vimeo Instagram
The Glamour Aussies – Dog Dancing Act – Christine Elisabeth Berczes from Holloko, Hungary runs a dog dancing school called Glamour Aussies. She teaches the dogs to dance and has won several dog dancing championships with her animals. Website Youtube Instagram Tik Tok
 Photo credit: (Chris Haston/NBC) Click for Gallery