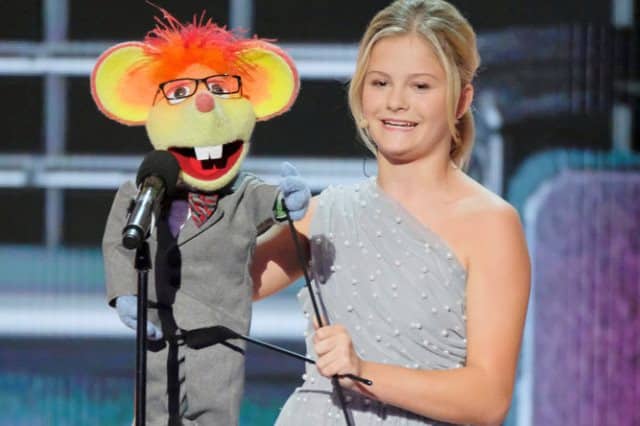 America's Got Talent: The Champions brings together the world's most talented, memorable and all-around fan favorite acts from past seasons of "AGT" and around the globe from the other "Got Talent" franchises," spanning 194 territories.  Last week, the first 10 of the 50 acts hit the stage. Two acts–Susan Boyle and Preacher Lawson–moved on to the Finals. 
America's Got Talent: The Champions: See the Full List of 50 Contestants
Ten more acts perform on Episode 2 airing Monday January 14. At the end of the night, two of the acts will move on the the Finals. There are no live shows or live votes. One act from each episode will move on via a "Golden Buzzer" – the four judges and host each have one to use – and the other will be chosen by a panel of superfans, representing viewers from all 50 states
Reality Blurred explains how the 50 "superfans" were chosen. They watch the show "offstage" apparently. 
A spokesperson for Fremantle Media, which produces America's Got Talent, told me that the panel of 50 people were not in the studio audience.

Instead, the panel "watched the show live off camera," the spokesperson said, and "once all acts have performed, the Superfans cast their votes via keypads, and the Superfans' winner is announced at the end of the show."
The NBC series features the judges panel from America's Got Talent — executive producer Simon Cowell, Mel B, Heidi Klum and Howie Mandel – as well as new host Terry Crews, star of NBC's Brooklyn Nine-Nine.
Monday's big act is 2017 winner, teen ventriloquist, Darci Lynne Farmer.  Only 12 years old when she won the show. the Oklahoma native has been featured on NBC's Little Big Shots, Food Network's Kids Baking Championship, Ellen and Today. Her first Christmas special, Darci Lynne: My Hometown Christmas, aired on NBC in December. Watch her performance here:
https://youtu.be/R8j_W3ivWFA
The remaining nine contestants performing next week are:
Ashleigh and Sully – Dog Act – Britain's Got Talent 2012 – Winner – Ashleigh Butler won "Britain's Got Talent" in 2012 with her dancing dog, Pudsey. After winning "BGT," Ashleigh and Pudsey performed and met the Queen. Following "BGT," they had their own kids TV show, traveled the world and Pudsey had his own book and film. Pudsey passed away last year, but Ashleigh will be performing in "Champions" with her canine Sully.
DDF Crew – Jump Ropers – Holland's Got Talent 2012 – Winner/Belgium's Got Talent 2016 – Finalist – The DDF Crew is a double dutch (or jump rope) crew from Belgium that participated in "Holland's Got Talent" in 2012. The group won the Golden Ticket at the auditions and went on to win the entire show. From that moment, DDF Crew has had the opportunity to perform all over the world, meeting amazing people and artists along the way.
Deadly Games – Danger Knife Throwers – America's Got Talent 2016 – Finalist – Deadly Games, also known as Alfredo & Anna Silva, was a knife-thrower duo act from Season 11 of "America's Got Talent" that made it to the semifinals. Noteworthy TV appearances have included "The Late Late Show with James Corden" on CBS, "France's Got Talent" (semifinalists), "Don Francisco Te Invita" on Telemundo and "Le Plus Grand Cabaret du Monde," one of the most prestigious of all TV shows in Europe.
Courtney Hadwin – Singer – America's Got Talent 2018 – Finalist – Courtney Hadwin is a 14-year-old girl from England who was the lucky recipient of Howie Mandel's Golden Buzzer in Season 13 of "America's Got Talent." Since appearing on the show, she has been signed to SYCO/RCA record label and has been working on original songs.
Viktor Kee – Juggler – America's Got Talent 2016 – Finalist – Performing on stage since he was 6 years old, the Ukrainian-born juggler is a graduate of the professional Circus School in Kiev. Kee has developed a unique mesmerizing style of juggling that melds dance, acrobatics and juggling into a wondrous ballet of sensuality. He has won a silver medal and Raspini Award at the Cirque de Demain festival in Paris, and has performed at venues such as Moulin Rouge and the MGM Grand with Barbara Streisand in Las Vegas.
Light Balance – LED Dance Group – America's Got Talent 2017 – Finalist – Light Balance is high-tech neon and LED dance troupe from Ukraine. They finished in third place in season 12 of "AGT." For their first audition they received the Golden Buzzer from Tyra Banks. Light Balance is currently working on a full-time show and national tour.
Piff the Magic Dragon – Comedian/Magician – America's Got Talent 2015 – Finalist – After earning national acclaim as the standout star of NBC's "America's Got Talent" and "Penn & Teller: Fool Us," Piff the Magic Dragon performs nightly to sold-out rooms at his residency at the world-famous Flamingo Hotel & Casino in Las Vegas in the newly renamed Piff the Magic Dragon Theatre.
Cristina Ramos – Opera Rock Singer – Spain's Got Talent 2016 – Winner – Cristina Ramos Pérez is a singer from Las Palmas, Spain known for her performance style and one-of-a-kind musical arrangements, simultaneously comprising various genres such as opera, rock, funk, disco, and Boleros. In 2017, she debuted her one-woman show, "Rock Talent," and released her first single, "Loca," followed by a second hit single, "We Cannot Know."
Taylor Williamson – Stand-up Comic – America's Got Talent 2012 – Runner-Up – Taylor was the runner-up on Season 8 of "America's Got Talent." Since performing on the show, he has released a comedy album, "Laughter? I Hardly Know Her!" which reached No. 1 on the iTunes comedy charts. He also released his first comedy special, "Please Like Me," which is available on Amazon Prime. When he's not traveling around the world making sold-out crowds of strangers laugh/uncomfortable, Taylor is busy hosting "Taylor's Talk Show" every month live in Los Angeles.
PHOTO GALLERY