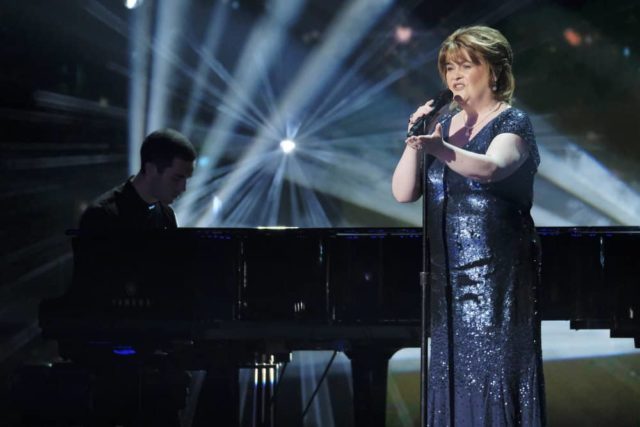 America's Got Talent: The Champions premiers tonight with the first 10 acts of 50 competing for YOUR votes.
America's Got Talent: Champions Preview – Susan Boyle, Bianca Ryan and More
AGT: The Champions See the List of all 50 Competitors
The NBC series will feature the judges panel from America's Got Talent— executive producer Simon Cowell, Mel B, Heidi Klum and Howie Mandel – as well as new host Terry Crews, star of NBC's Brooklyn Nine-Nine.
At the end of the night, two of the acts will move on to the Finals. Ten acts will perform in each of the first five episodes. One act from each episode will move on via a "Golden Buzzer" and the other will be chosen by a panel of "superfans," representing viewers from all 50 states.
There are no live shows or live votes. Therefore the Results are IN. BUT DO NOT SPOIL THEM IN COMMENTS. Or you WILL BE BANNED. Thank you.
It's a 7 week season, Terry Crews reminds us…as Queen's "We Are The Champions" plays. Simon compares the competition to the Olympics. 
OK. The audience is filled with "superfans" from all 50 states. They'll collectively choose one of the acts that will go through to the next round. The other act going through TONIGHT will be chosen by Mel B's Golden Buzzer. 
Bianca Ryan – Singer – America's Got Talent 2006 – Winner – She was only 11 years old when she auditioned with "And I Am Telling You" back in 2006. The video was one of the first to hit 1 Mil views on Youtube. We previewed this audition HERE. Bianca shares how, after she won the show, her voice began failing. After surgery to correct a paralyzed cord and a lengthy period of rehab, her fan base slowly began to erode. Now, she's working hard for a comeback. She performs "Say Something" by a Great Big World. Twelve years later, her voice is still really big. It's sad she had to experience that kind of defeat at such a young age. Reason #2382845 I'm against young kids being made to run the singing show gauntlet.  Simon gives her a big thumbs up. He gives her credit for helping the show take off.  Howie says, "You truly are a champion." Mel calls it "Amazing." Heidi dittos. Simon calls her charming and her performance a great start to the show. FYI: The panel on season 1 was completely different. 
https://www.youtube.com/watch?v=clQOqLiqlcs
The Clairvoyants – Mentalists – America's Got Talent 2016 – Runner-Ups – Amélie van Tass and Thommy Ten are The Clairvoyants. I LOVED these guys when they competed in 2016. I wanted them to win, to be honest. They know how to weave some nifty tricky by way of an entertaining story. Mesmerizing act. This time, they want to do something even bigger and better! All the judges get into the act. The mentalists will divine their love lives. And as usual Amélie guesses a bunch of stuff that seems impossible to know. She even predicts everything via a clever film shot BEFORE the show was taped. Or so they say. Simon's mind is blown "You set the standard," he says. Simon asks Mel B WHY she didn't pick them as the Golden Buzzer. Because she's got to wait until later in the show, dang it. #fakeoutrage. 
Sara & Hero – Dog Act – America's Got Talent 2017 – Finalist –  Simon is a sucker for a cute dog. He pushed this mediocre act hard. Sara was living and traveling in her car back in 2017. But now she and Hero lives in a house. Howie and Mel both said no to her initial audition (they were correct.) Simon begged and Howie changed his vote to yes. They kinda whiffed their last performance. Now they are back for redemption. Hm. The bank robber story is cute. The tricks are still pretty unremarkable, however. SWEET DOG THO. Mel's heart is warm. "Your dog is just adorable," she gushes. Simon says she deserves a place in the final. 
https://www.youtube.com/watch?v=1uM-Uo6_QZk
Uzeyer Novruzov – Ladder Balancer – America's Got Talent 2015 – Finalist – He does a ladder act, which failed spectacularly during his initial audition. He moved on to other things. But now he's back to redeem himself. With his ladder! He starts off with a fairly short ladder, warming up with some fun tricks. Then he pulls out the tall ladder. The scene of his accident!  Plus he's on top of a box! He stands at the very top, before sliding back down. Although, didn't he bring the ladder back toward the end of his run in 2015? Heidi calls him a mixture of Charlie Chaplin and Evil Knievel. Simon says he has "balls." 
https://www.youtube.com/watch?v=MLRGjIWtvRM
Vicki Barbolak – Stand-Up Comic – America's Got Talent 2018 – Finalist – She's the 60 year old "trailer park" comic from last season. She says making the finals made her feel un-invisible. She's very excited to be back on AGT. But not excited to be competing against fellow comic Preacher Lawson. Welp. She bought a new trailer. A new fancy trailer. A trailer on the hill. Oh boy. OK the jokes about Beverly Hills women and their "rescue" dogs are pretty funny. Heidi wants her on the stage longer. Howie thinks she has a shot because she relates to average Americans. Simon thinks she could have won with that routine. Preacher comments throughout her act. The show is setting up a rivalry here. Doesn't matter. Neither will go through tonight. 
Alex Magala  – Sword Swallower/Pole Aerialist – Russia's Got Talent 2014 – Winner – Alex Magala won "Russia's Got Talent" in 2014 for his world famous sword-swallowing act. Magala has also appeared on many "Got Talents" around the world, including "Britain's Got Talent" (finalist), "Italia's Got Talent" (semi-finalist), and "America's Got Talent" (quarter-finalist). He admits that he's "never" done tonight's act before. Have fun watching! I don't do sword swallowers. I can't deal. I'll be back with comments.  Oh. The act was so scary, it was interrupted by a commercial break. Heidi calls it "difficult to watch." No kidding. But otherwise, Alex was "looking good on top of it!" Gotta get those priorities straight! Mel B calls him "bloody crazy." Simon loved that he was "millimeters away from killing himself."
https://www.youtube.com/watch?v=yf8mUaeGILo
Justice Crew – Dance/Singing Group – Australia's Got Talent 2010 – Winner – Apparently, they did very well in Australia after winning the show–hit records, videos, etcetera. But now, they want to conquer America. Ehhh….This is just OK. The song is lame. The dancing is boyband deluxe. Seen better on the various dance shows. Howie warns them about the stiff competition. Mel liked the song, but she was expecting more from the dance. Simon calls them gutsy for coming back to compete again. Simon will be delivering no negative critiques, obviously. They were easily the weakest of the night so far. 
https://www.youtube.com/watch?v=hhDHgXQHkko
Susan Boyle – Singer – Britain's Got Talent 2009 – Runner-Up –  Hoo Boy. Calling it now. Will bet my house on it. Mel B's Golden Buzzer. Amiright? Back on BGT, she came in second to a dance group that nobody remembers (ETA: Apparently they are popular in the UK. but didn't have Susan's worldwide appeal). Susan says BGT changed her life. She lived with her cat petals! After, she sold a ton of records. She doesn't mention it, but her career has been quiet the past couple of years. She was diagnosed on the autistic spectrum, which explains why she had a hard time with fame and the rigors of touring. Simon is thrilled to have her back. She sings "Wild Horses" which is a track from one of her albums. The thing about Susan? She's an ordinary singer. But her backstory–plain jane discovered late in life and turned into a beautiful swan–was irresistible.  She gets a big standing ovation. "I can't think of any other contestant that defined this show better than you," says Simon. Howie says, "You are what this show is." And then Mel B…….there she goes. "I want to be the woman who gives you the thing that you deserve." GOLDEN BUZZER. Anti-climatic confetti, ya'll. 
https://www.youtube.com/watch?v=wGhXkzb0cHM
Sofie Dossi – Contortionist/Hand Balancing – America's Got Talent 2016 – Finalist – She was Reba McEntire's Golden Buzzer. She's very talented. Especially with a bow and arrow. No bow tonight, however. She moves from a balancer to a ring. Her act is very precise, artful. Terry calls it one of the "most athletic things I've ever seen in my life." Mel missed the bow and arrow at first. But by the end, she found it thrilling. Heidi admires her poise and hard work. "That was incredible," says Simon. "By far the best performance we've seen from you." 
https://www.youtube.com/watch?v=3ui610z7vWo
Preacher Lawson – Comedian – America's Got Talent 2017 – Finalist – Preacher gets the pimp spot. Hm. He came in 2nd place to the 12 year old ventriloquist, Darci Lynne. (Correction: He was merely a finalist). AGT has really helped his career. In turn, he's been able to help his family. Mel B thinks he has a son. No, he corrects her. He does not. Oops. He starts off with some Vegan jokes. Not making fun of Vegans. He's a Vegan. Then jokes about his ex-white girlfriend. Ehhhh. Still not overly impressed. Mel B says he was her second choice for Golden Buzzer. Heidi thinks he was "on fire." Howie calls him a "superstar" and a "champion." Simon believes that he's getting better and better. 
OK. Time for the "superfans" from "all 50 states" to vote. Results after the BREAK. 
The remaining 9 acts are on stage. The votes are locked! Terry announces the Top 3: Bianca Ryan, Preacher Lawson and Sofie Dossi. The rest are eliminated. Gah. Milking it!
Act in 3rd place is…Sofie Dossi. Bianca Ryan and Preacher Lawson are Top 2. According to the final tally, Bianca's biggest numbers were from the West, while over half of Preacher's votes were from women 18-34.
And the winner is Preacher Lawson! OK I predicted he'd be eliminated. But that pimp spot helped, for sure.  I would have preferred Sofie Dossi or The Clairvoyants over Preacher. Out of the Top 3, he deserved it the least to be honest.  But he got the pimp spot, while the Clairvoyants got the death spot. So, there it is. 
Advancing to the Finals:
Susan Boyle – Mel's Golden Buzzer
Preacher Lawson – Superfans from 50 states