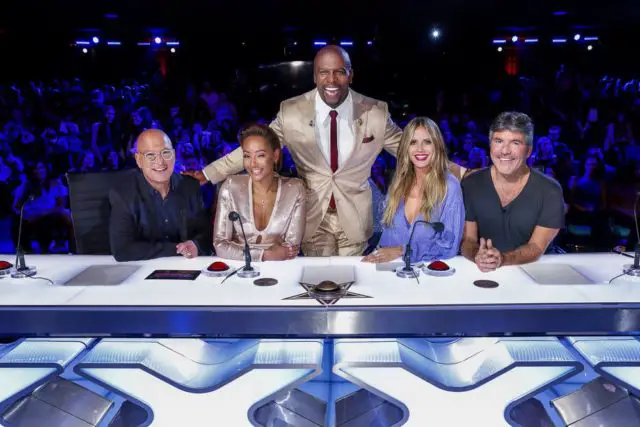 America's Got Talent: The Champions will bring together the world's most talented, memorable and all-around fan favorite acts from past seasons of "AGT" and around the globe from the other "Got Talent" franchises," spanning 194 territories. The acts take the stage beginning on Monday January 7. AGT:The Champions will keep Mondays at 8 pm warm until The Voice season 16 premieres on February 25.
America's Got Talent: The Champions: See the Full List of 50 Contestants
Here are the acts featured in the premiere. The list features many old favorites like Bianca Ryan, the winner of AGT season 1 (all grown up now!), talented mentalists, The Clairvoyants, and contortionist Sofie Dossi.
The winner of Russia's Got Talent in 2014 was a sword swallower, Alex Magala has also appeared on BGT, AGT and Italia's Got Talent (some of these acts really make the rounds, don't they?).  Those into sword swallowing are in luck! Here's a preview (I got through about 3 seconds of the act. Just. Gross.)
https://youtu.be/yf8mUaeGILo
But the night's big moment will be, of course, the return of AGT judge/creator Simon Cowell's favorite, Susan Boyle. She's making a comeback of sorts after laying low for a few years.
The NBC series will feature the judges panel from America's Got Talent — executive producer Simon Cowell, Mel B, Heidi Klum and Howie Mandel – as well as new host Terry Crews, star of NBC's Brooklyn Nine-Nine.
At the end of the night, two of the acts will move on the the Finals:  According to USA Today ten acts will perform in each of the first five episodes, and each week two advance to the next round. There are no live shows or live votes. One act from each episode will move on via a "Golden Buzzer" – the four judges and host each have one to use – and the other will be chosen by a panel of superfans, representing viewers from all 50 states.
Check out the list of acts featured on the premiere plus a photo gallery.
Alex Magala  – Sword Swallower/Pole Aerialist – Russia's Got Talent 2014 – Winner – Alex Magala won "Russia's Got Talent" in 2014 for his world famous sword-swallowing act. Magala has also appeared on many "Got Talents" around the world, including "Britain's Got Talent" (finalist), "Italia's Got Talent" (semi-finalist), and "America's Got Talent" (quarter-finalist). Magala is a member of Sword Swallowing Association International and has been a featured TEDx speaker.
Bianca Ryan – Singer – America's Got Talent 2006 – Winner – At the age of 11, Bianca Ryan made history and won the hearts of over 20 million Americans when she became the very first winner of "America's Got Talent." A native of Philadelphia, this now 23-year-old singing prodigy has worked with some of the most gifted song writers, producers and recording engineers in the music industry, including Quincy Jones and David Foster.
The Clairvoyants – Mentalists – America's Got Talent 2016 – Finalist – Amélie van Tass and Thommy Ten are The Clairvoyants. After winning second place on "America's Got Talent" in 2016, they went on to headline with "The Illusionists – Turn of the Century", which was the best-selling magic show in Broadway history. They were also recognized in 2017 as stage magicians of the year by the Academy of Magical Arts and the Magic Castle.
Justice Crew – Dance/Singing Group – Australia's Got Talent 2010 – Winner – Justice Crew is an Australian singing-dancing crew made up of John Pearce, Len Pearce, Lukas Bellesini, Samson Smith, Paulie Merciadez and Solo Tohi. In 2010, Justice Crew were the winners of "Australia's Got Talent" and launched an extraordinary recording career becoming ARIA (Australian Recording Industry Association) multi platinum selling artists.
Preacher Lawson – Comedian – America's Got Talent 2017 – Finalist – Preacher Lawson was born in Portland, Ore., but raised in Memphis. He is known for being a finalist on the 12th season of "America's Got Talent." He also won the 2015 Funniest Comedian in Florida and the 2016 Seattle International Comedy Competition. In addition to being on "AGT" Lawson has also appeared on "Last Call with Carson Daly" and Comedy Dynamics' "Coming to the Stage."
Sofie Dossi – Contortionist/Hand Balancing – America's Got Talent 2016 – Finalist – Sofie Dossi is a contortionist who is globally renowned for being a finalist and Golden Buzzer recipient on Season 11 of "America's Got Talent." Following her time on the show, Sofie launched her YouTube channel where she has amassed over 3 million subscribers. Sports Illustrated endowed Sofie with the title of "Halftime Performer of the Year" in 2017.
Sara & Hero – Dog Act – America's Got Talent 2017 – Finalist – After struggling with depression as a teen, Carson welcomed Hero into her world and the collie quickly turned her life around for the better. Since placing fifth on Season 12 of "America's Got Talent," Carson created the dog training app "Puppr."
Susan Boyle – Singer – Britain's Got Talent 2009 – Runner-Up – In 2009, Susan Boyle stepped onto the "Britain's Got Talent" stage and won second place in the competition. Susan has gone on to make eight studio albums, as well as earning two Grammy Award nominations, three Guinness World Records, #1 albums in 40 plus countries, and 128 platinum and gold album certifications.
Uzeyer Novruzov – Ladder Balancer – America's Got Talent 2010 – Finalist – Uzeyer Novruzov, 42, hails from Azerbaijan and was a top 10 finalist in America's Got Talent in 2015. In 2016, he did the Guinness World Record in Beijing China where he climbed a 20-foot ladder and stood on top of it for up to 8 minutes.
Vicki Barbolak – Stand-Up Comic – America's Got Talent 2018 – Finalist – Vicki Barbolak was a finalist on Season 13 of "America's Got Talent." Since being on "AGT," Barbolak has embarked on an international tour and launched her own podcast called "Trailer Nasty with Vicki Barbolak." Her prior accolades include being named a member of Jay Leno's NBC Laugh Squad, Nick @ Nite's Funniest Mom in America, and has been featured by E! as the Next Breakout Star to come from The Comedy Store.
PHOTO GALLERY