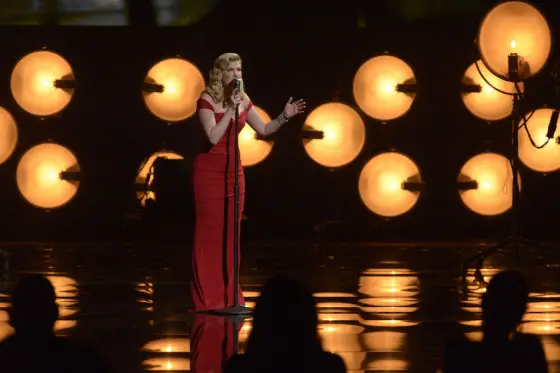 Did anyone else find last night really underwhelming? Anyway, tonight's results are going to be super hard to call with not many clear front runner worthy performances, but some still shone and others did crumble. Lets take a look.
I'd Eat My Computer if They Dont Advance:
1- Emily West– Her pimp spot worthy performance was pretty incredible and with a standing ovation from the judges, I don't see how she doesn't end up advancing. I keep getting more and more impressed with her because she has yet to take a step back; every performance keeps getting better and better.
Likely Going To Advance:
1- Sons of Serendip – These guys are definitely consistent and just keep getting better and better! They had a great performance tonight and I'm pretty sure will be sailing through.
2- Miguel Dakota – Looks like we are going to have another singer win the whole thing this season. Miguel is our token WGWG and I'm glad he switched it up by dropping the guitar. He delivered a solid vocal tonight and many people are still buzzing over him. He is very likely going through.
3- Mike Super – Mike really proved me wrong tonight. His performance was compelling and fun to watch. There is a lot of buzz going around him and he deserves it. He has earned himself a spot in the next round.
Heading Home on the Bus of Shame:
1- Bad Boys of Ballet– I thought they definitely stepped it up compared to last performance, but it just wasn't enough. They were better, but still not great. They also got quite the bussing from the judges and the girl dancer talking back hurt their already slim chances. We are 100% saying goodbye to them tonight.
2- Paul Ieti– I don't want to rant about how ROBBED ANNA CLENDENING WAS, so I'll just say on a night full of singers, he was definitely the weakest one who performed. The judges gave him the bussing he deserved and I'm sure we will be saying goodbye to him tonight.
3- Flight Crew Jump Rope– Ok, here is where things start getting hard; some people have to go home after all. I loved their performance last night, but the judges came down on them really hard for a few mistakes. With a night so up in the air, I think they are going to unfairly fall through the cracks and go home.
Could Go Either Way:
1- Aerial Animation: Oh no Abigail! The judges totally threw her under the bus and with a night so up in the air like today, I'm really worried she could fall through the cracks. Either way, she performed next last and still has a lot of supporters backing her. I still think she delivered, and in the end, I hope she manages to make her way to the next round.
2- Mara Justine– I came down hard on this girl in my recap and I somewhat stand by what I said. I still think the song was pitched way to low and only came alive towards the end, but in those end bits, she really killed it. The judges really praised her, but performing so early in the show when the night was filled with singers put her chances up in the air for me. My gut says though she will end up advancing somehow.
3- Dan Naturman– Tonight wasn't Dan's best night, but being being 1 of only 2 comedians, I still really want him to advance. He has a lot more potential then he showed tonight and I think it was cause of nerves, but I hope he makes his way still to the next round.
4- Andrey Moraru– No way near my favorite act of the night, but if he makes it through, I wont be mad. I just find what he does repetitive and a little boring, it just isn't something I'd pay to go see a show fully dedicated to. Regardless, the judges love him and all stood for him so he still has an excellent shot at advancing.
5- David and Leeman– I'm not sure with these guys to be honest, they are the ones I am most torn about. These guys haven't had a disaster of a performance yet, but it is still time for them to go, the other talent is just beyond them. I really worry though that being a favorite of the judges, they have spoiler potential of kicking someone more deserving out of the top 6, but we will have to see. I kinda hope they don't advance, but I have this bad feeling they will.
Who Should Advance:
1- Emily West
2- Aerial Animation
3- Sons of Serendip
4- Miguel Dakota
5- Mike Super
6- Save between Mara Justine and Dan Naturman
Who Will Advance
1- Emily West
2- Miguel Dakota
3- Sons of Serendip
4- Mike Super
5- Mara Justine
6- Save between Aerial Animation and Dan Naturman
Potential spoilers of the results: David and Leeman- I'm afraid these guys will manage to eek their way through. If they do, Abigail, Mara or Dan are likely going home.
So those are my thoughts, what are yours? Sound off in the comments below and as always you can follow me on Twitter @adamhsamuel