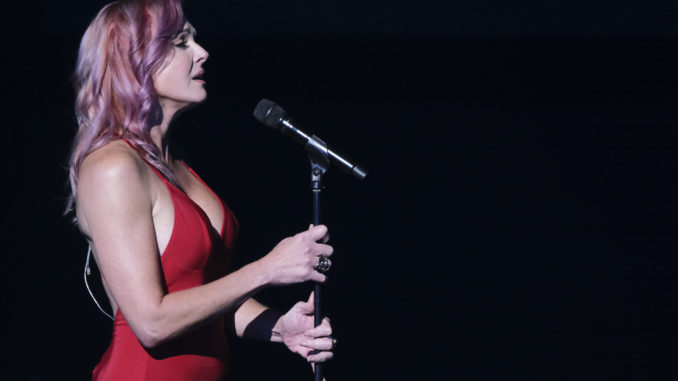 Wildcard Storm Large Takes On The America's Got Talent Stage
Storm Large won the America's Got Talent Wildcard competition for a spot in this week's Quarterfinals, beating out comedian, Mike Goodwin; young classic rock singer, Dylan Zangwill; crooner who paid tribute to his wife, Matt Mauser; and magician, Patrick Kun. Her wildcard performance was incredible and I was hoping we'd see her back on the stage. (Read our recap HERE)
Prior to her performance, Storm shared in her video package about how she was near getting major record deals and becoming something big as a musician, but she never quite got there. Now at 52, she feels like this is her last shot. Storm talks about how she's taking a big risk of spinning 80s hit "Take On Me" by A-ha.
Something to note is that this version is similar to a version I've heard before, as there are several acoustic versions, including one that A-ha created themselves. Nevertheless, Storm still drew me in, putting her own flair on the song with her unique phrasing. I've always criticized her arrangements for being a bit too drawn out. I feel the same way about Take on Me," but I still could appreciate Storm's voice. For instance, some of those low notes she hits and the way she sustains notes with her amazing vibrato is just incredible.
I disagree with the judges about it being too mellow, but I understand where they are coming from, as she's a powerhouse singer and it might not be a bad idea to start slow and then speed up midway. Her tone would sound great if she let loose and rocked out a bit like she did on the singing show Rockstar:Supernova,  at which point Storm wasn't even as good of a vocalist as she is now.
The judges criticize the performance
Judge Heidi Klum said that Storm looked "incredible" and compared her to the animated movie character, Jessica Rabbit. Calling the performance amazing, Heidi declared that Storm is a "force of nature." Sofia Vergara called her the "perfect package" but said that the performance was "not better than the first audition song." Simon Cowell agreed, saying that he really likes her and that she's "gutsy" but the "rawness" from her first audition was missing. Howie Mandel said he was unsure if she picked the right song, but that it's up to America and not the judges.
It'll be interesting to see if Storm can advance to the semifinals, even with the judges harsh critiques about her performance. People seem to be receiving her quite well in the comments on YouTube and other social platforms. Maybe, America will come through again and save her in the Instant Save. This could add to her wildcard, "underdog" storyline and I think it's possible, as it is fairly likely that she will need to be saved after the judges somewhat bussed her.
Watch Storm Large cover "Take on Me" on America's Got Talent