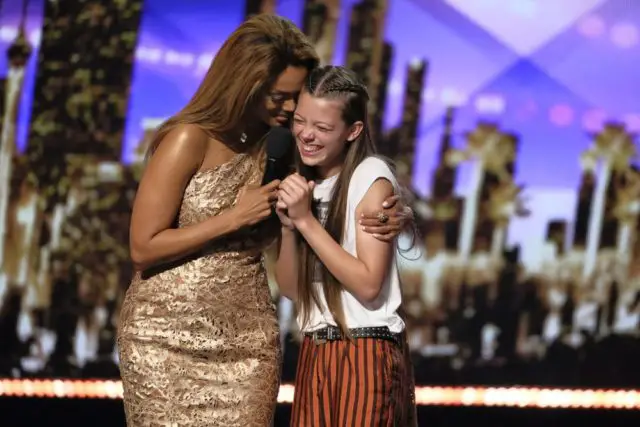 America's Got Talent LIVE Semi Finals 2 RESULTS will be revealed tonight.  Last night, eleven contestants performed in front of judges Howie Mandel, Mel B., Heidi Klum and Simon Cowell for YOUR votes.  Tyra Banks hosted.  Join us as we live blog all the results. Only FIVE contestants will advance to the AGT finale set for next week.
The Top 10 headed to next week's FINALE will be unveiled.
America's Got Talent Semifinal 2 – Vote in the Polls
America's Got Talent 2018 Recap Live Semifinal 2 Performance VIDEOS
The show begins with the MEGA Korean pop stars, BTS. They are the biggest boy band in the WORLD right now. Boy, wouldn't Simon love a piece of THAT action. At least there's a guest performer this week. There was SO MUCH FILLER last week. SO MUCH. 
TIME for the TIME wasting recap of last night's performances. Or you could just click on the link to our recap! 
Three acts are in danger and will compete for the Dunkin Save. ALL singing acts: Daniel Emmett, Glennis Grace and We Three are in 4th, 5th and 6th place. Glennis is in danger! Wow. Not to worry. The big voiced singer will earn America's Vote. She's already way ahead. I'm a little surprised We Three and Daniel made the cut. Especially Daniel…. With three singers in the Dunkin Save, gotta wonder if ANY singing acts made the Top 3. ETA: Other than Courtney Hadwin of course. Forgot about her. 
To vote, go to nbc.com/dunkinsave. Viewers have 30 minutes to vote.

RESULTS: Aaron Crowe, Vicki Barbolak and Da Republik take the stage. The first act going into the finals is…Vicki Barbolak. The rest are eliminated. Both Aaron and Da Republik had pretty weak runs. No surprise they are gone. 
Next, it's a video clip featuring celebrity look alikes of the judges and Tara. Oh. Heidi is out and about with the tourists pretending she's a look alike. Tara calls Heidi "one of the nicest supermodels on the planet."
https://www.youtube.com/watch?v=DlhgV3QdOTw
Next it's "A Magical Cirque Christmas" coming to a venue near you this holiday season.
Now, it's a video clip featuring Simon being compared to the Grinch. That's some kind of cross-promotion of a new Grinch movie. We get a sneak peek. 
RESULTS: Noah Guthrie, Courtney Hadwin  and Christina Wells take the stage. The next act going into next week's final IS. Courtney Hadwin. The rest are eliminated. America likely rejected Noah because they did not like their Whitney/Dolly classic messed with. Courtney is so emotional, she can barely talk. Howie is thrilled for his golden buzzer act.
RESULTS: Angel City Chorale and Brian King Joseph take the stage. The next act going into the finals IS…Brian King Joseph. The choir is eliminated. Brian is eternally grateful. Totally chill and humble dude. 
Dunkin Save is next. This is easy. I predict Glennis wins America's vote. The judges will choose We Three. I am REALLY surprised Vicki Barbolak got more votes than Glennis. 
The act that America put through to the finals is…Glennis Grace.  Simon says America got it exactly right. Before the judges choose, we see a mini recap of the two performances. Both were underwhelming, but the judges have mostly liked We Three throughout the competition and will pick them to advance.
AND I WHIFFED THAT PREDICTION! The judges choose Daniel Emmett to advance to next week's finale. He's been pretty mediocre throughout the competition. And Howie was pretty aggressive in his disdain for Daniel last night, dismissing his performance as "musical theater." But I wonder if the producers love the idea of a contestant in the finale that has had to be saved at each stage of the competition. Over and over and over again. Because that is LITERALLY Daniel's story.
Judges save
Simon – Daniel Emmett
Heidi – Daniel Emmett
Mel – We Three
Howie – Danielle Emmett
Safe
Vicki Barbolak
Courtney Hadwin
Brian King Joseph
Glennis Grace – Dunkin Save

Daniel Emmett – Judges Save
Eliminated
Aaron Crowe
Da Republik
Noah Guthrie
Christina Wells
Angel City Chorale
We Three – Eliminated from Dunkin Save