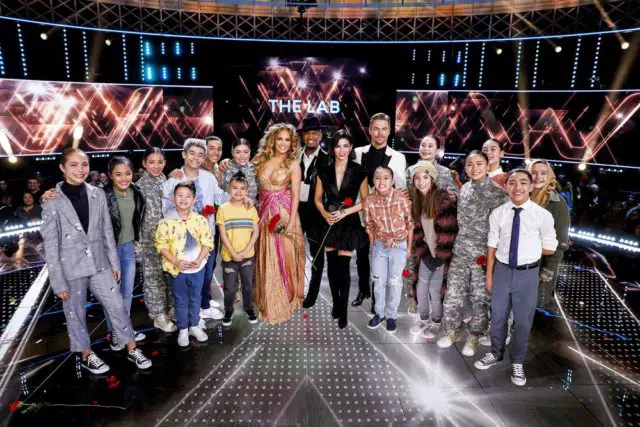 In the season two finale of World of Dance, the top act from each division (4 acts total) will take the stage for the last time in the "World Final" with judges Jennifer Lopez, Derek Hough, NE-YO and host/mentor Jenna Dewan.
There will be two performances from each act in the "World Final" – the judges and host/mentor will choose the song for the first performances and the competing act will choose the song for their final performance.
Competing for the title of Best in the World, the judges will score their performances based on their artistry, precision and athleticism. The top overall scoring act will be crowned the World of Dance season two champion and win a grand prize of $1 million. The "World Final" will also include a performance from our judges and host/mentor; season one winners/French hip-hop duo Les Twins and season one finalists Kinjaz and Keone & Mari.
Competing tonight are: Michael Dameski from Upper, The Lab from the Junior Team, S-Rand from the Upper Team and Charity & Andres from Junior.
The panel get intros that allow them to strut their dance stuff. This show was taped months ago. I bet their are spoilers somewhere. I didn't go looking. DON'T SPOIL IT IN COMMENTS IF YOU KNOW.
Charity & Andres – Junior – The two contemporary dancers were HUGE World of Dance superfans. They were the only WOD act EVER to receive a perfect score. Derek is their mentor this week. Charity's toe is still healing. But she won't hold back. Derek chose a modern remix of "Ain't No Sunshine." That was flawless. Better than last week for sure. Derek calls their partner work "brilliant." He adds, "You both deserve to be here." Ne-Yo notes her broken toe. She did a million spins on a broken big toe! Jlo says they stepped it up after a few underwhelming performances. She calls them "the couple of the year." Ne-Yo – 92 Jlo – 96 Derek 95 Total – 94.3
S-Rank – Upper Team – The lead dancer calls the group his "dream team" and promises the judges "haven't seen anything yet." Jennifer will mentor S-Rank. She promises that nerves will "fuel" them. She chooses "Headband" by B.O.B's. "Dig a little bit deeper," Jennifer advises them. The routine is like an ode to that old Warner Brothers cartoon that had Bugs Bunny conducting the orchestra. Except it's movement. Clever concept! The troop busts out some great floor tricks before it ends with more conducting. And a humorous little flourish at the end. Jennifer felt they took a risk and it worked perfectly. "One of your best routines of the year." Derek calls them "incredible." He was impressed that they blended hip hop waacking and krumping. Ne-Yo says, "That was a million dollar performance. Ne-Yo – 91 Jlo – 92 Derek 93 Total – 93 So far, in second place.
Michael Dameski – Upper – Jenna is Daniel's mentor and picked "Dive" by Ed Sheeran. Jenna stresses his vulnerability and connection. He thinks he can "shed his skin." Jenna calls him "insanely strong and talented." In the routine, Michael mourns a broken relationship. He's a tremendous dancer. GOOSIES the judges yell in unison. Oh boy. Michael is "super grateful to be here." Ne-Yo says "you 100% deserve to be here." Oh. The dance mirrored an experience he actually had. The letter he used as a prop was real. Derek compliments the way he marries performance and technique. Ne-Yo says, "You don't make mistakes!" Ne-Yo – 95 Jlo – 97 Derek 95 Total – 95.7 Michael is in first place, followed by Charity & Andres, and S-Rank
The Lab – Junior Team – They competed last season, but were cut before the finale. They received three 100 scores out of four in the divisional finals. The pressure is huge. Ne-Yo is their mentor. He chooses "Work It" by Missy Elliott. He thinks it compliments their energy. Really impressive tricks. And these kids are synchronized. Like real pros. "Y'all went beyond what I expected," says Ne-Yo. Derek appreciates the way every dancer's strength is utilized. He notes their consistency. Jennifer says they had "some of the cleanest formations of the year." Plus they are hella adorable. Ne-Yo – 97 Jlo – 97 Derek 97 Total – 97 – The Lab is in first place, followed by Michael Dameski, Charity & Andres and S-Rank.
Next, we catch up on the lives of Keone & Mari. The duo will perform with fellow Season 1 Divisional Finals act, Kinjaz. SURPRISE DEREK PERFORMED WITH THE GROUP!
Time for Round Two! The performance order is based on reverse ranking. That means S-Rank is first.
S-Rank – Upper Team – The group chooses "It's Going Down" by Yung Joc. It's their "ride or die" song. Jennifer gives them the big lecture. "How are we going to make people feel this?" she says, adding that they aren't there yet. The leader reveals that his parents weren't supportive. But they are in the audience tonight! He cries. It's a biker theme. They use actual bikes as props. The group is so emotional. In turn, Jennifer becomes teary. "There's so much unity, so much love, so much passion…that was a great performance," she says. Shout out to the dad, who is also crying. TEARS TEARS TEARS. "So swaggy," says Derek, "You finished strong." Yeah, but they aren't going to win. "You sir should be so proud," Ne-Yo says, pointing to dad. Ne-Yo – 94 Jlo – 94 Derek 94 Total – 94 Final Score – 93.5
Charity & Andres – Junior – They chose "Legendary" by Welshly Arms. Derek gives them a little lecture about "finishing strong." The two picked the song because they say they are nobodies from small town Utah trying to find their way. This second performance is edgier. A nice contrast. Derek noted how Charity lifted Andres–launched him across the stage. "Well done," he says. Ne-Yo says, "I love the heart you guys have." Jennifer felt it started off slow, but then caught the momentum. It's all about their partnership, she says. Ne-Yo – 96 Jlo – 93 Derek 94 Total – 94.3 Final Score – 94.3 Charity & Andres are in first place. S-Rank is eliminated.
Season 1 winning act, Les Twins have returned. Beautiful things came to this French duo after they won the million dollars. They perform a fun routine.
Michael Dameski – Upper – He's dancing to a cover of "Survivor" by Destiny's Child. Michael says he came SO close to giving up on Los Angeles. He uses a climbing wall of sorts as a prop and it's pretty spectacular. After that routine, he could win the whole thing. Ne-Yo says, 'There's greatness in you." Jlo loves watching him push through performances. She calls him a "champion." She says, "I feel you did all you could." Derek promises him that he's made his mark. "You're a phenomenal dancer." Ne-Yo – 98 Jlo – 96 Derek 95 Total – 96.3 Final Score – 96 Michael Dameski is in first place. Charity & Andres are eliminated.
The Lab – Junior Team – They chose Waiting for the World to Change by John Mayer. Ne-Yo notes that they are taking a big risk. They have to bring EMOTION to the performance. This is a very complicated routine involving separate tableaus that interlock. They totally won. This choreography is impressive, in addition to the fantastic dancing. "Our plan is to make this world a better place," one of the dancers says. Everyone is crying as Jennifer says, "Kids are fighting for their lives." Yep. They won. "You guys make me proud of your generation," says Derek. The risk paid off, he says. Ne-Yo wishes his kids were here to watch. People in the AUDIENCE are crying. Ne-Yo – 100 Jlo – 96 Derek 98 Total – 98 Final Score – 97.5
THE LAB WINS WORLD OF DANCE SEASON 2!
I have mixed feelings about this result. Michael was phenomenal. But then on the other hand, how to judge kids vs adults? The criteria has to be more than just technical proficiency. I think the producers probably wanted to mix things up. Les Twins came from the Upper category, just like Michael. This year, a Junior Team took the million. Makes sense.
https://www.youtube.com/watch?v=yyV5XZgW270
Leaderboard:
The Lab – Junior Team – 97.5
Michael Dameski – Upper – 96
Charity & Andres – Junior – 94.3
S-Rank – Upper Team – 93.5