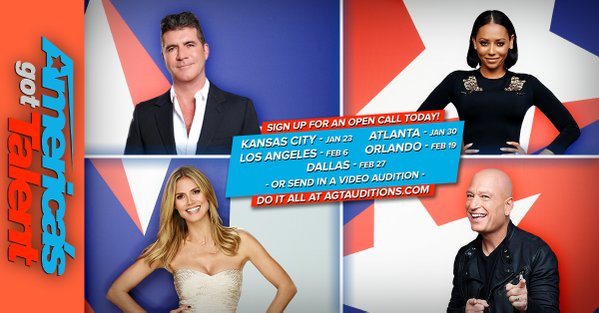 America's Got Talent will return to NBC this summer for an 11th season with no changes made to the cast, other than Simon Cowell replacing departing judge, Howard Stern.  The live shows will move back to Los Angeles from New York City, where they took place to accommodate Howard. But otherwise, the gang is all here.
Howie Mandel, Mel B and Heidi Klum will return as judges to NBC's summer competition series, joining previously announced new judge and Got Talent creator Simon Cowell.
Nick Cannon will again assume hosting duties as the show returns to Los Angeles for its live performance and results shows and heads into a milestone second decade on the air.
Heidi and Mel B are returning as judges for their fourth season. Howie returns for his seventh season.
"Without sounding too arrogant I am going to call us the Fantastic Four," said Simon. "I like this panel because they are slightly nuts. And now let's find a star."
"It's great to have Howie, Mel, Heidi and Nick back on AGT and to welcome Simon and his unique judging style.  This panel knows how to spot great talent and how to have a lot of fun while doing it. It's going to be an entertaining season!" said Trish Kinane, FremantleMedia North America President of Entertainment Programming and AGT Executive Producer.
"Howie, Mel and Heidi have an undeniable chemistry together and bring unbridled energy to everything they do," said Paul Telegdy, President of Alternative and Late-Night Programming, NBC Entertainment. "We are very excited to bring them back along with Nick Cannon as host, and with the addition of creator Simon Cowell as a judge, the panel just got a little more interesting. We can't wait for the new season to begin."
Auditions for the upcoming season 11 of "America's Got Talent" are currently underway. The hit talent show is making stops in 12 U.S. cities, including Kansas City (Jan. 23), Atlanta (Jan. 30), Los Angeles (Feb. 6), Orlando (Feb. 19) and Dallas (Feb. 27). Full details on the nationwide tour, including additional cities and the ability to audition online now, can be found by visiting www.AGTAuditions.com.
I'm going to miss Howard Stern. He delivered engaging, honest and helpful critiques. Hopefully, Simon will bring some new material and behaves as if he wants to be there.