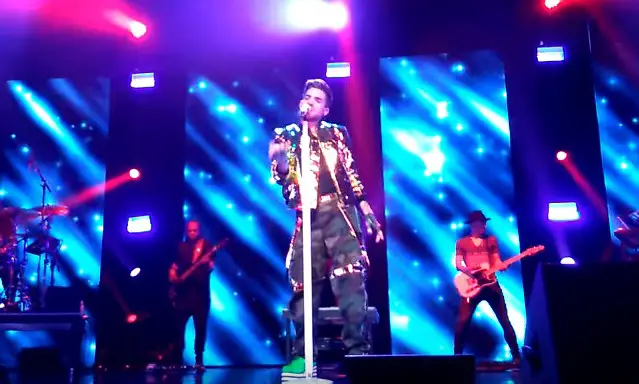 Adam Lambert was in Japan on Monday, when he heard the news that David Bowie had died at age 69. The singer has said on many occasions how he admired the legendary artist and rock star. Adam's fearless artistic sensibility, and love for glam rock was very much informed by Bowie's expansive, shape-shifting style.
So, it came as no surprise that Adam payed tribute to the late legend, with a performance of "Let's Dance," when he took the stage Tuesday at the Namba Hatch in Osaka. Adam has performed the song before, with another mentor, Nile Rodgers, whom Adam collaborated with on his 2012 Trespassing album. Rodgers produced Bowie's artistic and commercial breakthrough album, Let's Dance, back in 1983.  Adam performed the song once before–with Rodgers at a special fundraiser in 2013.
"Foremost is the music, but the first thing that I saw as a spectator was how he looked and his image and his styling and his concepts that he pushed forward that were so out of the box and so forward-thinking," Adam told Billboard in an interview on Monday. "I loved how he challenged people as far as what he thought of how gender was represented. I love that he borrowed from the mime culture in some of his early stuff and how he reinvented himself decade by decade. I think he really inspired a lot of pop artists that way."
Rodgers shared with Adam what it was like to work with Bowie. "He said [Bowie] was so brilliant, and he said he was always impressed by all of his ideas. He was an idea person, and I am fascinated by that."
Adam confessed to the crowd that it was "a sad day yesterday" when he heard Bowie had passed. "Because I loved David Bowie so much," he declared to the audience, "Let's Dance!"
Watch Adam Lambert pay tribute to David Bowie in Osaka Japan with "Let's Dance."
Actually, Adam sang "Let's Dance," for the very first time as part of a medley that also included "Life on Mars" and "Fame" for the American Idol Live 2009 summer tour. Watch Adam's medley from the Manchester, NH concert, right here.