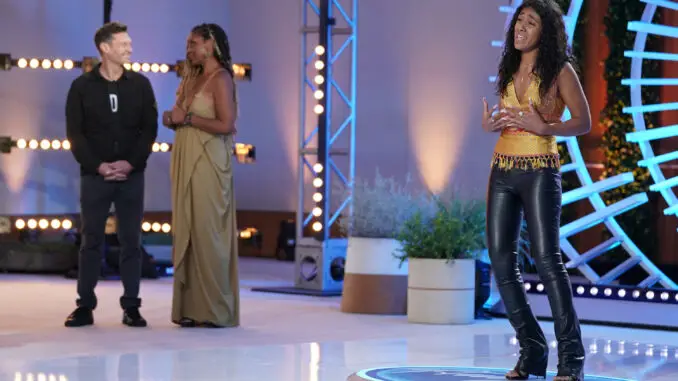 American Idol produced a full circle moment when young hopeful Zaréh surprised her mother, season 4 alum Nadia Turner with her American Idol audition (Watch Zaréh's audition).
In the meantime, Nadia announced via press release that Zaréh released two new songs (co-produced and co-written with Nadia's creative partner, Nur Nur Cu mmings) available to stream
"I'm Not Ready for Love"
"'I'm Not Ready For Love' tells the story of a young woman roughly Zaréh's age (22) struggling with whether to be truly serious about a relationship," said Nadia in a press release. "I imagined what a woman her age might go through if she was in a casual relationship and the boyfriend asked her to marry him. Twenty one is very young and I think it's a lot to ask anybody to spend the rest of their lives together when so young. There are many young people who are going through something like this, so perhaps there's a universal quality to the theme of this song. And you don't have to be 21 to be unsure if you want to commit to a relationship. Or to be, as the song says, not ready for love."
"You Do Something to Me"
Nadia adds: "'You Do Something To Me' is more of a vibe. We were going for an impressionistic approach to songwriting–Imagery that evokes an emotional environment, without being very specific or literal. I think there's room for people to have different interpretations of what this song is about. It is an incredibly special song to me and my creative partner Nur Nur Cu mmings. In writing for Zaréh, we grew stronger as a writing team, and did our best to help develop Zaréh as an artist."
Because Nadia has experience with a career after competing on a reality competition, she and Nur Nur wanted to make sure Zaréh was able to step into her own skin as an artist and into the music business as a talent to be reckoned with, no matter how her musical journey on American idol unfolded.
Nadia's live roots rock album
Nadia also has a live roots rock album, "N²," currently available on all streaming platforms (Listen at Spotify).
It was recorded in Nashville with legendary players including Chester Thompson who has played with Frank Zappa/The Mothers of Invention, Genesis, Santana and the Bee Gees, and the late Bob Babbit, who is most famous for his work as a member of Motown Records' studio band, the Funk Brothers, from 1966 to 1972.
In addition, Turner is a UNICEF Good Will Ambassador since 2017 and has spoken on children's rights in this capacity.
Nadia left American Idol in 8th place
The singer, songwriter and actress came in eighth in the fourth season of American Idol. Prior to Idol, Turner was a Miami Dolphins cheerleader and, in 2000, she performed in Okinawa, Japan at the 26th G8 Summit to then President Clinton and seven other world leaders.
Here is one of her best performances a cover of Dusty Springfield's "You Don't Have to Say You Love Me" for 5 Top 12 60s week. Judge Simon Cowell said after her performance, "In a competition full of hamburgers, you are a steak."