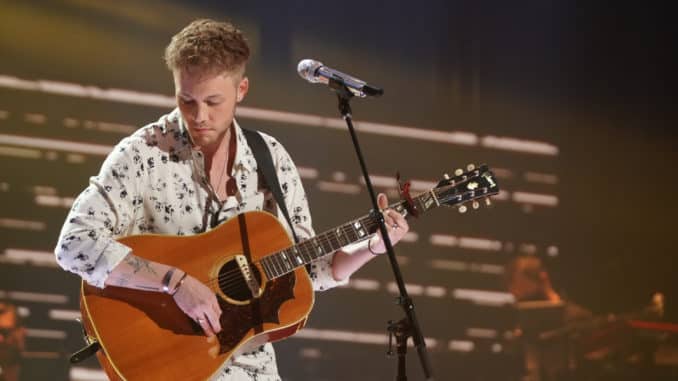 Hunter Metts is playing a hometown show at the Franklin Theater in Franklin Tennessee. But if you want a ticket? TOO LATE! The show sold out really fast.
It's only just over a month since the American Idol finale where the sensitive singer-songwriter placed in the Top 7 before being eliminated.  Since that time, he appeared on the Ellen Degeneres Show and has been busy writing new music. 
Is this real life? Hunter asks
On Instagram, Hunter shared that within hours of tickets for his upcoming concert going on sale, they nearly sold out.
"IS THIS REAL LIFE?!? LIVE at the Franklin Theatre AUGUST 8TH!! Tickets went on sale this MORNING and we're already HALFWAY SOLD OUT ??????!!! Link in my bio for tickets to see ALL NEW SONGS AND ME SINGING MY HEART OUT !!!!!"
But forget that link in Hunter's bio! By 1 pm, the singer shared on Instagram stories that the show sold out!
*
 

 

 

View this post on Instagram

 

 

*
Hunter's friends post supportive messages
Hunter's fellow American Idol contestants posted supportive messages, the most hilarious from Graham DeFranco, who is currently dating Hunter's sister.
"I bought 500 tickets so it's just going to be me in the audience and it will be a private show for me and I will be very supportive," wrote Graham. "Much love from Columbus Ohio!" OK then!
American Idol Finale: Arthur Gunn QUIT 5 Mins Before Showtime (Video)
The concert announcement was Hunter's first Instagram post in four weeks. On June 8 the singer-songwriter wrote a heartfelt message alongside a video performance: "An authentic version of the first song I ever released," he wrote. "The last few weeks I've been creating and writing songs that I believe in more than ever, looking forward to share them with you."
*
 

 

 

View this post on Instagram

 

 

*
Hunter's most memorable moment on American Idol came when  he broke down on live television after messing up the lyrics of "Falling Slowly." During an appearance on the Ellen Degeneres show after he was eliminated from American Idol, he  observed, "In that moment, it was intense for me, but after coming off the show, the support has been amazing. " 
Making the Top 7 also meant getting the opportunity to record and release an original winners song that he wrote with Mark Irwin Abramson and co-produced with heavy-hitter Ian Fitchuk  Check out the romantic "20,000 Kisses" HERE.