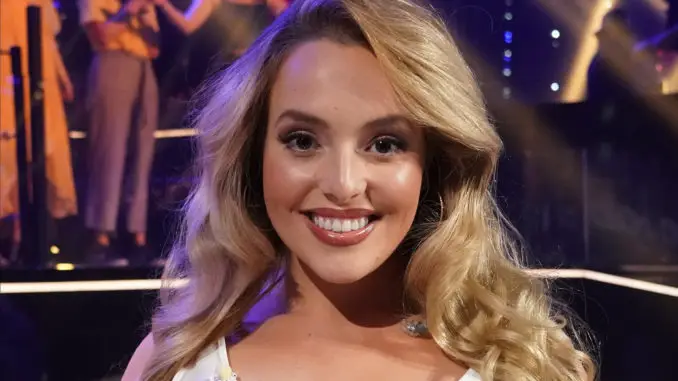 Grace Kinstler finished American Idol season 19 last year as the second runner-up and ever since she released her potential winners single, "Love Someone,"  fans have been waiting anxiously for new music.
Now, the big voiced singer is teasing a new song on social media titled "Thank You." The lyrics go "Don't go easy on me/I can make it/So thank you/I am so inspired by you/There was no one like you/No one saw me like you.
American Idol's Grace Kinstler Drops Jazzy, Soulful 'Silent Night' (Video)
Grace Kinstler Drops Song Sneak Peek, Thanks Katy Perry for Criticism
Grace posted the clip to Instagram and in the comments, fans wondered if she'd be releasing the power ballad to download and streaming sites. "Is this a song that people can purchase?" peacefulwarriorsophie24 asked. "It will be soon! I will keep you all updated on my socials," Grace responded.
Fellow American Idol alum Katharine Mcphee gushed over the song in comments
Elsewhere in the comments, fans gushed over the song, including a fellow American Idol alum. "I need this whole song!" exclaimed season 5 runner-up Katharine McPhee, and in another post the singer offered, "Ohhh. I love this!"
"So thrilled you like it Katharine!! I hope all is well," Grace responded. Katharine is fresh off her run on The Masked Singer with her husband David Foster where they finished in the Top 4 as Banana Split.
Regular old fans complimented the song as well. "Um!!! No Words!! Can't wait for more! TRUE GOAT" wrote Mikejetdude31. "Oh my goodness! You are so amazing I literally got chills," said reilly_is_confused.
What an amazing voice. can't wait to purchase this song," wrote Organic24.
Listen to a snip of "Thank You " below
 

 

 

View this post on Instagram

 

 
Grace looked forward to collaborating after a move to Los Angeles
After her run on American Idol, Grace left Berklee School of Music in Boston and moved to Los Angeles, where she is writing and recording new music.
"I'm most excited about getting in the room with a lot of different people," Grace told MassLive in an interview last fall. "And writing with people who are more experienced than I am." The singer said.
"I have written songs, I'm still writing," Grace added, "But to be able to take songs that I want to release but aren't quite ready yet [and give] to somebody who has been doing this for longer and has more experience with it, I'm excited for that."