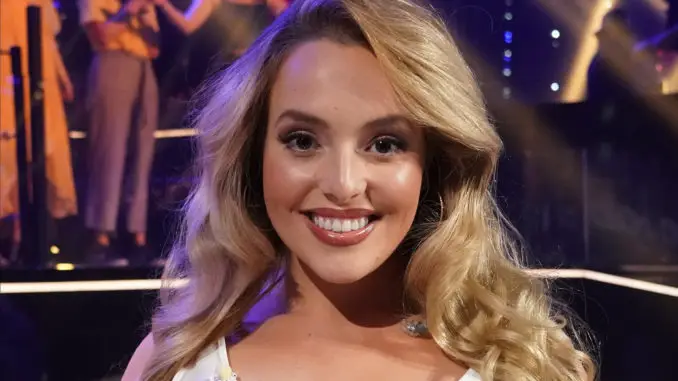 American Idol alum Grace Kinstler dropped "Breaking Myself," her first single since leaving season 19 last year in 3rd place behind Willie Spence and winner Chayce Beckham.
During her run on Idol, the Chicago native shared that she lost her father the year before. Now, in her "Breaking Myself," Grace opens up about that huge loss.
"…"Breaking Myself" is finally out in the world! Let me share some insight about the meaning behind this record," Grace wrote on social media.
American Idol's Grace Kinstler Teases New Single, Kat McPhee is a Fan!
"As you may or may not know, 2020 was the year I lost my extraordinary father. Following that loss came so much emotional turmoil, much of which I didn't fully acknowledge until recently. When he died, it seemed like the world was imploding, and all I wanted to do was fix it," Grace wrote.
"There was so much pain around me, I worried things would boil over if I let mine out. Life is too short, but ironically it took me a long time to realize that ignoring my own pain to heal someone else only continued the damage I was trying to repair. I eventually learned, I can't fix other people if I'm breaking myself."
However, the last year has been the best of her life, Grace explains. "Since 2020, I've experienced so many amazing things, and 2021 was arguably one of the best years of my life. It's been quite the journey trying to navigate such polarizing emotions."
There is more to come, Grace promises, "The feelings and sensations are too great to fit into one single record, so my goal is that with every new release, you'll get to understand a new piece of my story and my heart. Sending you all so much love! Thanks for being here and for your part in my life."
The contemporary ballad features open and honest lyrics, but with a retro vibe.
Grace Kinstler "Breaking Myself" Lyric Video
Grace explained a little more about the inspiration behind "Breaking Myself" in an interview with Joe & Tina on Chicago's Star 1o5.5 podcast.
"I know people have various experiences with loss, and will connect to the song in different ways," Grace explained. "Overall, I just wanted it to be relatable on multiple accounts, no matter what you're going through. I hope the song helps people feel heard and understood, whether that's by another person, or even yourself."
Living in Los Angeles currently, Grace has been recording these past few months and has many more songs to share with her fans. "I love waking up and feeling like I'm in the middle of everything that's going on," she shared. "It keeps me on my toes, and it keeps me feeling inspired."
Also, Grace teased her appearance on Monday's "Great American Idol Reunion" special. The singer is set to perform a duet with her fellow season 19 Top 3 contestant, Willie Spence. She added that on the special, she will be revealing the team she has been working with on new music. She hints that it's someone she collaborated with on the season 19 finale last May. On the 3 hour live episode, Grace performed a duet with Alessia Cara, and also performed a group number on stage with Chaka Khan.
The Great Idol Reunion airs on ABC at 8 pm on Monday May 2.