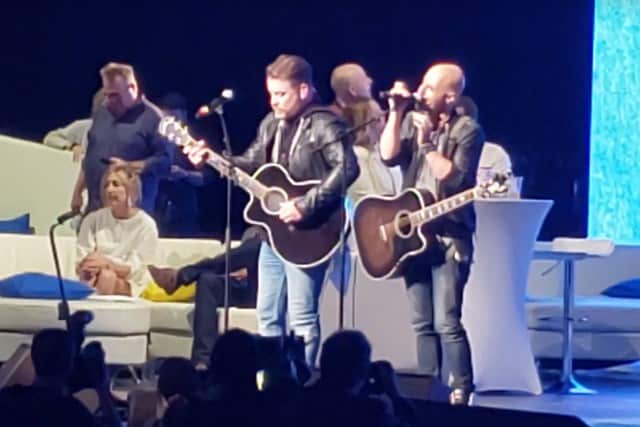 The annual Big Slick charity event in Kansas City brings together hometown celebrities and more to raise money for Mercy Children's hospital. This year, American Idol season 7 winner David Cook, along with celebrities Rob Riggle, Eric Stonestreet, Paul Rudd, David Koechner, Jason Sudeikis and more helped raise a record breaking $2.5 million for the worthy cause.
American Idol season 5 alum, Chris Daughtry took part in the weekend event as well (June 8-9) which included a charity softball game at Kauffman on Friday, a bowling tournament on Saturday afternoon and a party and auction Saturday night.
It was the auction that brought in the big bucks for the event: $55,000 for Paul Rudd's jacket autographed by Kansas City Chiefs quarterback Patrick Mahomes; A trip to the set of Taran Killam's TV series, Single Parents, and to the set of his wife Cobie Smulders' series, "Stumptown," plus a trip to Disneyland went for $45,000; A visit to the premiere and cast party of Angry Birds 2, starring the voice of Big Slick co-host Jason Sudeikis sold for $35,000; A visit to Eric Stonestreet's Modern Family set, which is heading into its final season sold for $34,000.
A big highlight of the Saturday night party and auction, which was held at the Sprint Center for the first time, was a duet performance from Cook and Daughtry. The two American Idol stars came together to perform a lovely cover of Coldplay's "Fix You," Fans may remember the two performing "Won't Back Down" from Tom Petty and "The Chain" by Fleetwood Mac. at last year's 2018 Big Slick event.
Watch American Idol's David Cook and Chris Daughtry perform Coldplay's Fix You at 2019 Big Slick in Kansas City: