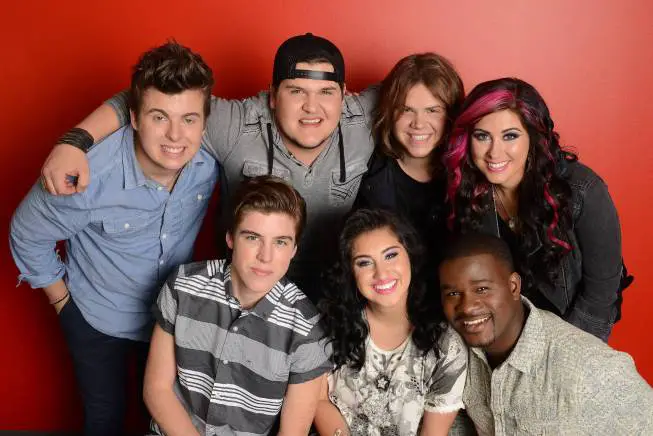 Next week's theme is something new! The contestants will pick a song for each of their fellow competitors, leaving each singer with a list of six songs to choose from.
I kind of like this idea!  What a perfect opportunity for the singers to sabotage each other!  Are the producers hoping the contestants throw each other under the bus? Will they throw each other under the bus? Or behave in a spirit of cooperation, knowing they must rely on each other. It's kind of like Survivor!  Maybe the producers were inspired when the competition overtook Idol in the ratings…
MALAYA WATSON IS ELIMINATED ON "AMERICAN IDOL XIII" NEXT WEEK, FOR THE FIRST TIME IN 13 SEASONS, THE IDOLS' FATES ARE IN EACH OTHER'S HANDS
THE TOP SEVEN FINALISTS COMPETE IN A "COMPETITOR'S PICK"-THEMED PERFORMANCE SHOW WEDNESDAY, APRIL 16, ON FOX
See Who Survives the Elimination on Thursday, April 17 
Malaya Watson was eliminated tonight on AMERICAN IDOL XIII, after she received the fewest votes. From Southfield, MI, the 16-year-old sang "Through The Fire" on last night's performance show.
Next week, on Wednesday, April 16 (8:00-10:00 PM ET live/PT tape-delayed), the Top Seven –C.J. Harris, Jena Irene, Caleb Johnson, Jessica Meuse, Alex Preston, Dexter Roberts, and Sam Woolf – will perform on the  "Competitor's Pick"-themed performance show. For the first time in the series' history, each finalist will select a song for their fellow finalists to perform, leaving each singer with a list of six songs from which to choose.
With only five weeks left until the new IDOL is crowned, tune in Thursday, April 17 (9:00-9:30 PM ET live/PT tape-delayed), to find out who survives next week's elimination.