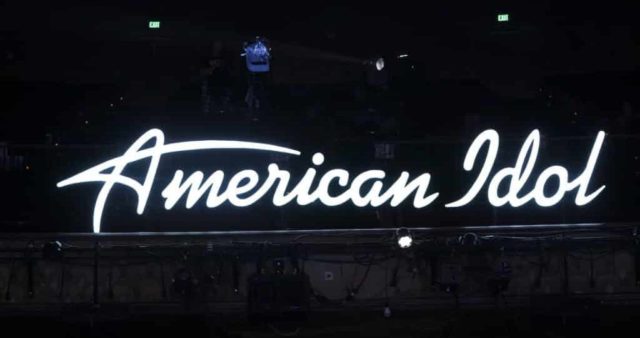 There is a rumor that ABC will renew American Idol for a third season. The report comes from TheIdolPad.com, the website that brings Idol-world accurate spoilers. The site also accurately reported American Idol's renewal last year. Still, I'm a little sceptical that a renewal is a done deal.
Sure, compared to other shows on broadcast television, Idol's numbers look pretty good. But the show is also REALLY expensive to produce. Cast salaries for judges Lionel Richie, Katy Perry and Luke Bryan in addition to host Ryan Seacrest reportedly cost the network $60 million. Also, ratings have decreased from an average of 1.6 in the key demo at this point in 2018 to a 1.3 in 2019. Last year, the ratings rose during the live coast to coast episodes after a midseason lull. If, however, the live show ratings crash, ABC may have second thoughts about renewal.
In any case, what @IdolSpoilers posted on Twitter may be key to why ABC may be willing to renew: "Once again, we are pleased to announce that ABC is renewing American Idol. Having said that, major changes are expected to occur." 
The "major changes" most likely involves cost cutting. IF ABC renews American Idol and IF major changes are afoot, here are my thoughts on what should happen:
ABC's easiest place to begin cost cutting would be talent salaries. Katy Perry earns a whopping $25 million salary, while Ryan Seacrest pulls in around $12 million. When mentor Bobby Bones stepped in for an ailing Ryan this week, folks began to chatter. Would the country DJ be taking over the Idol reins permanently? By all accounts, Bobby's stint was a one time deal. But would ABC consider replacing Ryan with cheaper talent. They better not! Ryan is the face of American Idol and should stay. He's worth every penny they pay him. While a few online polls around the net indicated a switch to Bobby would be no big deal,  I honestly think firing Ryan could backfire. I suspect that folks who initially didn't think they cared would have second thoughts. Of course, Ryan could decide he has WAY TOO MANY JOBS and quit. In which case, Bobby would be the obvious replacement.
The judges are 100 percent expendable. The current panel isn't doing a terrible job. But the show is overpaying Katy to a ridiculous extent. I firmly believe the judges don't make or break a show unless they are a complete trainwreck (see Mariah and Nicki Minaj's unfortunate season 12 catfights). The success of the judges is more about how the producers use them.  The trouble I see with judges panels across all the singing shows is too many antics and not enough singing.  It doesn't matter who sits in those seats. If the judges are expensive? Find new judges.
Idol auditions relied too heavily on the judges goofing around. This was especially true in the first couple of episodes. I understand highlighting the panel's chemistry. And I DO believe the jovial vibe between Lionel, Katy and Luke is genuine! However, a little goes a long way. Additionally, singer backstories are an important aspect of Idol and sets the show apart from The Voice (an entertaining game show, basically). But never allow the stories to overshadow the singing. I DO think both the judges antics and singers' backstories overshadowed the hopefuls talent.  Many viewers didn't even realize how deep the current bench is (and it is REALLY REALLY DEEP. Such a good season!) until the Hollywood Round. 
And maybe–here's a radical idea. Re-tool the auditions by expanding the performances with more instruments and bigger production. Maybe even hold the auditions in front of an audience. X Factor USA did this. The Voice's big advantage over American Idol are those full-blown performances featured during the Blind Auditions. I would not suggest Idol mimic the produced within the nth of its life Voice auditions. It's important that the show maintain its charming simplicity. However,  produce the auditions in a way that fully highlights a hopeful's talent.
Hollywood Week can stay. But make it even more about how the sausage is made–singer exhaustion, self-doubt etcetera. American Idol is about finding an artist that can be successful in the cutthroat music business. The judges should ALWAYS be honest with the singers–and that goes for every round of the competition. It also includes maintaining the realistic audition age limit of 15-28. Sure, The Voice boasts that their coaches are kind. But what scenario serves an artists' future in the business better–a judge being honest about their talent, or a coach blowing smoke up a singer's butt in order to lure them to their team? And how about those 40+ Voice contestants that are usually cut early–especially the women.
DITCH DITCH DITCH the celebrity duets. They don't really teach us much about the singers, and are the lowest rated episodes of the season.
KEEP KEEP KEEP Live Coast to Coast finals. It's the BEST American Idol twist ever. And it's also fun to have American Idol fans across the country watching and voting for their favorites together. 
One final thought. Please, ABC, if you really are bringing American Idol back for another season? I realize change is inevitable, but don't make the show unrecognizable!