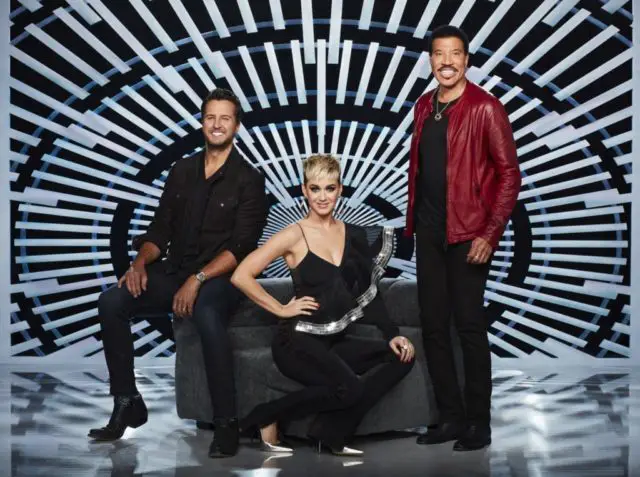 Hip hip hooray! The rumor is true. ABC has renewed American Idol for a second season (17th if you include the FOX years) on the Disney-owned network. And the entire judges panel, including Luke Bryan, Katy Perry and Lionel Richie plus host Ryan Seacrest are returning.
I'm cool with the judges returning. Why fix a thing that isn't broke. I mean, I've been covering American Idol since season 5 and there has NEVER been a time when fans weren't bitching about the panel. 
The ABC release  hot off the presses:
The journey continues as America's beloved singing competition series American Idol is set to return for its second season on The ABC Television Network for the 2018-2019 season. Following the historic revival of the beloved series on ABC, the fan favorite will set out once again on a nationwide search to discover the next singing sensation. Returning to help find the cream of the crop are music industry legends and all-star judges Luke Bryan, Katy Perry and Lionel Richie. Emmy®-winning producer Ryan Seacrest will also return to helm the music competition series as host.
ABC's ratings spin. No, actually, the show had a few bumps during the season, but American Idol was generally a solid ratings earner for the network. It made Sunday nights relevant for the network for the first time in years. 
In its first season on ABC, American Idol has finished as Sunday's No. 1 entertainment broadcast series on each of its 8 telecasts this season in Live + Same Day Adults 18-49. In fact, on average, the series ranks No. 1 in its 2-hour slot with Adults 18-49, Adults 18-34, across all key Women (W18-34/W18-49/W25-54) and Teens 12-17. American Idol is more than doubling ABC's Sunday 8:00-10:00 p.m. time-period results year-to-year in Total Viewers (+158%) and Adults 18-49 (+110%), producing the Net's best results in the 2-hour slot in 4 years among viewers and in 3 years among young adults – since the comparable weeks of 2014 and 2015, respectively. Season to date, including delayed viewing, "American Idol-SUN" draws an average audience of 9.3 million viewers with a 2.1/8 among Adults 18-49. Additionally, the broad-appealing unscripted series has dominated the social landscape as the most social prime-time reality series of the year to date. (Source: Social Content Ratings, 1/1/18 – 4/29/18. Ranked by total program-level interactions. Facebook organic metrics no longer included as of 4/6/18).
Quotes from the suits:
"We knew that American Idol on ABC would unleash an opportunity for singers from all walks of life to realize their dreams and that these incredible contestants would have America rooting for their success," said Channing Dungey, president, ABC Entertainment. "I am thrilled that Katy, Luke, Lionel and Ryan will be back to once again embark on this Idol journey with us to discover the next crop of inspiring talent."
"American Idol's return on ABC has shown once again that viewers love to discover and support raw talent," said Trish Kinane, president of Entertainment Programming, FremantleMedia North America, executive producer and showrunner of "American Idol." "Our new judges Katy Perry, Luke Bryan and Lionel Richie have brought huge credibility, energy and fun to the show this year, and we are so excited to continue the journey with Ryan Seacrest at the helm in the search for the next superstar."
Dennis Miller, executive chairman of CORE Media Group, added, "Our team is incredibly proud of the success we have had with American Idol on ABC, and we are excited to search for more talent nationwide with a second season. We look forward to furthering our relationship with the network, our partners at FremantleMedia, Luke, Katy, Lionel, Ryan, and all those who audition to become the next American Idol as we continue to entertain fans with incredible performances week after week!"
Don't miss American Idol as the Top 7 take the stage on ABC, this Sunday, May 6, live coast-to-coast at 8:00-10:00 p.m. EDT/7:00-9:00 p.m. CDT/5:00-7:00 p.m. PDT. (The episode will be rebroadcast for the West Coast at 8:00-10:00 p.m. PDT). (Featuring the Prince catalog and "Songs from the Year They Were Born).