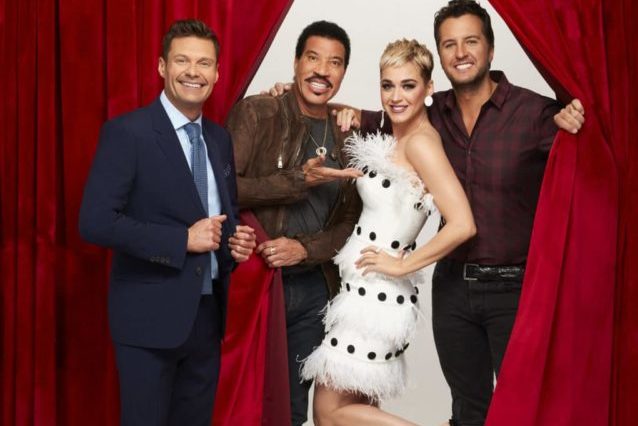 According to @IdolSpoilers, ABC is planning to renew American Idol for the 2018-2019 season. According to TIP, "the tentative plan is for next season to be a couple weeks longer than the current season." Also, reports TIP, the next season of Idol will premiere midseason 2019.
Hm. If ABC adds a couple of weeks to the schedule, how would they keep from award season conflicts? The current season of American Idol premiered one week after the Academy Awards. Of course, ABC COULD move the show to another night of the week. OK. I'm going to stop the heavy speculation until the news–one way or another–is official. You know GRAIN OF SALT AND ALL THAT.
However, it doesn't take rocket science to come to the conclusion that ABC WILL renew  American Idol for another season. The show has VASTLY improved ABC's Sunday night ratings. And on Mondays it has been doing at least as well as DWTS–and I suspect the numbers are better in the teen/20s demo. That it's not beating The Voice ratings on Monday nights is completely irrelevant. Any network scheduler has their eye on improving a network's bottom line. Decisions are made based on apples to apples comparisons. The question always is "how is a show doing in comparison to the rest of the network schedule?" That's why a modest 1.0 rating was more than enough for FOX to renew The Four.
From a recent ABC press release:
For its 5th consecutive telecast on the night, ABC's "American Idol" more than doubled its 2-hour Sunday time slot year to year, rising over the year-ago night with "Once Upon a Time" and "Match Game" by 157% in Total Viewers (7.2 million vs. 2.8 million) and by 114% in Adults 18-49 (1.5/6 vs. 0.7/3). On average season to date, "American Idol" delivers ABC's best numbers to the 2-hour time period in 4 years in Total Viewers and in 3 years among Adults 18-49 – since 2014
I'm pretty confident the rumor is true and American Idol will be renewed for another season.