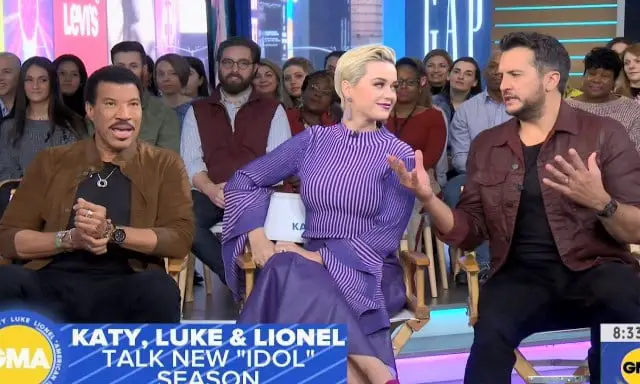 The American Idol judges took over Good Morning America on Wednesday (Feb 27) to chat about Sunday's premiere (March 3).
Host Robin Roberts asked Lionel Richie, Katy Perry and Luke Bryan to talk about the what's changed since their debut as a panel last year. 
"Now we know what a Top 10 looks like and how they're supposed to sound," said Katy. "Thankfully all the talent really showed up this year, in spades." Katy believes that on the strength of the first season on ABC, "…we had really established savant music college entries. These genius that were playing, writing their own stuff."
Watch American Idol 2019 Hopefuls Sing Queen's Don't Stop Me Now VIDEO
American Idol 2019 Preview: Contestant Montage and More (VIDEO)
Several contestants from last year auditioned again this season. "That's the best way to compliment the show and what we're trying to do," said Luke. "We've had a couple of kids come back and they took our criticisms…When they can take some of our advice, apply it, come back… It's so fun to watch them grow. That's the beauty. To watch these kids in their infancy start to grow is so inspiring."
Luke had two singers in mind. He wouldn't name them, but I will! It's not really a secret. Season 16 standouts Laine Hardy and Alyssa Raghu auditioned again in front of the judges and made it through to the next round.
Katy reminds everyone that "Maybe it's not about the person that wins" mentioning that non-winners Adam Lambert and Jennifer Hudson were featured on the Oscars.  Lionel added, "These are not No 1s. I tell people every day. You've got to be very aware of the fact that No 1 means you have to be famous now. Five, six, seventh, eight, Top 10–that means you study the course…you go home and now you have time to work on it."
Later on in the show, the judges introduced current winner Maddie Poppe performing her new song "Little Things."
Watch the full interview here. American Idol season 17 premieres on ABC Sunday March 3.