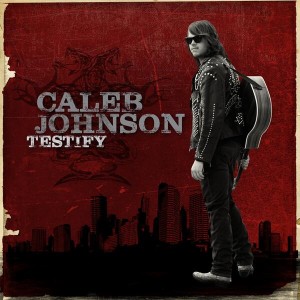 Caleb Johnson Testify Sales Prediction
American Idol season 13 winner, Caleb Johnson, released his post Idol debut earlier than any previous winner. However, Universal Music Group's strategy of dropping the record on August 12, didn't help the singer sell more albums than his fellow winners.  That is, if the Hits Daily Double predictions, based on one day sales, are correct.
Caleb's album, the Howard Benson produced Testify,  is predicted to sell between 9-11K copies. Landing at any point in that range would make the album the lowest selling debut of all the American Idol winners. If you counted the runner-up debuts, it would still be the lowest.
By contrast, Music Speaks, the debut album from season 12 winner, Candice Glover, sold 19K its first week. It was released 9 months after she won the title, on February 18, 2014. Season 11 winner, Phillip Phillips sold 169K copies of The World from the Side of the Moon, released on November 19, 2012 during the Christmas holiday sales season. Idol winners from Season 2's Ruben Studdard through to Phillip traditionally dropped their debut albums in the fall.
American Idol Winner Debuts – 1st week sales
Kelly Clarkson – Thankful – April 15 2003 –  #1 – 297K
Ruben Studdard – Soulful – December 3 2003 – #1 – 417K
Fantasia Barrino – Free Yourself – November 23 2004 – #8 – 240K
Carrie Underwood – Some Hearts – November 15 2005 – #2 – 315K
Taylor Hicks – Taylor Hicks – December 12 2006 – #2 – 298K
Jordin Sparks – Jordin Sparks – November 20 2007 – #10 – 119K
David Cook – David Cook – November 18 2008 – #3 – 280K
Kris Allen – Kris Allen – November 17 2009 – #11 – 80K
Lee DeWyze – Live it Up – November 16 2010 – #19 – 39K
Scotty McCreery – Clear as Day – October 4 2011 – #1 – 197K
Phillip Phillips – TWFTSOTM – November 19 2012- #4 – 169K
Candice Glover – Music Speaks – February 18 2014 – #14 – 19K