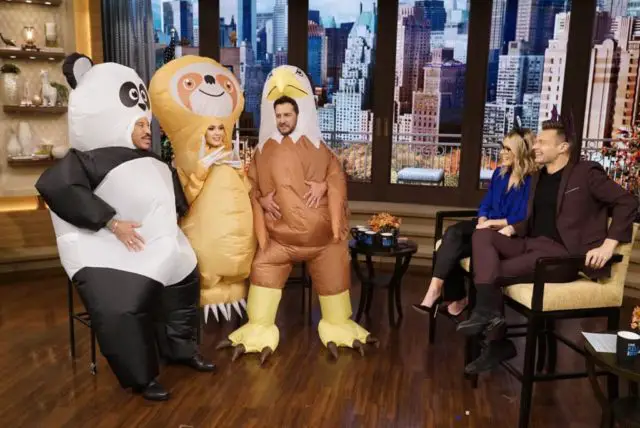 The American Idol judges are in New York City to for auditions. How convenient for Ryan Seacrest who not only hosts Idol but Live with Kelly and Ryan as well. So naturally, judges Lionel Richie, Katy Perry and Luke Bryan had to stop by the talk show to chat.
The trio took up FOUR segments of the show.  But, fans looking for big news regarding the new season will be disappointed (me). However, there were plenty of shenanigans for folks into that sort of thing. Katy's idea: All three dressed in Halloween costumes. Check out each segment below.
An eagle, a sloth and a panda walk onto the "Live" set… (aka American Idol judges Luke Bryan, Katy Perry and Lionel Richie).
Lionel explains how his kids (Nicole, Miles and Sofia) prepared him for dealing with his fellow judges on Idol.
The judges and Ryan play a game of "Who's Most Likely?"
Luke, Katy and Lionel reveal which one of them is hardest to impress.
SPOILER ALERT! It's Katy. Although, Luke admits he's been a little tougher this season and he feels kinda bad about it.
A few tidbits from social media.
These party animals surprised us as their spirit animals. Hi judges :) @americanidol pic.twitter.com/HzHJrCZIue

— Ryan Seacrest (@RyanSeacrest) October 30, 2018
Ryan mentioned The Highline which is a public park built above a freight rail in NYC. Check it out.
NYC!!?? Is #TheNextIdol here?? #AmericanIdol pic.twitter.com/9Xfg5gZbf0

— American Idol (@AmericanIdol) October 29, 2018
"In New York, concrete jungle where dreams are made of…" ???
??
NYC auditions start now! ????#TheNextIdol #AmericanIdol #MondayMorning pic.twitter.com/CWTCKZcifh

— American Idol (@AmericanIdol) October 29, 2018
Cool set
The stage is set! ??

Online auditions are open until November 5th!

???? https://t.co/2ruYWe63p2#AmericanIdol #TheNextIdol pic.twitter.com/aZBaFDF5qU

— American Idol (@AmericanIdol) October 29, 2018
Check out Katy's vintage Lionel shirt!
Hello @LionelRichie…is it YOU you're looking for? ???@katyperry @LukeBryanOnline
?#AmericanIdol #TheNextIdol pic.twitter.com/D6hz7B3b9K

— American Idol (@AmericanIdol) October 29, 2018