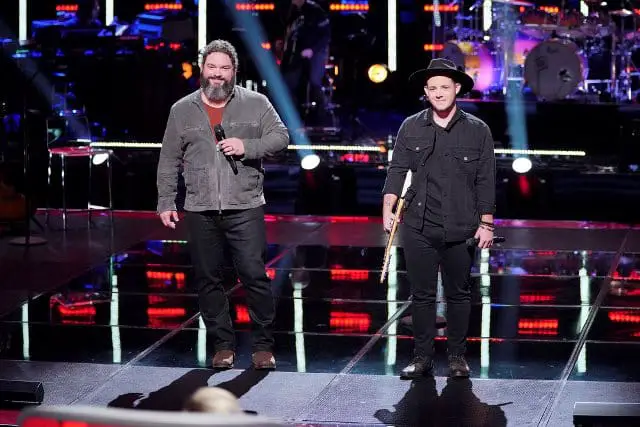 The Voice season 15 Knockouts continue tonight with coaches Adam Levine, Kelly Clarkson, Jennifer Hudson, Blake Shelton and Carson Daly as host. We're live blogging all the performances and results here. 
Coaches have paired up the remaining 32 team members who will each perform songs of their own choosing. The coach chooses the winner, who advances to the Live Playoffs. The loser is eliminated OR can be stolen by a fellow coach. Each coach has ONE steal to use during the round. Also, each coach has ONE opportunity to SAVE an eliminated contestant. 
The Knockouts key adviser is…Mariah Carey. The ex-American Idol judge will assist all four coaches with their team members performances.
Franc West vs Tyshawn Colquitt – Team Jennifer – Because the two are both old school, and "sing with a vengeance" Jennifer paired them together. 
Franc West – Call Out My Name by The Weeknd – He grew up in Cleveland and sang with the city orchestra. He moved to Atlanta eventually, but it was tough. He was homeless for awhile. He considers The Weeknd a "multi-genre artist" just like himself. "It fits like a hand in glove," he says. Jennifer is impressed. She wasn't expecting him to put his own spin on it. Mariah calls him an artist. She'd buy his stuff! She's also impressed that he writes his own songs.  His phrasing is compelling, coupled with great tone–he knows how to interpret a song. He's got a hard rasp in spots, but he makes it work. It's kinda nasty, but in a good way. 
https://www.youtube.com/watch?v=CHYZgHWK75Y
Tyshawn Colquitt – PillowTalk by ZAYN – After watching Franc, Tyshawn realizes he'll have to come with his "A game."  He and his mom own a pound cake business. Attending a performing arts high school saved his life. The song is one of his sister's favorites. He wants to show his range here. And indeed he does. It's a bit much. Jennifer likes the range, but feels he needs to add more to the interpretation. Bring out the softer tones, Mariah says. It's a solid performance. But I think Franc outsang him. He's just a more interesting singer. The high notes are a bit out of his range.
https://www.youtube.com/watch?v=JPAy6xWp1tk
Kelly calls Tyshawn range "insane." She gets Franc for the first time. Adam says they both gave infectiously great performances. Franc may be further along in artistry (YES), but he'd call it dead even. Jennifer compliments Tyshawn's range and presence, while Franc's voice cuts like a knife. Jennifer Chooses Franc. RIGHT DECISION JHUD. "He's got an extra kick in his voice," she says. Tyshawn is Eliminated. Aw. He brought pound cake. And he's totally eliminated. Jennifer and Kelly say they would have used a save if they had one to spare. 
Abby Cates vs Claire Dejean – Team Kelly – Kelly paired them together because they both fill the soulful pop lane, and she'd rather only have one moving forward.
Claire DeJean – There's Nothin' Holding Me Back by Shawn Mendes – Back in Texas she was gigging in coffee shops, working in musical theater. She chose the song because it's "fun and flirtatious." But it's hard to sing! Shawn is one of her favorites. BREATH BREATH BREATH says Kelly. She suggests the background vocals carry some of the load. Mariah thinks she needs to focus on the dynamics in her voice. Ohh. Honey. This performance is pitchy. She has a nice tone, but the song is beyond her. She needs more experience. A few more years, for sure. 
https://www.youtube.com/watch?v=iA_86egP5iU
Abby Cates – Because of You by Kelly Clarkson – She picked the song because she loves it and has been singing Kelly's music "forever." She started posting videos on her Instagram in 8th grade. Now she has a ton of followers. Mariah thought it was a bold song choice and that she did a beautiful job. Kelly gives her some pointers on holding back in spots. Mariah says "give the song space to show people your soul." Kelly shares that the song is about her broken home situation. It completely changed Abby's interpretation.  One bar in, and Abby is the obvious winner. Her intonation, tone and dynamics are ALL there. Her phrasing is REALLY nice. She really makes the song her own. So so clearly the winner. 
https://www.youtube.com/watch?v=EqfoLiK_xTg
Jennifer thinks it's a hard decision. Naw. Adam agrees with Jennifer. He felt they both delivered. "All three of you," Kelly addresses the duo.  Carson begins waving. Kelly is a little confused. Heh. Kelly says she's basing her decision on ALL the performances. Kelly Chooses Abby. Of course she does. That was actually an easy decision, but no coach would ever admit that.  Claire is Eliminated. Aw. She's crying. Kelly comforts her, "You're only 18…" she says. 
One more performance, and there is a STEAL
Joking around on stage, Adam sings Blake's "Honey Bee" in a funny voice. That, after insisting he didn't know any of Blake's songs. Har har. 
Dave Fenley vs Kameron Marlowe – Team Blake – The two are Blake's "country guys" who sing with a lot of grit. He wants to move forward with only one of them.  Blake jokes they had 200 dollars left in the budget to pay Mariah for a day and a half. I say: Now we know where the budget for the cancelled iTunes recording went. Amiright?
Dave Fenley – Stuck on You by Lionel Richie – Dave has listened to every single Mariah has put out. Really. He said that. He was raised on country, but his mom and dad loved the song. He misses his wife back in Tennessee, so the song correlates. Blake thinks the song could have been a country hit if released today. Mariah felt his heart. Blake also appreciates his connection. Not much criticism for Dave. It's a great song pick for him. He really knows how to imbue a song with feeling. Connection is his strength, for sure. But also, he's a great interpreter of songs. Beautiful phrasing. 
https://www.youtube.com/watch?v=GdwOKQnnGJg
Kameron Marlowe – I Shot the Sheriff by Bob Marley – Kameron feels the song can show a different side to his voice. Blake calls it a "lake song." He plays it when he's out on his pontoon boat with Gwen. Kameron wants to prove to Blake that he's more than a country singer. He quit school to help his mom after she had a back injury. Blake thinks the song is a risk. "You look uncomfortable," says Blake. But Mariah feels his vocal performance was strong.  She believes that when artists cover songs, they should not steer too far away from the original. Hmmm…. David Cook rearranged "Always Be My Baby" almost into a completely different song when she mentored on Idol, and she did not seem to mind. Kameron accompanies himself on electric guitar. This owes more to Eric Clapton's cover, actually. Kameron is super soulful here, and is totally sitting in the pocket. It's a cool, growly interpretation. Reggae songs are deceptively hard to sing. 
https://www.youtube.com/watch?v=U72SjA0hLEo
Jennifer would choose Dave, but she loved Kameron's energy. Kelly thinks they both have beautiful tones. Adam mentions that he didn't turn for either. Kameron was every bit Dave's equal, Adam says. He'd pick Kameron. Blake calls Kameron the 21 year old version of Dave. Blake wouldn't have thought of "Stuck On You" for Dave, but now that he's performed it, he thinks it's perfect. "Neither one of you screwed the pooch," says Blake. But unsurprisingly, Blake Chooses Dave because his vocal performance was so "dead on." And Adam Steals Kameron. Saying he would choose him gave it away. Adam appreciates his range and versatility. 
The promo pretends the Knockouts last two more episodes. BUT NO. Clip show on Tuesday. Just as well, because y'all got to go out and make sure YOU VOTE.