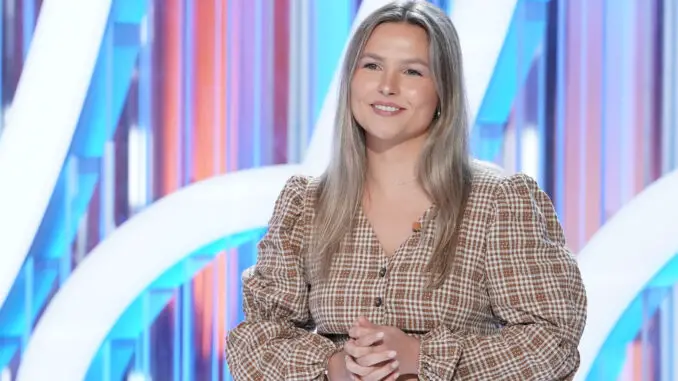 American Idol 2023 Recap Auditions 3 – We're Live Blogging More Season 21 Performances!
American Idol 2023 Recap Auditions 3 – Season 21 continues tonight with MORE auditions from Las Vegas, New Orleans and Nashville. Judges Lionel Richie, Katy Perry and Luke Bryan along with host Ryan Seacrest will introduce a new crop young hopefuls. Who will snag that golden ticket to Hollywood? Or better yet, will a hopeful earn a Platinum Ticket!
American Idol 2023: Full Season 21 Schedule
American Idol 2023 Auditions 3: Meet The Contestants (Photos)
American Idol 2023 Spoilers: Top 26 Season 21 Contestant List
American Idol 2023 Top 55 Contestants Guide (Videos, Photos)
Reminder: Comments on this post are a SPOILER FREE ZONE. Do not spoil outcomes. Keep spoiler discussion confined to specific spoiler posts.
The show opens with the judges on a balcony in New Orleans watching a parade. The band plays "All Night Long" and "Firework."
Sara Beth – 25 – Roswell CA – You Know I'm No Good by Amy Winehouse, Benny and the Jets by Elton John
She's only 25 but has three kids. Her kids are toddlers! She got married very young. (Is that man in the video her husband? He looks like her dad.) She has limited experience performing–mostly church choir and karaoke.
Expectations were low for Sara, she's not bad! But Katy shouts "Give us more" during her performance and afterward declares "That wasn't enough." They ask her to sing "Benny and the Jets," her second song choice. "Sing it like it's your new dream," Katy instructs. Sara has a soulful sound that really is pretty good. The problem is the judges suspect she's not serious about a music career. She's shouting by the end, as Katy eggs her on. "I feel like I'm going to pass out! Sara gasps once she's finished.
Luke loves her because she doesn't know what the hell she's doing.Lionel doesn't want her to be a gimmick, saying YOU have to take it seriously. Katy and Luke say yes, Lionel isn't convinced, he says no
Katy and Luke Yes, Lionel No.
Tanner Charles – 20 – Broken Arrow, OK – Golden Eyes (Original)
Currently, Charles works as a valet. He brings his girlfriend to the audition. He plans to sing an original song dedicated to her. It's a surprise for her birthday the following week! The girlfriend, Delaney, joins him. Oof. Sensing a surprise, her mind goes to a proposal.
Accompanying himself at the piano, the original has a pretty melody. The lyrics aren't particularly original, and he's got some pitch problems. But Tanner is very sincere and emotional. Katy is more emotional than the girlfriend! The couple hug afterward.
Katy calls Tanner "exceptional" and an "artist." He needs work on his confidence, and the judges will help, she says. "You've got the sausage man," says Lionel. "I hope I do!" Tanner jokes. Lionel adds, a little embarrassed, "You have the bbq sauce." Luke calls him a good storyteller and and singer. "Your instincts are perfect."
3 yeses
Mikey Burson – 22 – Nashville TN – Cold as Ice by Foreigner
Mikey and his MOTHER perform together as "Mo and his Mom." She's at the audition to play piano. So far, he explains, he's more successful as a duo, than as a solo.
Mikey sings with a strong tone, as his mother plays piano. This act is barroom karaoke, however. Mikey's rock voice is generic, alongside florid piano playing. Eh. The judges give them a standing ovation.
However, the ovation was more about the concept than the performance. Luke calls the act a "little loungey." Katy can't figure out who Mikey is as an artist, and feels his career is in the discovery phase. Lionel wants to take him to the next level and says yes. No nos and a yes means better luck next time. Leave mom at home!
Katy and Luke say no, Lionel says yes.
Adin Boyer – 22 – Lake Forest CA – (Original Song)
Aidin has his mother with him too, but only for moral support. The singer was diagnosed at 2 years old with autism. He grew up around art. His mom is a former stage actress, and his dad teaches music to kids. At 2, they also discovered his perfect pitch, and he began his musical training. Music has always been easy for him, but other aspects of life, not so much. Sudden loud noises are agony for him. But, in the meantime, he's worked hard to be able to do things he loves regardless.
He sings an original song at the piano. He is a talented player. At one point, he thought he'd be a classical musician. But he's got a good voice. His melodies are easy on the ears, even if his lyrics are a bit wordy.
"That was incredible," says Lionel. Katy will have to think about it. Luke compliments his piano playing They all think his vocals need work. Nevertheless Adin gets 3 yeses
3 yeses
Wé Ani – 23 – Harlem NY – Anyone by Demi Lovato
The Voice fans probably remember Wé from her run on The Voice season 11, where she finished the season in 3rd place. The coaches were shocked at her squeaky little voice after listening to her sing in a deep strong alto. The Idol judges ask about her speaking voice. She assures them that it's real.
The judges, like The Voice coaches, are shocked by how different her vocal tone is compared to the way she speaks. What's more, Wé is a spectacular singer, featuring a beautiful deep tone, and a soaring range. It's too bad she's had to take another swing at talent shows. The Voice should have done it for her.
"You are amazing," says Lionel. "This is ridiculous." Katy adds, 'Way to throw the curveball. Luke calls her voice "amazing," but won't get into the science! 3 yeses.
3 yeses
Marybeth Byrd – 21 – Armorel AK – If it Hadn't Been for Love by The Steeldrivers
And it's BACK TO BACK former The Voice contestants. Marybeth competed on season 17, and made it to the Top 8 on Team John Legend after he blocked Blake Shelton. It was a 4-chair turn. These days, she's a DJ on MIX 106.3 near her tiny hometown.
Marybeth explains that she will cover the Steeldrivers, but with a pop flair. The singer was known during her The Voice run for singing both pop and country songs. She was fantastic on The Voice, and she is STILL a talented vocalist. Her tone is beautiful and expressive, with a bit of rasp.
The judges are on their feet. "It was correct…period," says Lionel. "People just have it…first note. Everything about you's got it," says Luke. "I see a very bright future." The panel is acting like Marybeth has never left Arkansas. Just marianating away in her 300 pop town. For instance, Marybeth's The Voice exposure likely led to her radio gig. The singer shares with Katy that years ago she inspired her. "For sure Top 10," Katy says.
3 yeses
BRE – 27 – Burbank CA – All Night Long by Lionel Richie
Bre works as a dueling piano player. It's a short snip, but Lionel is at the baby grand playing and singing "All Night Long" along with BRE. Lionel is impressed at how the hopeful handled the impromptu duet (it seems that she sang solo immediately before). She's going to Hollywood! Fun fact: Season 8 finalist Matt Giraud came to Idol as a dueling piano player.
3 yeses
Next it's a joke act dressed as a fairy with goat ears. Hey, she's either that fairy chick from last year's AGT, or someone doing similar schtick. Next, Lionel tells a young male singer (Whose audition does not air) to sing from his colon. OK then.
Olivia Soli – 20 – Los Angeles – Hello by Lionel Richie
ABC previewed this audition earlier HERE. She's very nervous to cover Lionel, but she's doing it anyway! Lionel looked pleased as she performed his 80's hit "Hello," while Katy chimed in, "She's coming for your job!"
She reinterprets the song in a torchy style including a dramatic note to finish. Her phrasing is what makes the song her own. A compelling performance, she understood not to do a karaoke version, and she did not.
Lionel was out of his seat, clapping. "I want to be the first in your long career to rush the artist," he gushes. The coaches all agree that contestants need to turn covers into "their own." Lionel says, "Best so far in this audition." Luke observes, "I thought it was tremendous," but thought the piano was distracting.  "You really re-interpreted it," says Katy. "You put your own spin on it. You have a tremendous voice."
3 yeses
Preston Duffee – 21 – Hartsville SC – Something to Write About (Original)
Preston's mother struggled with bipolar depression. Unexpectedly, two years ago, she died of a self-inflicted gunshot wound. It happened at home. His mother was the breadwinner, and her absence led to the family becoming homeless for a few months.
Preston didn't begin songwriting until after his mother died. The song he performs is heartfelt. The storytelling is good–like pages out of Preston's diary. Some folks write in journals, Preston has turned to songwriting to work out his grief. The tune, sung in a radio-ready country tone–features a nod to Luke Bryan. The judge's music is part of Preston's happy memories.
The judges give him an ovation. "You nailed that," says Lionel, loving his songwriting. "I'm looking at a young Luke Bryan," says Katy. Luke warns him that he'll have competition if he goes to Hollywood. But he believes Preston has potential to be a successful songwriter.
3 yeses
Next, it's a montage of "musical theater" majors all receiving nos. Katy says that 9 out of 10 times, the musical theater stuff does not work for American Idol. One big-haired dude resembles Season 4 finalist, Constantine Maroulis, who was eventually nominated for a Tony. So, conservatory-trained singers navigate the show successfully at least sometimes! Actually, these montaged singers' problems are that they are terrible singers, not they they study theater.
Emma Busse – 20 – Vancouver, Canada – Goodbye Yellow Brick Road by Elton John
Emma recently graduated from musical theater school. She doesn't say, but specifically, its the American Music and Dramatic Academy. When she shares her background with the judges, they all give her the side eye.
Her vocals are more alternative rock than theater. She talked about having doubts. In her theater school, she probably compared herself to the big, bright theater vocalists around her. She's a bit pitchy, but her tone and approach are interesting She oversings in the end, but Emma is an original.
Katy approaches the seal, behaving like an exorcist. "Get that theater out of you!" she says. Luke comments that her slow vibrato "has to go." Katy believes Emma is on "the cusp" of crossing over, but needs some work. They ask her to sing "Happy Birthday" without vibrato. She manages, more or less, so the judges send her on to Hollywood.
3 yeses
Keelin – 24 – Ireland – Don't Call Me (Original)
She's from Ireland, but lives in New York now. She speaks without an Irish accent, so she's obviously been in America for awhile. Reportedly, she auditioned for X Factor UK, but her clip didn't make it to television.
She's not a terrible singer. But she comes off as kind of jokey. She could have a career like JAX from season 14, who does the quirky song thing. But she sang serious covers, which took to the final. This performance doesn't feel serious.
Lionel compliments her songwriting. Luke thinks she needs to work on her vocal. Katy compares her to Meghan Trainor, who also writes gimmicky songs (and can be really annoying. Sorry). Lionel says yes, calling Keelin "memorable." Katy calls her fun and says yes. Luke says no (I'm Team Luke), but he's not mad she's advancing.
Katy and Lionel say yes, Luke says no.
Elijah McCormick – 21 – Raeford NC – Bless the Broken Road by Rascal Flatts
ABC previewed this emotional audition last week. Elijah has an incredible story. On the day he graduated from high school in 2019 the young singer was in a terrible car accident that nearly killed him. He was in the hospital for 79 days, and flatlined several times. What's more, Elijah was set to audition for American Idol later in the year. He had his contestant number from the producers.
Elijah performs a powerful and emotional version of "Bless the Broken Road" by Rascal Flatts. Although he oversings at times, it matters more that he performs like a person who nearly lost his life, and knows it. Fans have already watched a snip of this performance. Elijah competed in the American Music Awards Platinum Ticket contest with Haven Madison and Matt Wilson. Elijah's brief audition snip got the most votes, earning the singer the coveted perk, which allowed him to skip the first round during Hollywood Week.
Luke says, "The last person I saw approach singing like you was Willie Spence." It's a chilling thought, as Elijah survived a terrible car accident, while Willie, the runner-up on season 19, did not. Lionel agrees which is why the performance moved him to tears. Katy reminds Elijah that it's the beginning of his story. "I can't believe you came to us. How the heck did you come to us," she says. Elijah's mom joins him in the room to hear that her son is indeed going to Hollywood. Katy calls him "Top 10."
3 yeses.