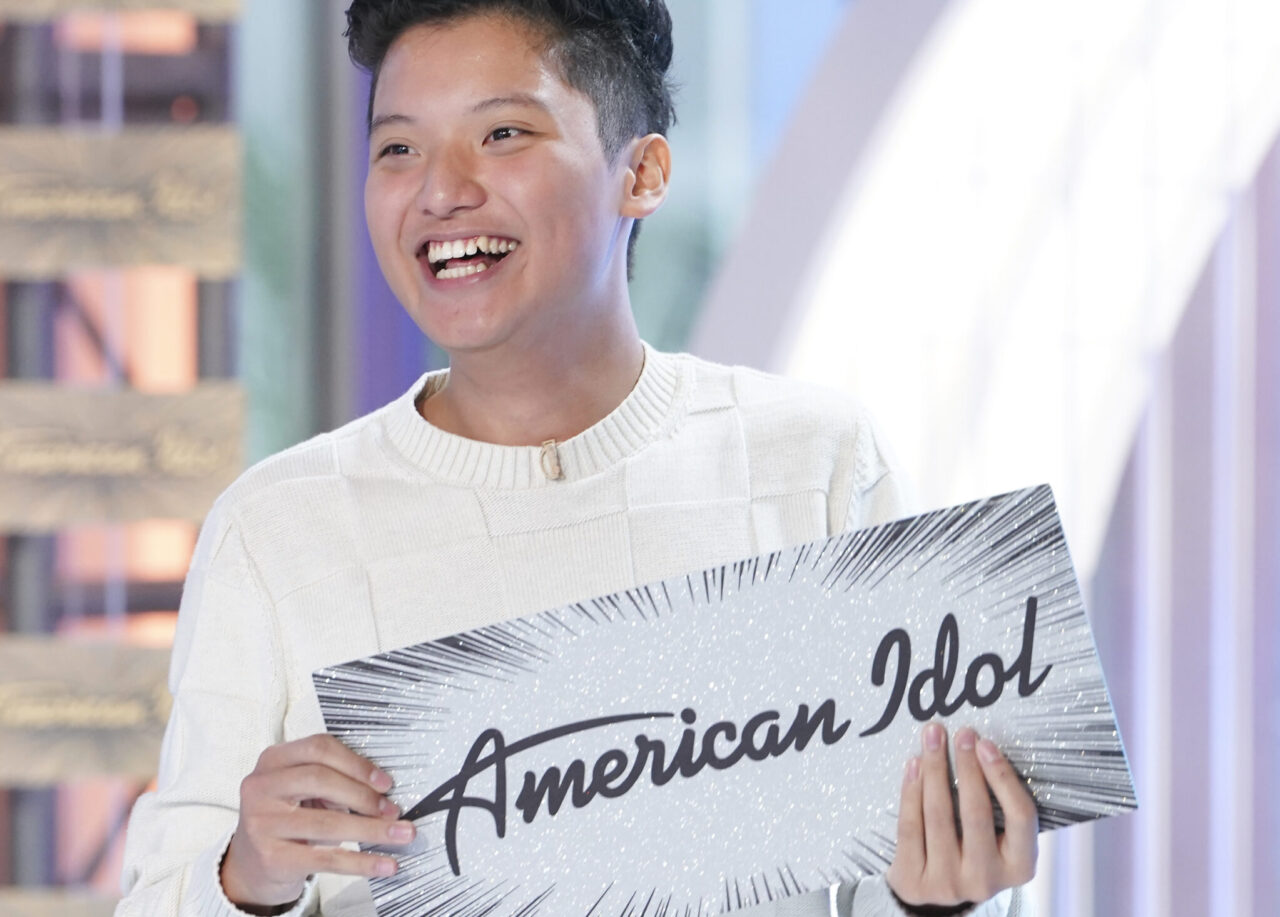 American Idol 2023 Premiere Recap – We're Live Blogging the Season 21 kickoff!
American Idol season 21 begins tonight with auditions from Las Vegas, New Orleans and Nashville. Judges Lionel Richie, Katy Perry and Luke Bryan along with host Ryan Seacrest will introduce a new crop young hopefuls. Who will snag that golden ticket to Hollywood? Or better yet, will a hopeful earn a Platinum Ticket! (Once again, one singer from each city will earn a Platinum Ticket)
American Idol 2023: Full Season 21 Schedule
American Idol 2023 Premiere: Meet The Contestants (Photos)
American Idol 2023 Spoilers: Top 26 Season 21 Contestant List
American Idol 2023 Top 55 Contestants Guide (Videos, Photos)
Reminder: Comments on this post are a SPOILER FREE ZONE. Do not spoil outcomes. Keep spoiler discussion confined to specific spoiler posts.
It's American Idol's 21st birthday, which means it can legally drink…or something. It's the "party of the century" Ryan declares. The opening indicates there will be a lot of crying! Everybody is crying!
Haven Madison – 18 – Clarksville Tennessee – "Fifteen" (Original)
Eighteen year old Haven's dad, Jason Roy, is with her to accompany her on guitar. He's the lead singer of a popular Christian band, Building 429.
She sings an original song titled "Fifteen." The song touches upon universal adolescent themes–the uncertainty of growing up. Her tone is clear as a bell and she phrases the song beautifully. She's a little strained on the high notes. But nevertheless, the performance is impactful. ABC previewed this audition last week.
The song ends, and Dad is crying . Lionel calls her "believable" and is so happy she made it to American Idol. Katy compliments her "vocal decisions." Luke says, "We're starting this day off good!" He thinks she has a unique ability to communicate with teens. Haven receives 3 yeses and she's on to Hollywood.
3 yeses
Lucy Love – 28 – Holly Grove AR – Heard it through the Grapevine by Marvin Gaye and A Song For You by Donny Hathaway
Lucy is soulful and dynamic. She directs her performance straight at the judges. She has a ton of confidence and personality.
However, Lionel suspects she's hiding something deeper behind her extroversion. He prompts her to share her story. She didn't have a dad, and her mom was in and out of her life. Music was a refuge. She's a mother of two, determined to break the cycle. Lionel insists she sing another song.
So, she strips away the big personality, and digs into "A Song For You" with all the emotion she can muster, and IT'S A LOT. Her tone is a standout. She doesn't sound like anyone else and her interpretation of an oft-covered song is wholly her own. The judges give her a standing ovation, as she cries. "You showed up," says Lionel. "You've got so much joy…so much pain in you. You can sing from both places," says Katy who compares her to Mary J. Blige. The second song convinced Luke to say yes. 3 yeses.
3 yeses
A montage of namesakes.
A bunch of contestants come out with the exact same names as the judges. They are joke contestants, basically, and they all get nos from the judges. Luke Bryan plays the piano for Luke Bryan while shouting at him.. Lionel's namesake is a rapper who goes by L-Rich. Katey Parry is a pretty horrible singer. If she was serious, she'd change her name (so would Luke Bryan). Ironically, Katy changed HER real name: Kate Hudson to Katy Perry for obvious reasons. And at the end, there is a a female Ryan Seacrest who is only there to shout "SEACREST OUT."
Colin Stough – 18 – Amory MI – Simple Man by Lynyrd Skynyrd
Colin comes from a small town in Mississippi. He's the poster child for American Idol favorites–a country singer with a humble background. His absent dad has drug and alcohol problems. His love of horses, and music, serves as an outlet for him. He wants more out of life than small town working class. Luke is smitten with him right away. Colin shares that his mother signed him up. American Idol previewed this audition a few days ago.
His gravelly voice is rough, but with a hint of sweetness. He's also a decent guitar player who knows how to phrase a song. He's got no history other than videos uploaded to Youtube. He confesses that he's very very nervous.
The judges are impressed. "You've got stardust," says Katy. Luke wants to meet his very excited mama. Luke thanks her for signing Colin up. Mom shares that Colin has been playing and singing since 5 years of age. "Raw, real and humble" is how Luke describes him. After Colin gets his yeses, outside of the audition room, he's overcome with tears. "I'm happy," he says.
3 yeses
Lyric Medeiros – 21 – Honolulu HI – Love Me Like You Mean It by Kelsea Ballerini, Before He Cheats by Carrie Underwood
Her father, Glenn Medeiros, had a big pop hit in the 80s with "Nothing's Gonna Change My Love"! And yes, the song playing in the background is so familiar. He had more hits, including a duet with Bobby Brown in 1990.
Lyric has a pleasant twangy tone. Katy yells at her. "YOU FLEW 10 HOURS TO BE CUTE AND SAFE!" She sings her second song, "Before He Cheats" by Carrie Underwood. The panel tries to force her to put more heft into her performance. Katy and Luke hounding her gets her shouting off key. It's not great. But nevertheless, they decide to (reluctantly) put her through. Mom says they flew for hours and Lyric is very nervous.
Zachariah Smith – 19 – Amory MI – Hurts So Good by John Mellencamp
Colin's back! He's having a hamburger at Bill's Hamburgers in Amory. They know each other! Colin whips out his Golden Ticket. Zachariah shares that he's auditioning in front of the judges as well. Sweet! It's worth noting here, that Season 15 winner, Trent Harmon is also from Amory. And HIS family owns a restaurant. I wonder if they all know each other?
Zachariah comes out with a bluesy, energetic delivery. He loses himself in the performance. He's having fun. On top of that, he has a credible voice, suitable to Southern Rock. Luke tells him to burn his apron. "You are not a gimmick," says Lionel. Katy calls him authentic. Lionel loves his fun-loving personality. His wife joins him in the audition room.
3 yeses
To celebrate New Orleans auditions, Trombone Shorty is playing in the audition room. For some reason!
Iam Tongi – 18 – Kahuku, HI – Monsters by James Blunt
Iam and his family moved to Seattle because they were "priced out of paradise." Seattle is pretty expensive too! His father, Rodney passed away a few months ago, and it's still raw. He tears up speaking about him.
He dedicates his song choice to dad. Accompanying himself on guitar, Iam pours out his grief and sadness. He possess a lovely tone. The performance is simple, but effective. The judges are becoming emotional as they listen. Luke is legit wiping tears from is eyes. And if I stop and really listen, I might cry too
"Your daddy's very proud," says Lionel. "You could have written this song," says Katy. "You hit a nerve. That's what great storytellers do." Luke shares how he lost siblings and is raising his nephews. "You did everything perfect," he says. "It's awesome what you just did." Lionel calls his delivery "phenomenal." There are video clips of Iam singing with his dad, who always wanted him to audition for Idol.
3 yeses
In Las Vegas, Katy puts on a Vegas showgirl performance to "Viva Las Vegas" flanked by real showgirls. She drops to the floor. The judges help her up. "I knew that was a shenanigan," Luke comments.
Michael Williams – 21 – Mason OH – Talking to the Moon by Bruno Mars
You might remember Michael from season 18 of The Voice, where he performed a Battle with American Idol season 20 finalist Allegra Miles. He won the four-way knockout that season on Nick Jonas' team. He left the competition at the Playoffs. Now, Michael brings his sweet and high falsetto to American Idol. He's a real heartthrob, this guy. Katy is swooning.
Luke says, "Great job, great all around singing. Good stuff." Lionel says, "Not just a pretty face!" He refers to him as a "package." Katy compares him to Shawn Mendes and Harry Styles. She likes his voice, but notices that his soft vocals are gonna get pushed. "He's top 10," Katy declares.
3 yeses
Megan Danielle – 20 – Douglasville GA – You Say by Lauren Daigle
Megan and her mom work at a southern cooking restaurant in their small town. Her grandfather passed away a year ago, and she misses him. She performed at bars and didn't like it, because it didn't feel like her. Her grandfather urged her to get out of the bars and sing for the Lord, so she switched to Christian music.
There is a surprise for Megan! She's auditioning in Las Vegas with Lauren Daigle's hit "You Say." Lauren is in town and drops by to surprise her. She calls it a full circle moment, remembering the season 11 Las Vegas round, in which she competed. As Megan sings, Lauren strolls into the room to join in. Megan doesn't faint or barely misses a beat. They sing together.
Weirdly, the judges treat Megan as a total newbie, but the singer competed on The Voice season 18 on Team Kelly Clarkson and made it to 9th place, which is pretty good! However, her audition here is uneven, and the judges react in kind. Luke calls Megan an unpolished diamond that has room to grow. Lionel wants to get her out of her shyness. He promises to push her. Katy compliments her grit. It turns out Megan and Lauren both had grandpas named Chuck. Amen.
3 yeses
Tyson Venegas – 17 – Vancouver CANADA – New York State of Mind by Billy Joel – Las Vegas Platinum Ticket.
He used music when he was younger to help with a speech delay. At 3 years old, he still wasn't speaking. Singing helped! His mom took young Tyson to a Lionel Richie concert, and it inspired him.
Tyson accompanies himself on piano. His voice isn't what I expected. It's high and warbly and very different. He's interesting. When it's time to hit the big notes, he can do it. I wasn't expecting that either! He's so smooth and jos jazzy delivery is confident. The judges LOVE IT.
Remember when I cited a source and wrote that there were a total of four platinum tickets? One in each city and the fan voted ticket from the American Music Awards contest. Welp. Tyson gets the Nashville Platinum Ticket y'all. The judges ask Tyson to bring his mom into the room. Lionel says Tyson is performing like a 45 year old. "He just inspired us," he says. "I felt so connected…alive" is how Katy described listening to Tyson sing.
All the judges agree, Tyson gets the Platinum Ticket for Las Vegas.
Jack Nicora – 19 – McKeesport PA – In The Still of the Night by the Five Satins
Jack sings Doo Wop music. And I doubt that it's a coincidence that he comes from Pittsburgh, where Doo Wop has a rich and varied history. I love 60s pop and I could go on and on about the oldies stations, and beloved DJs in my hometown. Soul and Doo Wop was THE THING all the COOL KIDS listened to at the time. The Beatles WHAT? ANYHOO. Jack brings his pet bird with him.
He sings the sort of song that won't get him very far on American Idol. He's an OK singer. But I bet the grandmas and grandpas at the VFW back in the burgh freaking love the guy.
"You have a nice tamor in your voice," says Katy. But feels that he needs some work. Luke calls Doo Wop "loungy." The judges say, no, unsurprisingly.
3 nos
Kya Monee – 21 – Austin TX – I'm Here from the Color Purple
Kya explains to the judges that she has returned to American Idol after competing on Season 19. What's more, she was the late Willie Spence's duet partner in Hollywood. Wille, who finished the competition as runner-up to Chayce Beckham, died in a tragic car accident last October. Kya and Willie became good friends, and she's still coping with his death. Willie planned to accompany her to the judges audition, and helped her pick a song.
In memory of Willie, Kya delivers a bold and powerful performance. She's leaving it all on the floor for her beloved friend. It's not a perfect vocal, but it doesn't matter. She completely loses herself in grief and emotion. She's crying by the end.
Lionel is crying too. He brings a handkerchief to Kya. "What you have given us is everything we've been telling all these kids." He calls the performance "Divinely guided" by Willie. Katy says, "It was so connected to the pain. You are authentic just like he was." Kya admits, 'I don't think I'd be here without my best friend Willie." The clip ends with a tribute card for the late singer, gone too soon.
American Idol typically doesn't mention alums who pass away on the show. In fact, C.J. Harris from season 13 died recently, and they didn't mention him tonight at all. But Willie competed on the show only two years ago and is the first alum from the ABC era to pass away. RIP Willie