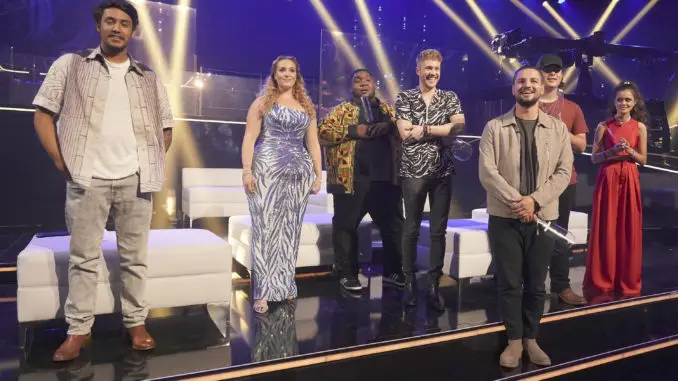 The American Idol Top 7 take the stage Sunday night (May 9) to perform TWO songs. They'll dedicate a song to mom and also perform a tune from the Coldplay songbook. Frontman Chris Martin will mentor the singers.  Check out our song picks for the contestants HERE.
Last week, I knew in my heart that Cassandra Coleman was leaving the competition. I even said, in my Top 10 power list, that I put Caleb Kennedy at N0. 8, because I was basically in denial. And maybe I'm still in denial? Because I ranked Caleb dead last this week. Sure, he's the only country singer remaining. But his fellow singers left in the competition are too good and/or too popular to go first.
Two are going home this week (ugh) and the other contestant will be a shock no matter what. It could be Hunter Metts or even Grace Kinstler. Chayce Beckham, Willie Spence, Casey Bishop and Arthur Gunn are Top 5 locks, I believe.
Ahead of the performances, here's how I would rank the Top 7. 
American Idol 2021 Top 7 Power List
7. Caleb Kennedy – Caleb performed his personal best last week, with an energetic rendition of "Real Gone" from the movie Cars. But he still needs to work on coming out of his shell. If the show REALLY wants him to succeed, they would allow him sing an original song for his mom. 
6. Hunter Metts – After breaking down during his Top 12 performance a few weeks ago, Hunter seemed to hold back a little last week. The poor kid seems like a nervous wreck, to be honest. He could make the Top 5, but he's got to hold steady while not holding anything back during his performance.  
5. Grace Kinstler – If there is a shock boot on Sunday, Grace might be it. The producers seem to favor her–she has closed the show twice now. But I wonder if the audience loves her as much? She's had some uneven performances, and the judges tend to give her contradictory critiques.
4. Chayce Beckham – Don't underestimate Chayce. He's not the best singer remaining, but there is something really relatable about him, like a well-worn pair of favorite sneakers. He's consistent, and always sings from the heart.
3. Willie Spence – For me, Willie's performances are becoming predictable. There's the build up until it's time to CHANGE KEYS and then maybe probably, just for good measure lets CHANGE KEYS AGAIN OMG! Nevertheless, Willie is an incredible singer, and it's no surprise he's got a bunch of fans liking his passion and musicality.
2. Casey Bishop – Casey has had a spectacular growth arc all season. Rock chicks don't usually go far on this show. So it's a good thing that Casey is so much more than a rock singer. She can sing standards, blues and more with a beautiful, yet sturdy tone that's undeniable. I think she could make Top 3. 
1. Arthur Gunn – The season 18 runner-up remains in the pole position. Again, he may not win, but Arthur is still operating with a ton of advantages, like a built in Idol fan base. And I don't think the backlash among Idol die-hards will matter in the grand scheme of things. 
Poll Results
American Idol 2021: Favorite Top 7 Contestant
You guys have Grace and Hunter ranked 2nd and third…and Caleb last. I'm not sure y'all are in sync with the casual Idol viewer. But I would happily be wrong.
Casey Bishop – 30.36%
Grace Kinstler – 20.84%
Hunter Metts – 17.23%
Chayce Beckham – 11.45%
Willie Spence – 10.72%
Arthur Gunn – 7.23%
Caleb Kennedy – 2.17%
American Idol 2021: Favorite Top 10 Performance
Grace Kinstler's show stopping performance comes out on top, followed by Casey Bishop, Hunter Metts, Chayce Beckham and Willie Spence. That's a Top 5 I could get behind.
Grace Kinstler – Into the Unknown from Frozen II – 26.16%
Casey Bishop – When She Loved Me from Toy Story 2 – 22.65%
Hunter Metts – You'll Be In My Heart from Tarzan – 11.78%
Chayce Beckham – Baby Mine from Dumbo – 9.17%
Willie Spence – Circle of Life from The Lion King – 8.27%
Arthur Gunn – Remember Me from Coco – 6.91%
Alyssa Wray – A Dream Is a Wish Your Heart Makes from Cinderella – 4.42%
Cassandra Coleman – Go the Distance from Hercules – 4.30%
Caleb Kennedy – Real Gone from Cars – 3.40%
Deshawn Goncalves – When You Wish Upon a Star from Pinocchio – 2.94%
American Idol 2021 Top 10: Which Eliminated Contestant Was Robbed?
Yep. That looks about right.
Cassandra Coleman – 41.22%
Alyssa Wray – 28.88%
Nobody was robbed – 19.34%
Deshawn Goncalves – 10.56%
American Idol 2021: Grade Top 10 Disney Night Episode
It's the highest graded episode so far. Hopefully, the show keeps up the momentum. I can't believe there are only 3 more episodes. 
A – 44.52%
B – 35.62%
C – 11.64%
F – 4.79%
D – 3.42%
By the end of Sunday's show, TWO singers will be eliminated as fans watch and vote in real time. American Idol airs Sunday May 9 on ABC at 8 pm ET/7 PM CT/6 PM MT/5 PM PT.