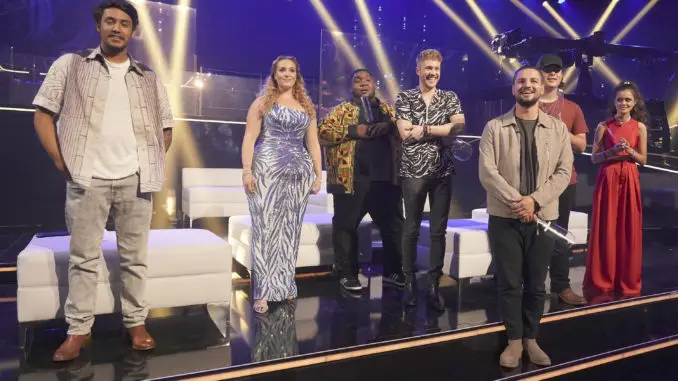 American Idol returns next Sunday (May 9) with a live coast-to-coast episode as the top seven contestants perform two songs each on ABC. In this show, the remaining finalists will perform one song dedicated to the special loved ones in their lives in honor of Mother's Day and a second song from the Coldplay songbook, mentored by the band's lead singer, Chris Martin.
Coldplay will also perform their recently announced new single, "Higher Power," in a worldwide exclusive performance. Voting starts at the beginning of the episode and the top five finalists will be revealed at the end of the episode. 
Check out a few song suggestions below. Mother's Day selections are first, followed by Coldplay. CLICK SONG LINKS FOR VIDEOS. What do you think the Idols should sing? Let us know in comments!
Coldplay and Mother's Day Song Suggestions
Arthur Gunn
In My Life by The Beatles 
Mama Said by Lukas Graham
"In My Life" is a remembrance song to loved ones, so it could work as a dedication song for Mother's Day as well. Arthur could take the fairly simple melody and make some changes to it. "Mama Said" is a song about having not a lot but "enough" growing up and could lend well to a Mother's Day dedication song. It has some almost "talky" reggae-esque parts. Arthur did a few songs last season with Island vibes, so maybe this could work.
This may be Coldplay's most recognizable song and I could totally see Arthur's gritty tone and an "Arthur" arrangement on this song. Plus, a few  really pretty acoustic versions of the song exist.
Caleb Kennedy
Humble and Kind by Tim McGraw
Mama Knows by Shenandoah
"Humble and Kind" is a tough task. It has been done a few times on The Voice. However, it is a beautiful country ballad, and Caleb needs to show range at some point. Still, it would be a big risk. It was penned as a song meant as a message for children to "always stay Humble and Kind." This 80s hit "Mama Knows" could work for Caleb too, and it is a bit more in his style.
Out of all the Coldplay songs, this is the one that I thought Caleb could countrify. Also, the song is guitar heavy as it goes on, so I could see Caleb playing it. Season 13 finalist Majesty Rose nailed this in her audition, so I am not sure if I'm ready just yet to see another version.
Casey Bishop
Love Me Tender by Elvis Presley
Home by Daughtry
"Love Me Tender" is about a love that has made Elvis's life complete. The lyrics are general enough that I think it could work. Casey could nail the ballad. David Archuleta did a solid version back in the day. "Home" might be a bit weird since it references going home, but it is also speaks to the love home brings with the line "where your love has always been enough for me." The "your" could be a mother. It is also an alums song, so if Casey nails it which I think she could, it could be a moment.
This song is one of my favorites from Coldplay. There are rock versions of it and the song is already a bit rocky in the chorus. I'm sure Casey will return to rock for at least one of her Top 7 performances and this would be a good choice to do it with.
Chayce Beckham
Simple Man by Lynyrd Skynyrd/ Shinedown
Forever Young by Bob Dylan / Rod Stewart
Cade Foehner performed "Simple Man" in Season 1 of ABC Idol's Mother Day week, but I think it could be done again. Chayce's fans have suggested it a lot in his lives. He could do the more grungy version by Shinedown as well. "Forever Young" is more about a dad, but the lyrics are general enough that it could work and Chayce's rasp fits perfectly with Rod Stewart. If the Bob Dylan version is done, I could see Arthur singing it.
"Paradise" would be a good choice for Chayce. It would sound nice on the acoustic guitar and suit Chayce's rasp as well. I think this choice fits Chayce like a glove, and I am actually really hoping for it.
Grace Kinstler
Because You Loved Me by Celine Dion
Superwoman by Alicia Keys
I suggested "Because You Loved Me" for Oscar week. I wonder if the song is not cleared? But if it is, Grace could turn this gorgeous song into a showstopper. "Superwoman" would be another good choice. It has been done on The Voice a few times. I know Alicia was a The Voice coach, but Grace would do really well with this soulful song.
Clocks by Coldplay
Hymn For The Weekend by Coldplay
I could not just choose just one for Grace. These are two songs that would translate to belting well. "Clocks" might suit a competition a bit better and I could see her nail the little head voice bits in this song. "Hymn For The Weekend" is very pop and has a Beyonce feature on it. I would love to see Grace have fun with a song that has some more vocal moments.
Hunter Metts
Landslide  by Fleetwood Mac
Mother by Kacey Musgraves
The "children get older" line is pure magic in "Landslide," and I could totally see Hunter singing this song. It is right up his alley. The other song suggestion is originally a country song, but Kacey is a stylist with a lovely tone that Hunter could pull off with his own unique tone.
Really any Coldplay song would fit Hunter, but I hope "Yellow" is the one Hunter does. I'm sure Chayce or Arthur could do it, but only Hunter could do the high falsetto parts, and I would love to see that. The song is a fan favorite, so if performed, it could translate to a lot of votes.
Willie Spence
Rescue by Lauren Daigle
I Look to You by Whitney Houston
"Rescue" would be a good pick for Willie, because I liked when he put some more soul and Gospel into his music with "Stand Up." The song would be a return to his spiritual side. It is about being there for someone, which fits Willie's caretaker relationship with his mom. "I Look to You" is another excellent and not overdone Whitney song., off one of her 2000s albums. The ballad is about turning to someone at a point of weakness.
O by Coldplay
The Scientist by Coldplay
"O" isn't covered much, but it has been done on The Voice Norway and it is absolutely gorgeous. It is very angelic and would be a switch up from what he has performed previously. "The Scientist" is another choice that could work, as it is the group's most well-known ballad and Willie can flat out sing. I would have picked this one for Cassandra Coleman, but she's not here anymore.
Coldplay Songs to Avoid
Fix You (the only Coldplay song that I think is so overdone. Yes, Yellow and The Scientist have been done a lot, but they still seem fresh)
A Sky Full of Stars (It doesn't really go anywhere)
Princess of China (I love this song, but I don't think it translates well to a solo or a competition even if Rihanna is featuring on it)