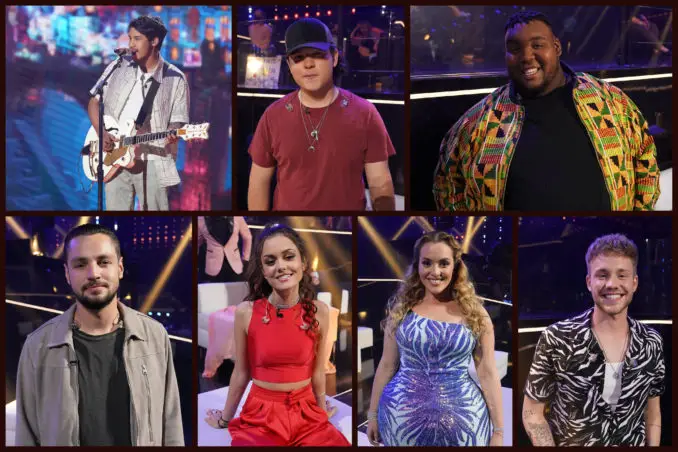 What will the American Idol 2021 Top 7 sing this week? Now we know, via Billboard magazine! Sunday's show boasts two themes: Songs from the Coldplay catalog, and Mother's Day dedications. Once again, American Idol will air coast to coast across all time zones, allowing viewers to vote simultaneously. TWO singers will be eliminated by the end of the night.
Notably, no singer chose the ubiquitous Coldplay weeper, "Fix You." Maybe the band didn't clear it, forcing the singers to choose creatively. Frontman Chris Martin will mentor each contestant before their performance.
For the Mother's Day dedication songs, three singers chose original compositions to sing, including Caleb Kennedy, Chayce Beckham and Hunter Metts. It should be an interesting night of music! 
American Idol 2021 Top 7 Power List and Poll Results (Rank the Singers!)
American Idol 2021: Top 7 Mother's Day/Coldplay Song Suggestions
Additionally, Coldplay will perform their newest single, "Higher Power." That's a ton of music to fit into two hours (I checked. The show is only two hours long, despite what Billboard posted in the article.)
American Idol airs Sunday May 9 at 8 pm ET/7 PM CT/6 pm MT/5 pm PT
American Idol 2021 Top 7 Song Spoilers
Arthur Gunn – In My Place by Coldplay
Arthur Gunn – Simple Man by Lynyrd Skynyrd
Caleb Kennedy – Violet Hill by Coldplay
Caleb Kennedy – Mama Said by Caleb Kennedy
Casey Bishop – Paradise by Coldplay
Casey Bishop – Ironic by Alanis Morissette
Chayce Beckham – Magic by Coldplay
Chayce Beckham – Mama by Chayce Beckham
Grace Kinstler – Hymn for the Weekend by Coldplay
Grace Kinstler – When We Were Young by Adele
Hunter Metts – Everglow by Coldplay
Hunter Metts – The River by Hunter Metts
Willie Spence – Yellow by Coldplay
Willie Spence – You Are So Beautiful by Joe Cocker.