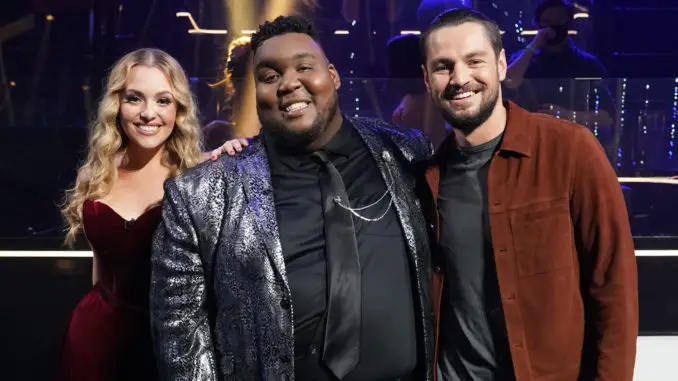 Last season's American Idol not only scrapped its live shows due to the pandemic. But the lockdowns made the traditional hometown visits out of the question. This year, the homecomings have returned but in a scaled back fashion.
Usually, American Idol would get the word out to hometown fans by publishing each of the finalists hometown visit schedule. But not this year. The plan seems to be–get in with the cameras and shoot the finalists at home, and then get out. However, the Top 3 finalists Grace Kinstler, Willie Spence and Chayce Beckham are all headed to Crystal Lake, Illinois, Douglas Georgia and Apple Valley, California respectively, for that heroes welcome.
Grace Kinster Crystal Lake Illinois Homecoming
Grace Kinstler seems to have the most elaborate schedule of the three. Here's what Crystal Lake has planned for their favorite, according to the Daily Herald:
At 3 pm, a parade begins at 3 pm in Downtown Crystal Lake followed by a concert at RedTail Golf Club. Masks and social distancing will be required along the parade route. Attendees must PURCHASE tickets for Grace's "Hometown Concert" scheduled to begin at 7 pm.
Grace will be on stage at 6 PM to film a segment for the show's finale. Concert seating will be arranged in pods of six seats each on a first-come, first-served basis. All attendees will be required to wear masks.
Tickets for the concert are available online at www.etix.com for $5 per person or $300 for VIP pods, located in the first few rows. In the past, hometown concerts were typically free.
Willie Spence Douglas Georgia Homecoming
Douglas, Georgia plans to celebrate Willie Spence, but without a parade or concert. According to FOX 31:
Douglas city officials announced on Monday that all activities Willie will be a part of will be invite only and that camera crews will not be able to film if crowds gather.
However, city officials are asking residents and business owners to show support for Spence by doing the following:
Update business marquees
Hand a banner
Decorate posters
Put out yard signs
Paint a window message
Willie will be chauffeured through the town and filmed while seeing the messages of support according to city officials.
Residents are also asked to gather on Peterson Avenue and Madison Avenue to Jardine Stadium with signs of support at 4:30 p.m. as Willie travels through town. But they are asked to be socially distant, wear a mask, and not attend while sick.
Chayce Beckham Apple Valley California Homecoming
???
Information will be posted here as soon as it becomes available
Casey Bishop – Estero Florida Homecoming Plans
Because of the planning involved, all Top 4 contestant hometowns tentatively scheduled homecomings. Here's what Estero, Florida, eliminated contestant Casey Bishop's hometown, had planned for her, per ABC7
"We had planned a number of people to greet her with signs and get her excited, she was going to walk out on the pier and go through times square so at the end of the day she was going to be pretty tired," Vice Mayor Jon McLain told ABC7.
McLain said that along with plans to take her around Southwest Florida and perform a concert for her local fans, they were also going to give her a key to the city, which they still intend on doing.
Those plans will still happen, just not right now, he said.