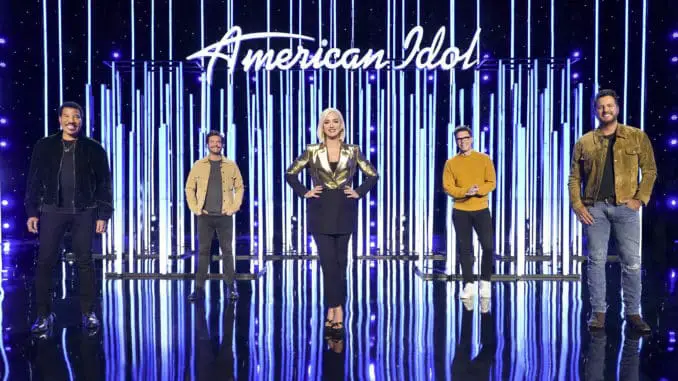 American Idol, the iconic series that revolutionized the television landscape by pioneering the music competition genre, will return to airwaves during its season premiere Sunday, February 14 (8:00-10:00 p.m. EST), on ABC.
Helping determine who America will ultimately vote for to become the next singing sensation are judges Luke Bryan, Katy Perry and Lionel Richie. Ryan Seacrest will return to the beloved competition series as host and radio and TV personality Bobby Bones is set to return as in-house mentor.
American Idol 2021 Promos: "It Changes People's Lives" (Video)
American Idol 2021 Promo Features Genius Quotes, MORE Tears (Video)
American Idol 2021: Singers Galore Featured in New Promo (Video)
In the days rolling up to the new season, ABC is dropping new photos and videos on a daily basis. Check out a photo album of pics, including press shots and photos from the upcoming auditions below. It's worth noting that Bobby Bones skipped the auditions due to a scheduling conflict, which is why he's only depicted in the publicity shots.
Because of the COVID-19 pandemic, American Idol could not take the show on the road this year. However, as you will see, the sets look pretty much the same in all three California locations where the auditions were shot, including Los Angeles, San Diego and Ojai. The notable difference on set is how the judges are spaced far apart in the audition room. Each has their own desk. And for this season at least, the cast won't be hugging the hopefuls.
American Idol promises "surprise twists" for the new season
The show's first press release promises that the auditions will "surprise audiences and hopefuls alike with never-before-seen twists."  OK THEN! American Idol filmed the Hollywood Round back in December, but with staff kept to a bare minimum, and no friends or family on set, spoilers have been tough to come by.
Check out new promos, surely coming to an ABC television spot in the near future.
Katy Perry says "What do you have to lose?"
"We just broke all the rules for you," Katy says to one hopeful, "Because you're worth breaking the rules over."
Luke Bryan says "You never know what's going to walk through that door"
Luke loves "humility"
We All Started With a Dream
It's Throwback Thursday for the cast!