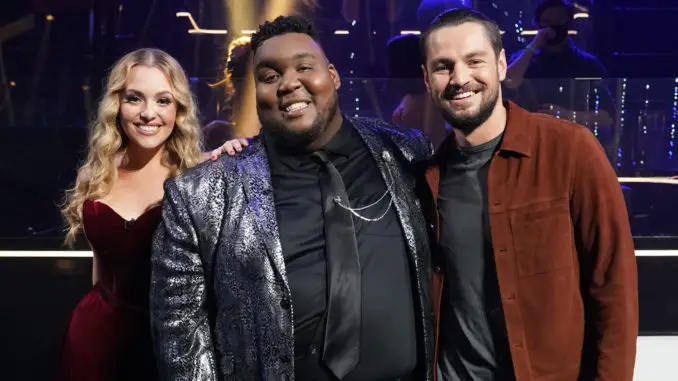 The American Idol 2021 Top 3 will take the stage on Sunday's (May 23) grand finale for your votes. Only one singer will emerge as the winner at the end of the 3 hour live coast-to-coast event. Each of the three finalists–Chayce Beckham, Grace Kinstler and Willie Spence will perform THREE songs. The themes are: "Hometown Song," "Favorite Moments" and "Judges Pick."
The "Hometown Songs" relate to the visits home the Top 3 made earlier this week. Clips from the singers' emotional day with friends and family will accompany the performances.
American Idol 2021 Hometown Visits: Top 3 Welcomed Home! (Photos)
Billboard has revealed the song selections and themes. Check them out below.
Hometown Songs
Chayce Beckham – Fire Away by Chris Stapleton
Grace Kinstler – I Have Nothing by Whitney Houston
Willie Spence – A Change is Gonna Come by Sam Cooke
Chayce sang has covered Chris Stapleton on the show, but "Fire Away" is a new performance, as is Willie's "A Change is Gonna Come." (Nia Renee sang the song for the Showstoppers round)
Favorite Moments on the Show
Chayce Beckham – Afterglow by Ed Sheeran
Grace Kinstler – (You Make Me Feel Like) A Natural Woman by Aretha Franklin
Willie Spence – Stand Up by Cynthia Erivo
Chayce sang 'Afterglow" during the Top 24 performances.  "Natural Woman" was Grace's audition song. Willie performed "Stand Up" as his Oscar Nominated song at Top 12.
Judges Pick
Chayce Beckham – Blackbird by The Beatles
Grace Kinstler – All By Myself by Celine Dion
Willie Spence – Georgia on My Mind by Ray Charles
As far as celebrity performances are concerned, Billboard spoiled those too. Fall Out Boy, Macklemore, Lindsey Buckingham, Mickey Guyton, Leona Lewis, Sheryl Crow, Chaka Khan, Luke Combs  Check out this link for all the celebrity/contestant matchups and info on the return of a FAN FAVORITE CONTESTANT!
American Idol Finale: Murphy Returns! Celeb Contestant Duets Revealed (UPDATED!)
The American Idol 3 hour 2021 finale airs on ABC Sunday May 23 at 8 pm ET/5 pm PT.