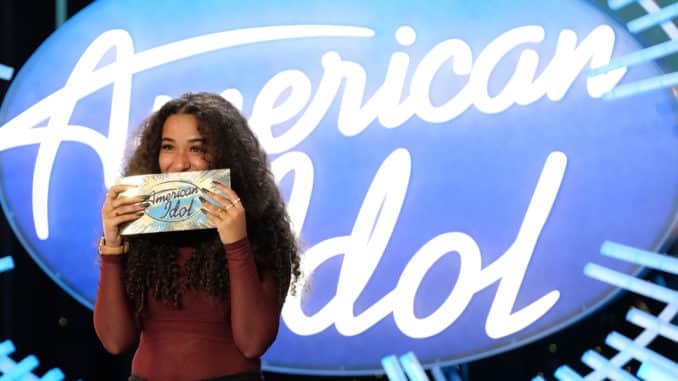 American Idol 2020 Auditions 3 airs TONIGHT on ABC at 8 pm ET/PT Featured on the panel are veteran R&B master, Lionel Richie, pop star Katy Perry and country singer Luke Bryan. Ryan Seacrest returns to host.
In the third American Idol audition episode of the season viewers will embark on a nation-wide journey across Savannah, Georgia; Milwaukee, Wisconsin; Washington, D.C.; Los Angeles, California; and Sunriver, Oregon.
We've got a TON of Spoiler posts linked below. NO SPOILER DISCUSSION ON THE LIVE BLOG. Keep talk under the spoilers posts. Giving stuff away will result in an instant banning.
When Does American Idol 2020 Start? Full Season 18 Schedule
American Idol 2020 Auditions 3 Preview: Meet the Contestants! (PHOTOS)
American Idol 2020 Spoilers: Top 20 Contestant List
American Idol 2020 Spoilers: Top 40 Showcase Round/Song Choices
Kimmy Gabriella –  Let's Hurt Tonight by OneRepublic – 17 – Lakeland FL – She wanted to follow in her father's footsteps. Kimmy describes him has a "famous" performer, although she never names hims. But apparently, he toured and starred in music videos when he was young. She has a very pretty tone, and nice, simple phrasing. Lionel calls her performance "fabulous." Katy wants to hear a song in Spanish. She obliges. Katy is so impressed, she calls Kimmy Top 10, and then tosses a Golden Ticket at her! Lionel agrees, "This is some Top 10 material." Hm. Her voice is nice, but I would not call her spectacular? She's a little young. 3 yeses
https://www.youtube.com/watch?v=2DfWf6EWu60
Katy takes the judges to the spot in Los Angeles where Orlando Bloom proposed. What a coincidence that Idol chose the same building to film the auditions! Heh.
Amelia – Yesterday by The Beatles – 23 – Phoenix Az – Amelia accompanies herself on piano for a beautiful rendition of the classic 60's hit. 3 yeses
Erin Kirby – Who You Are by Jessie J – 16 – Jasper GA – Pink haired girl! "I don't like it…I love it!" says Katy, attempting an unconvincing fakeout before handing her a Golden Ticket! 3 yeses
Jordan Jones – Lovesong by The Cure – 26 – Scottsdale AZ – He brings his girlfriend into the audition. After Jordan gets his Golden Ticket, he proposes. By the way, check his Instagram. He's already married! Katy is so excited, because her proposal happened in the same space. 3 yeses
Lauren Mascitti – If I Can Lose You (Original Song) – 27 – Nashville TN – Lauren brings along her fiance, Shawn Camp, who is a big enough deal in the country music world, that Luke knows him. He's co-written for big artists like Garth Brooks. Today, he'll be accompanying Lauren on guitar.  Lauren has already released a ton of music (9 albums!). She grew up in a farm community where she attended nursing school. Her grandparents adopted and raised her. She eventually moved to Nashville and still works as a nurse while pursuing a music career. Lauren has an authentic country voice and impressive songwriting chops. She's obviously been knocking around the business for a while. She's a total pro. Katy loves the feeling and emotion in her voice. Lionel appreciates her "silky quality of a storyteller." Luke compares her to Laci Kaye Booth from last year. They wonder if she can hold up against big voices. But Katy insists "best storyteller wins." American Idol is now branding itself as a "songwriter/artist" competition. 3 yeses
https://www.youtube.com/watch?v=O-LWUsFEkmQ
Ryan Harmon – I Knew This Would Happen (Original) – 24 – Lamar AR – The segment opens with Ryan asking mentor Bobby Bones how he got his start. Shouldn't Bobby be asking the questions? Ryan also wants advice for a would-be auditioner. Have confidence is the short answer from Bobby. He comes from small-town Arkansas. His entire family works at a nuclear plant. Ryan is kind of a character "DAG GUMMIT." He's got a country music podcast. He also namechecks the seemingly famous Shawn Camp. I don't love the song, but Ryan delivers a solid vocal. When Luke learns that Ryan is writing solo, he suggests a move to Nashville. He was about the same age when he picked up and moved to music city.  The competition would up his game, he says. Katy thinks he's a couple of years away from being ready.  3 nos. If Ryan actually takes the judges advice and moves to Nashville, I think he'd have a chance next year.
https://www.youtube.com/watch?v=vtA_b35aGzE
Courtney Timmons – Rise Up by Andra Day – 22 – Harris Neck GA –  Courtney showed up at auditions believing it was an open call. WHOOPS. Ryan helps her sneak into the auditions without a number. She's not a bad singer.  She's struggling a little on the high notes though Did they really have no idea about her talent? This bit feels staged, but who knows. Lionel calls her a "bird." Katy calls her one of the best singers they've seen today. Seems dubious. Ryan is crying? Uh, Katy is also crying. Why are they crying. I don't get it – 3 yeses
https://www.youtube.com/watch?v=_c17qFtgxFw
Lauren Spencer-Smith – What About Us by Pink – 16 – Vancouver Island Canada – NOT mentioned in Lauren's video package: She recently released an album in Canada and is up for a Juno award! Also, she uploaded a video of her singing in a car that went viral. She has a big, rich voice. I like her round tone. Lionel calls her wise and gifted well beyond her age. "You did a great job!" Luke calls her voice "super interesting." Katy calls her gift "god given…that voice is a thousand years old." She compares Lauren to Leona Lewis. 3 yeses.
Dewayne Crocker Jr. – Don't Worry Be Happy by Bobby McFerrin – 23 – Pensacola FL – He was a BET Sunday's Best digital winner. The show is a singing contest for gospel singers. His 78 year old great grandmother is there to meet her favorite, Lionel Richie. Dwayne, a worship leader and a preacher's kid turns the peppy 80s hit into a piano driven ballad. It kind of belies the message. Yeah. I don't love this arrangement. He barely sings any words. Lionel likes the timbre of his voice. He thinks he needs to work on presentation. Katy and Luke suggests he work on emotional connection. Grandma comes in to meet Lionel. She shares the story of how she and her husband would dance to "Lady" and eventually walked down the aisle to it. "If it weren't for you," grandma says, referring to Lionel, "you all wouldn't be here!"  The segment ends with Lionel and Grandma dancing to "Lady." –  3 yeses
https://www.youtube.com/watch?v=ofZAZRwg220
Dude going nuts on the piano singing a Billy Joel song gets a No. The judges didn't feel he was authentic enough. Aw, he didn't even get name checked! He's a very good piano player, however.
Dillon James – Make You Feel My Love by Bob Dylan – We previewed Dylan's audition earlier today. Click here.  Dylan developed a drug and alcohol problem that led him to homelessness and suicidal thoughts. After hitting bottom, he moved in with his parents and slowly made his way back. He's been clean and sober for two years. THAT's the way to do it. Spend the time getting better. After, the sky's the limit. His rendition of the song is very intimate. His voice imperfect. I'm not sure how I feel about him as a vocalist yet. His range seems limited, but there's something about him. He's interesting. Katy calls him a "country Post Malone." Hm. 3 yeses
https://www.youtube.com/watch?v=drURFdS9NZE
Geena Fontanella – Don't Want You Back (Original) – 27 – Los Angeles – She has been a huge Katy Perry fan for as long as she can remember. Geena's outfit is…interesting. She started music in the church, even saw Katy at a Christian festival! Geena reminds me of a less clever Catie Turner. She's got that outsized personality and unique quality, though. She gets the judges singing along with her. Girlfriend's got confidence. Katy calls her personable, and likes her voice. Luke likes her sound in the verses, but maybe she played safe in the chorus. They're nit picking. Lionel liked that she did the sing along. He's correct. She knows how to sell a song – 3 yeses.
https://www.youtube.com/watch?v=SO6wdMRWdiw
Jared Lettow – We previewed his audition HERE. Jared is a yodeler, which is pretty much all you need to know about his segment. He gives Katy a yodeling lesson, which bores her pretty fast. "Jared Leto" jokes abound! He's a never ending yodeler. In other words…Joke contestant! – 3 nos
https://www.youtube.com/watch?v=lq8kHfp_Rug
Now, for a montage of bad singers. Really bad singers. The montage includes Abi Rose Stine (had a feeling she might be a joke audition–she's an actress), and Andrew Zendejas.
Shannon Gibbons – I'd Rather Go Blind by Etta James – 22 – Bellcourt NY – She's a lead singer in a band. They play around Long Island in the summer. Growing up, her entire family would watch American Idol. Over the years, Shannon struggled with mental health issues. She had suicidal thoughts at 4 years of age. Her family pushed her to get help. When Shannon mentioned that she sang with a bunch of middle aged musicians, I figured she was either a blues or rock singer. She's a singer in the Janis Joplin mold, for sure. She sings the blues with feeling, and a thick, full tone. When Katy says "this is why I keep coming back to this show," Shannon bursts into tears! – 3 yeses
https://www.youtube.com/watch?v=BjTVr3hYxJY
Isaiah Grass – Take on Me by A-Ha – 29 – Aiken SC – This model/singer/social media influencer lives in Chicago now. He brought his "agent" along. After striking a bunch of silly poses in his video package, Isaiah explains that he's got a ton of paid sponsorships on social media. He sings an "acoustic" version of the 80's hit. After a ridiculous introduction, I was expecting him to be tone deaf. He can carry a tune, but he's not great as he caterwails his way through the iconic high notes. The audition does give the judges an opportunity to sing along with him. Katy thinks he's more of a musical theater star. He offers to sing House of the Rising Sun. And it's BAD. Lionel says the second song botched it. True. – 3 nos 
Genavieve Linkowski – How Am I Supposed to Live Without You by Leann Rimes – 20 – Goodrich MI –  Genavieve is a returnee from season 16. She made it as far as Hollywood that season. We recently previewed this audition HERE. The singer had a tough two years. Her sister Corinn died in car accident last year. They were close in age and used to sing together. As a vocalist, Lauren is pretty much as I remember her. She's got a big voice, some pitch problems in her upper register. But her experiences have made her a more mature singer. Katy says she felt that song, through and through. Lionel says, "You are no longer singing, you are performing." 3 yeses.
https://www.youtube.com/watch?v=wTtSz_6xcjc