American Idol continues the search to find its next star in Savannah, Georgia; Milwaukee, Wisconsin; Los Angeles, California; and Sunriver, Oregon, on an all-new episode Sunday March 1 (8:00-10:00 p.m. EST), on ABC.
This week's episode sees a determined hopeful defy the odds for a chance to audition in front of the judges, resulting in an American Idol first. Then, a fan favorite from season 16 returns for another chance to wow the judges, while another hopeful's great-grandmother fulfills her lifelong dream of meeting Lionel Richie.
Helping to determine who America will ultimately vote for to become the next singing sensation are music industry legends and all-star judges Luke Bryan, Katy Perry and Lionel Richie. Ryan Seacrest returns as host and Bobby Bones continues his role as in-house mentor.
YES THERE ARE American Idol 2020 SPOILERS!
Check em out below. But KEEP SPOILER TALK under the spoiler posts. Thank you very much!
American Idol 2020 Spoilers – Top 20 Contestant List
American Idol 2020 Spoilers: Top 40 Showcase Round Contestant List, Song Choices
American Idol 2020 Hollywood Spoilers: Season 18 Top 70 Contestant List

Check out the hopeful set for Sunday's episode. See the photo gallery below.
American Idol 2020 Auditions 3 Contestants
Abi Rose Stine – Nebraska native studied musical theater in Los Angeles. She has a profile on Backstage which leads me to believe she's an actress/singer rather than the other way around. And she has an acting reel.- Backstage – Facebook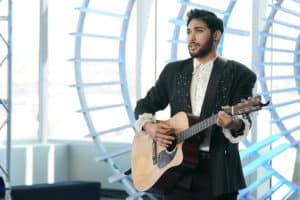 Andrew Zendejas – A search of the name turned up a semi-well known guitarist with the same name. 
Blake Ellege – I have no idea what's going on here. But I guess this and this?
Courtney Timmons – Another mystery! ETA: Ryan interviewed Courtney on his radio show. She showed up to auditions, not realizing it was open auditions. He helped her sing in front of the judges, and she made him cry. A security guard in Georgia, she got a Golden Ticket after performing.  
Dewayne Crocker Jr. – Pensacola singer won BET's "Sunday Best: Race to the Stage" competition as a teen in 2015. Sunday Best is a singing show focused on gospel singers. Dwayne sang at area churches but it was after he won a Pensacola High talent show at age 13, that he became serious about music, his bio states. Both his parents are preachers. ETA: His grandmother is a HUGE LIONEL RICHIE FAN. She and her husband danced to his music. So does Lionel in this clip from Sunday's show. –  BET Sunday Best Winner – Instagram – Facebook – Youtube
Dillon James – It appears that Dillon with the cowboy hat is an actor with a resume of teen flicks. The cowboy hat appears to be a thing. – Facebook –  Youtube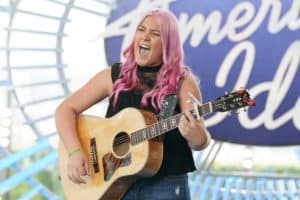 Erin Kirby – Erin is an Atlanta based pop star who released two singles and an EP last year.  "Labeled by Jezebel Magazine as the "Best Local Singer/Songwriter" she's performed at Fox's "Showtime At The Apollo"….and impressed audiences of tens of thousands at Supercross events." Here's a piece from Parade magazine featuring her video "Steal Your Heart."  Instagram – Youtube – Website  – Planty Pt 2
Geena – From her bio: "LA-based session singer/songwriter/musician, with 6 years of studio experience. I'm an ASCAP writer and topline vocalist that specializes in ALL styles except Screamo. I've worked with incredible DJs, artists, and producers all over the world in a variety of languages." She released a single called "I Hate This City."  Instagram – Youtube – Bio
Genavieve Linkowski – Genavieve auditioned for Idol in 2018, the first year the series aired on ABC. She is the oldest of 10 children. At 12, her mom had heart failure for the first time, which meant Genevieve took on a ton of responsibility at a young age. Sadly, there was more heartbreak. Her sister died in a horrific car crash in 2019.  (American Idol S16) – Instagram – Youtube – Bio 
Jared Lettow – The Iowa native is quite the yodeler. And apparently, also an avid skateboarder. There is a pretty good chance Jared will be presented like as a joke contestant.
Jordan Jones – This photo is self explanatory. Gotta have that on camera proposal, amiright? Sigh. And according to his Instagram, he is already married.  Instagram
Kimmy Gabriella – Kimmy is featured in the 2:30 Idol promo from a couple of months ago.  Her Instagram features a ton of her singing.  – Instagram 
Lauren Mascitti – This Ohio native moved to Nashville to pursue her dreams. She released a country single titled "God Made a Woman." Her bio states that the singer has released 9 albums (!!!). She also has a degree in nursing.  Instagram – Youtube 
Lauren Spencer – A 16 year old British Columbia native, Lauren was nominated for a Juno Award. The singer is up for Adult Contemporary Album of the Year for her debut album Unplugged Vol. 1.  She auditioned to Oregon.  A video of Lauren singing Gaga in the car with her mother went viral. –  Instagram – Viral Youtube Video
Ryan Harmon – Ryan describes himself as an Americana singer, drawing on influences such as Chris Stapleton, Travis Tritt, George Jones, Stephen Stills and John Prine. He's released albums and professional videos. The Arkansas singer has also promoted himself on local TV. Ryan reveals in his bio that a producer invited him to audition for Idol. – Youtube Facebook
Shannon Gibbons – Twenty year old singer from Long Island, New York has been singing since 5 years of age. According to a piece in a local newspaper, Shannon auditioned for Idol 5 years ago, but was told to go home and "hone her craft." The singer has been performing with a band called Om-en for 3 years and is pursuing a sociology degree in college. – YouTube
PHOTO GALLERY