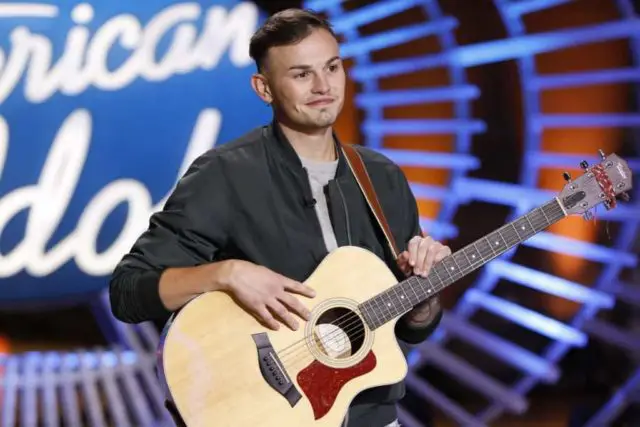 American Idol 2019 premieres TONIGHT on ABC at 8 pm ET/PT Featured on the panel are veteran R&B master, Lionel Richie, pop star Katy Perry and country singer Luke Bryan. Ryan Seacrest returns to host.
We've got a TON of Spoiler posts on the left side bar. Gonna link them here. NO SPOILER DISCUSSION ON THE LIVE BLOG. Keep talk under the spoilers posts. Giving stuff away will result in an instant banning.
Watch American Idol Hopefuls Sing Queen's Don't Stop Me Now (VIDEO)
When Does American Idol 2019 Start? Full Season 17 Schedule
American Idol 2019 Spoilers: Top 14 Contestant List
American Idol 2019 Spoilers: Top 20 Solo and Celebrity Song Choices
The show kicks off in typically aspirational fashion. Hopefuls write their dream down on fire lamps they set off into the night sky. Another chapter of American Idol history begins, says Ryan Host in voice over. Hopefuls rattle off the ordinary day jobs. One young woman is auditioning with her mother AND EGG DONOR in tow. Alrighty then. 
First stop…Louisville. They have a spectacular view of the OHIO River. 
Walker Burroughs – 20 – Birmingham, AL – Love Like This by Ben Rector – Walker's parents are with him as support–helping to keep his nerves in check. His mom–like SO MANY moms–LOVES Lionel. Currently, Walker is a sophomore at Belmont University. He performs sitting at the baby grand with a sweet and earnest tone. I wonder if he writes songs? He's a likeable guy on top of his obvious musicality. Katy calls the performance natural and effortless. She compares him to Ben Folds and Billy Joel and declares him "top 10 material."  Luke namechecks Randy Newman. He thinks people at home will be "captivated" by him. "You have a super pro vibe," says Katy. She wonders if Walker knows any Lionel Richie? He does. He sits at the piano and plays a bit of "Hello." Lionel is proud and excited for him. Walker is on his way to Hollywood. Mom comes in to meet her fav, Lionel! – 3 yeses
https://www.youtube.com/watch?v=zdG8ykqTZEw
Before the commercial break, they tease the singer who will close the show with an emotional story–Nick Townsend. 
Now, were in beautiful Northern Idaho. The obligatory "Private Idaho" by B52s plays. 
Johanna Jones – 23 – Las Vegas NV – I'm Not the Only One by Sam Smith – No major backstory for Johanna. She loves potato chips. That's it! She loves Katy Perry too and believes they could be BFFs. Probably not though.  Johanna mentions that she flips burgers at In and Out and Katy freaks. She loves the hamburgers. She tells a story about meeting her fiance Orlando Bloom after he stole from a plate of burgers she had at a party. Also at the mention of potato chips, Katy pulls out a bag. A potato chip eating contest has Katy coming close to needing the Heimlich. This is pretty silly. I think the judges are drunk. Allen, a musician friend of Johanna's comes in to accompany her. It's obvious she works on her phrasing–it's meticulous. But her presentation is a little too laid back. I kept waiting for something to happen. Lionel calls her the "package." Oh. Lionel already pulling out his favorite buzzword.  Katy thinks it's time to quit the burger joint. – 3 yeses 
https://www.youtube.com/watch?v=dXFIB3JQ-BY
Next, the judges tell a bunch of contestants no. TEARS. "It's OK there's always next year," one young female singer says. "Sometimes their purpose is not American Idol," says Katy.
Kai the Singer – 19 – Kingstree SC – Thinking Out Loud by Ed Sheeran – Kai chokes up sharing her story. Her family was homeless for awhile. They struggled. Still are. There are 8 people living in her house. There is no furniture. Three siblings sleep on an air mattress. She sleeps in a blanket on the floor. She's tired of seeing her family struggle "If this could blow up, that would be nice." So sad to see a young one thinking she's got to be the family savior. Unfortunately, her go at Thinking Out Loud is very off key. So bad, Luke tells her to stop strumming the guitar. It's still bad. Lionel suggests taking a deep breath. AND HEY THIS STORY MERITS THE TWO PART TREATMENT. See you after the commercial break. We're back. She performs her second song, The Temptations "My Girl" at the piano and it's better. She's can sing–she has a pretty tone–but needs a ton of work on her pitch. Can she hear herself? Katy felt she evolved on the piano. She changed the lyric "my girl" to "music" which the judges loved.  Her church paid her way to Idol. Katy is crying. She was poor as a kid too–her church paid for a guitar. The judges are so overwhelmed by her backstory, they can't say no–even though it really would be better for her to come back after more experience. 3 yeses
https://www.youtube.com/watch?v=Dh-CvYbkToc
New York City is next! 
The judges mention that both Catie Turner and Maddie Poppe auditioned in NYC last year.
Tyler Mitchell – 26 – Florien LA – Whenever You Come Around by Vince Gill – Tyler is getting the full "hayseed in the big city" treatment with a side of the southern trope "big dumb lug."  Tyler struggles with pushing a stray hair off his forehead. He's all "all these dang cameras and lights! I ain't used to it." His family has told him he has a "God given talent" that needs to be shared. He's 6 ft 4 and has a twin brother. His entire family works in the oil field. It's his first visit to New York and it's "mind blowing." He repeats the "God given talent" bit. And as it turns out? He actually can sing. He has a beautiful tone and the ability to tell a plaintive country music story. Very nice. Luke sings a little harmony with him. He admits to some insecurities. Katy assures him that "a star is born." Lionel jokes that  "you stuck ERL" like something out of the Beverly Hillbillies. Luke promises America will love him. His wife is waiting for him outside the door. – 3 yeses. Oh hey country radio personality Bobby Bones! He'll be the Idol mentor this season. "From one small town boy to another," he tells Tyler during a pep talk.
https://www.youtube.com/watch?v=_f9B_Q3PRMs
VoKillz – 24 – Buffalo NY – American Creature (Original) – The joke here is how Vokie is just an all around nice guy (we see him bonding with a mom in the holding room) who happens to sing as if he were possessed by the devil. Har-dee-har-har. Vokillz insists he's "not a serial killer or anything. He just happened to invent a new genre called "Mystic Death Trap Metal." Vokillz enters the room in a black mask and insists Katy take a black bag he's holding. "I REBUKE YOU SATAN!" Katie yells. That fundy upbringing comes in handy. Inside the bag–a necklace. Katie was expecting a dead rat. She hides under her desk as he screams through his performance. Lionel joins her. Luke was into it. This performance is actually pretty tame compared to some death metal. Lionel says, politely, that American Idol isn't his lane. – Lionel says NO Katy says YES but Luke, who seemed to be enjoying himself says NO.
https://www.youtube.com/watch?v=5cCaj1X-uwE
Here we are in LOS ANGELES
Margie Mays – 25 – Wilmington DE – Shot by Lawrence – When she' nervous, she burps. All boy. During her childhood, Margie's entire family watched American Idol. She comes from a family of doctors. Ugh. She's laying on this "I'M SO NERVOUS I NEED TO SCREAM" act way too thick. This is not charming. Calm down, girl. She brings her abundance of energy into the performance. She's got a Broadway like voice that would be better if she realized that way less is more. Katy says, "You're literally a star" at which point, Margie begins melting down. Uhhh. Katy advises her to focus on being herself. – Lionel says NO (correct answer) Katy and Luke say YES. 
https://www.youtube.com/watch?v=2lJv1yAtABM
Next, it's a montage of very bad singers. Very bad. Lionel suggests that one girl "Find some notes you can hit." Luke tells another one that her biggest hurdle is her voice. Wow. That's Simon Cowell level mean. And from Luke! A desperate contestant takes off his shirt. Katy says yes. 
Back to Idaho….
Myra Tran – 19 – Long Xuyen, Vietnam – One Night Only from Dreamgirls – She moved to the US to follow her dream–to become a singer. In 6th grade Whitney Houston blew her mind. She has DREAMED about auditioning for American Idol her whole life. ETA: Maya competed in and won X Factor Vietnam in 2016. During her audition, Luke begins laughing, which is weird. She's a little girl with a big deep voice. He's never experienced that before? He needs to get out more. Lionel is rapt. Myra hits all the great big Whitney notes she's no doubt been practicing forever. "I loved it," says Katy. Myra has only been in the states for a year. Luke compares her to Kelly Clarkson. "Music transcends language barriers and she just showed us that," says Katy. "Rule your zone!" Lionel advises. "You're going places." – 3 yeses
https://www.youtube.com/watch?v=zH3xLtFaxH0
Uché – 24 – Sugarland, TX – Ain't No Other Man by Christina Aguilera – Uche is the short version of a VERY VERY long African name that has "Walter" stuck in the middle of it. It was a name to put on his American resume, his mom said. "Nobody is going to hire you if your name is 70,000 letters!"  He says, "I'm the kind of person…you don't stop looking at me until I'm done." Uche loves the church, and he's sure there's a place for his bisexual self. He wants LGBTQ kids to know that God loves them too. Uche puts on quite a show–flamboyant vocals coupled with some fancy dancing. For an Idol audition, it's too much. Ending on a screechy high note is definitely WAY TOO MUCH. Katy suggests he stand still and sing. He delivers a straight up gospel song, which is what he should have done in the first place. Katy calls him "spicy." Lionel says no based on his initial audition. Uche explains that he started with an upbeat song to show his personality. Luke thinks he may not be ready. Uche namechecks a bunch of cool artists like George Clinton, Prince and Rick James, which changes Lionel's mind – 3 yeses
https://www.youtube.com/watch?v=HnZnZrRuERU
We're HEADED TO Denver! 
Laci Kaye Booth – 23 – Livingston TX – Mama Tried by Merle Haggard – She started singing at 3 years old. A country singer, she grew up on Shania Twain, Dixie Chicks. Her dad and mom were 15 and 17 respectively when they got pregnant. The young relationship quickly fell apart. While dad was out chasing his musical dreams, Laci wondered why her he wasn't in her life. Dad is full of remorse. At 15, she took a road trip to Arkansas with him to record some music. They grew very close during that trip. "We were meant to play music together," Dad says.  Laci delivers the old classic with a throaty alto. It's an effortless performance. Katy calls her a "diamond in the rough" and "different sounding." Luke loves the timber in her voice. Yes, it's very unique. He calls her "world class." – 3 yeses – Dad joins her in the room where Katy calls Laci "timeless." Dad says,  "I'm living my dream through her," Hm.
https://www.youtube.com/watch?v=GGAtIDL40wI
Nick Rogers – 17 – Highlands Ranch CO – Mine by Bazzi – He's singing to a track instead of a capella or with live instruments? So he's a rapper. "Love your flow!" says Katy. He claims Kendrick Lamar, Kanye West and Lionel Richie are his influences. But when Katy asks him to name a Lionel Richie song, he can't. LIAR. (I wonder if a producer put him up to that?). Lionel goes all in on the faux outrage. "I don't even know how I feel about this!" Lionel says. "I still don't like you. But I'm going to go from my gut." – 3 yeses
https://www.youtube.com/watch?v=FSuaF6CAnXg
Tiffanne LeMay – 20 – Las Vegas NV – The Best Part by by h.e.r. and Daniel Caesar – On the other hand, Tiffanee is really and truly a Lionel Richie fan. So is her mother. She brings an 80s era album to be signed and the judges laugh at the cheesy photo in the centerfold. Needless to say, Tiffanne is able to name several Lionel Richie songs. She's got an Alicia Keys vibe going. It's an appealing laid back style–nice vibrato and tone and not too many riffs. Just right.  Katy appreciates her "sunny disposition." Luke suggests she open her mouth more when she sings, but he likes her too. Lionel of course, has found his favorite contestant! 3 yeses – Mom comes in to meet Lionel.  A little tongue in cheek, he thanks mom for "raising her with the right values." 
https://www.youtube.com/watch?v=itXLZ9ppHnI
Nick Townsend – 25 – Tekamah, NE – Let it Go by James Bay – We're ending the show with a real tear jerker. Currently Nick lives in Los Angeles. He adored his older brother Zach, who joined the Air Force. He was working in LA when he learned that Zach took his own life. "There's no pain like that…I remembered that I could breath," Nick shares, admitting that it's the first time he's really opened up on the painful subject. After, he had an opportunity in Japan to perform and teach. He took it. While there, he learned that his younger brother Matt also took his life. The guilt Nick felt over leaving home and not being there for his brother was immense. His mom, dad and sister attend the audition as support. Nick's singing voice is so pure. He has a beautiful tone, but he's not making the song his own. Lionel thinks he's got a "natural cry…in our business we call that money." Katy loves his dynamics. Luke appreciates his understated simplicity. At this point, Luke shares that he also lost two siblings. (a brother in a car accident, and a sister to a sudden illness). A tearful Luke gives Nick a heartfelt hug. The singer's family join him in the room. Luke reminds them to  "Remember fun, happy happy good days." Nick says at first he wishes his brothers could be here, but he realizes they actually are with him–in spirit. A card that contains suicide hotline information follows the audition – 3 yeses – 
https://www.youtube.com/watch?v=gnQ9g1RDfyM
FYI: Some may remember Nick as a no turn audition on season 12 of The Voice in the Spring of 2017. He performed Sam Smith's "Writing's on the Wall." He also auditioned for season 13, supposedly.  Check out a screen grab from the episode! Coach Alicia Keys called his voice "Broadway Style." The dramatic performance showed off his range. There were some pitchy spots, but it deserved at least one turn.