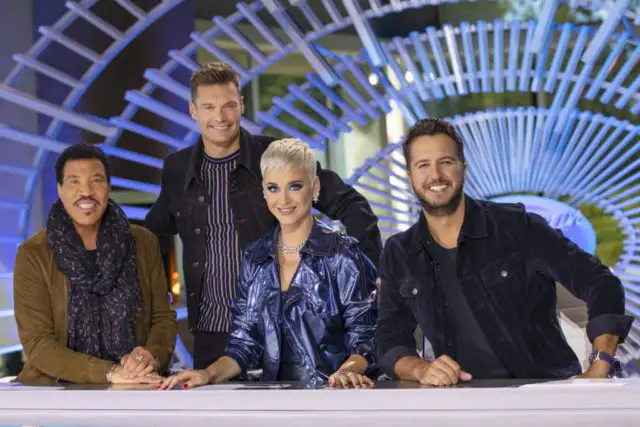 Check out the FULL American Idol 2019/season 17 schedule below, which will feature Sunday AND Monday shows, just like last season.  The competition returns to ABC on Sunday March 3 featuring judges Lionel Richie, Katy Perry and Luke Bryan, in addition to host Ryan Seacrest. Good news! American Idol 2019 is one week longer than 2018's season 16. 
ABC Announces Mid-Season Premiere Dates for American Idol, DWTS Takes a Break
American Idol 2019 Spoilers: Top 14 Contestant List
American Idol 2019 Spoilers: Top 20 Solo and Celebrity Song Choices
American Idol 2019 Spoilers: Top 40 Showcase Round Contestant List with Songs
UPDATE: American Idol sent out a press release clarifying the schedule. Also, TheIdolPad.com claims there are mistakes in the schedule posted by GoldDerby, so we are starting from scratch here. Stand by for updates.
UPDATE: TheIdolPad.com fills out the rest of the schedule. SUBJECT TO CHANGE as always.
UPDATE: American Idol goes LIVE coast to coast beginning Monday April 15 though to the May 19 Finale.  No Monday grand finale. 
UPDATE: An American Idol episode is scheduled for Monday April 22 that is not taped in front of a studio audience. My guess? ABC is filling a hole in the schedule with a clip show. (UPDATE: Clip show confirmed! It's an "American Idol: Meet Your Finalists" special.)
The rest of ABC's Monday 8-10 spring schedule goes like this: 
Monday April 29 – Queen + Adam Lambert special.
Monday May 6 –  Bachelorette reunion special
Monday May 13 – The Bachelorette premieres (and airs into the summer…) 
American Idol 2019 – Season 17 Schedule
Sunday March 3 – Auditions  (8-10 ET/PT)
WEDNESDAY March 6 – Auditions  (8-10 ET/PT)
Sunday March 10 – Auditions (8-10 ET/PT)
Sunday March 17 – Auditions (8-10 ET/PT)
Monday March 18 – Auditions (8-10 ET/PT)
Sunday March 24 –  Hollywood Part 1 (8-10 ET/PT)
Monday March 25 – Hollywood Part 2 (8-10 ET/PT)
Sunday March 31 – Top 40 Showcase Round/Green Mile (8-11 ET/PT)
Monday April 1 – Top 20 Groups Solo Performances (8-10 ET/PT)
Sunday April 7 – Top 20 Group 1 Celebrity Duets and Results (8-10 ET/PT)
Monday April 8 – Top 20 Group 2 Celebrity Duets and Results (8-10 ET/PT) (Bobby Bones serves as guest host for an absent Ryan Seacrest)
Sunday April 14 – Top 14 Performances  (8-10 ET/PT) (Taped on Friday April 12 in front of a studio audience)
Monday April 15 – Top 10 Reveal: Top 14 Wildcard performances and Top 10 Results (FIRST LIVE EPISODE) (8-10 ET/PT)
Sunday April 21 – Top 10 Performances and Results  (DISNEY NIGHT) (LIVE coast to coast) (8-10 pm ET 5-7 PT)
Monday April 22 – American Idol: Meet Your Finalists (Clip show) (8-10 pm ET/PT)
Sunday April 28 – Top 8 Performances and Results (LIVE coast to coast) (8-10 pm ET 5-7 PT)
Sunday May 5 – Top 6 Performances and Results (LIVE coast to coast) (8-10 pm ET 5-7 PT)
Sunday May 12 – Top 4 Performances and Results (LIVE coast to coast) (8-10 pm ET 5-7 PT)
Sunday May 19 – Finale Winner Crowned (3 HOURS LIVE coast to coast) (8-11 pm ET 5-8 PT)