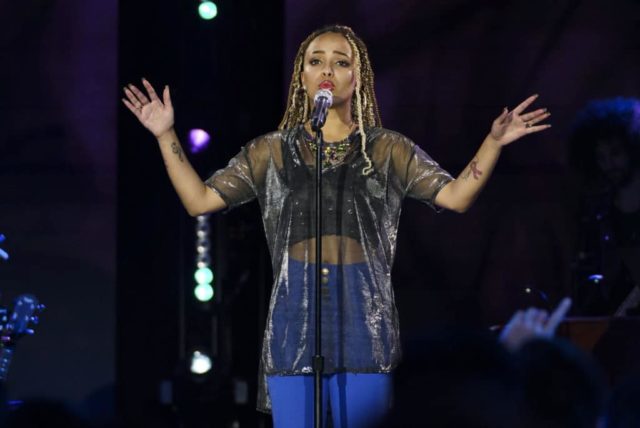 American Idol 2018 Recap Top 24 Solos Part 2 Live Blog
Tonight on American Idol on ABC at 8 pm ET, the remaining 12 contestants of the Top 24 will perform solos in front of the judges and a LIVE audience at the Exchange club in Los Angeles.  Before they hit the stage, the singers will be mentored by iHeartRadio personality, Bobby Bones. Bonus: Season 10 winner Scotty McCreery makes a cameo. Tomorrow, the 12 perform celebrity duets and FIVE singers will be ELIMINATED. The Top 14 will be revealed!  Join us as we Live Blog all the performances.
Featured on the panel are veteran R&B master, Lionel Richie, pop star Katy Perry and country singer Luke Bryan. Ryan Seacrest returns to host.
American Idol 2018 Spoilers – Top 14 Contestant List
NO SPOILER DISCUSSION ON THE LIVE BLOG. Keep spoiler chatter confined to spoilers posts' comment sections. Giving results away during the live blog will result in an instant banning. Thank you for your cooperation.
American Idol Top 24 Contestant List with VIDEOS, Social Media Links
American Idol 2018 Spoilers: Top 24 Solo and Celebrity Song Choices
Amelia Hammer Harris – Believer by Imagine Dragons – Katy described Amelia as "Top 10" during her audition. But wasn't quite as complimentary during Hollywood week. It's gotta be substance over style, basically. Bobby conducts a "mock interview" with her and she stumbles a little. Ugh. Why does ANYBODY cover Imagine Dragons. Terrible songs are TERRIBLE. She's going for a measure of "fierceness" here. Eh. This song choice is a dud. I'm underwhelmed. Katy says she "really enjoyed it." She wants to see "all the shades you are" in the competition. Lionel says the opposite–that he's constantly seeing other sides of her. He likes her confidence. Luke felt she faltered a bit in the beginning. Amelia admits that she had a struggle finding her groove for the first couple of seconds. She calls the song a "love song to pain." Hm. I like Amelia's vibe a lot. Better song choices, please.
https://www.youtube.com/watch?v=E3Pmp4koV6Y
Garrett Jacobs – Treat You Better by Shawn Mendes – Bobby says if he decides to dance in a performance, he has to watch himself in the mirror, after which he pulls one out. Bobby dances around, looking pretty stupid. A pretty pointless exercise! He's playing guitar. So no dancing. I really like Garrett's tone a lot. His timing and pitch could use some work, though. And be careful with that falsetto. Oh, he's flirting with the pit girls. Oh boy. Lionel advises him to concentrate on singing. He's right. Lacking focus, Garrett's pitch became wobbly. Luke comes right out and says he's not the best singer, but he's an appealing "heartthrob." OUCH. Katy calls him "fun." Katy advises him to stop thinking too much.
https://www.youtube.com/watch?v=uAZG2tw7T64
Katy says she's ready to pass the vote to America next week. "I'm too empathetic!" she cries. 
Maddie Poppe – Brand New Key by Melanie – Maddie says Top 24 was her only goal. Why not No. 1? Bobby asks. She's afraid of failure. Bobby warns that fear will keep her from reaching her goals. I HATE THIS SONG WITH THE SEARING WHITE HEAT OF 10 THOUSAND SUNS. A big hit in the 70's, Melanie's little triviality hasn't aged well. In any case, Maddie delivers a spirited version of the song. She comes alive on stage. Terrific tone, intonation and phrasing. And she seems so confident, despite confessing to insecurity. Luke has never heard that song before. "That song caught me up in the little artistry thing you've got." Katy calls her "infectious" and that she knows who she is as an artist. She calls her a star. A complete package, Lionel calls her, adding that she's on the right road. Ryan brings her dad on stage, who was singing along in the audience, for an awkward duet. 
https://www.youtube.com/watch?v=CqE7GfOLimU
Ada Vox (Adam Sanders) – Feeling Good by Nina Simone – Ada is a little nervous about coming off as shtick. He has used his drag queen persona Ada as an alter-ego, she gives him confidence. It's obvious he's still working some stuff out. Would Adam be as confident a performer? Would he hold the audience in the palm of his hand the way Ada does? She powers through the performance. There's some over singing going on here, but man her muscular range is impressive.  Katy says "Wig snatches, Wig Flew!" She adds, "You are here to win."  Lionel calls her talent grand. "You are a force to be reckoned with my dear," he says. "Your ability to bring the house down…every time," says Lionel. He's auditioned for American Idol 13 times! That includes his Hollywood stint during season 12. 
https://www.youtube.com/watch?v=TueJ-f9AqVw
Caleb Hutchinson – Die a Happy Man by Thomas Rhett – Surprise surprise! Scotty McCreery is his favorite American Idol. Their styles are similar, to say the least. Caleb claims he came first. His friends joke that Scotty is imitating Caleb. Har har. As a surprise, Bobby brings Scotty in to dispense some advice. "It's all about the song," says Scotty. "Think about the people back home." Scotty adds "Don't forget to have fun. The girls in the pit wave along with this wholly unremarkable cover of Thomas Rhett's hit. Caleb is delivering a solid vocal, but isn't really bringing anything new here. Generic. Lionel calls his voice "crystal clear identity." He calls him "simple and solid." Katy finds his "timeless" voice "holds so much wisdom." Luke thought the Josh Turner tune was a better song choice. He notes the pitchy stuff. How about the boring stuff? Oh. He's lost 70 pounds since his audition. Good for him.
https://www.youtube.com/watch?v=PfDR30weyRo
Effie Passero – Barracuda by Heart – She's had ups and downs with her mom. She was in the audience during Hollywood. They still don't get along. Bobby notes the importance of being vulnerable. Use it as a weapon, he advises. It's a good song choice for Effie. The song is a rock chick's dream. The power in Effie's strong upper register is on full display now. Luke says she's one of the best singers, but didn't exactly command the stage. "Just walk out here and own it," he says. Katy calls her "flawless." She can see the stardust, "jump into it," she says. Lionel sees her growth. Hm. Effie doesn't look like a typical "star" but does that matter? 
https://www.youtube.com/watch?v=ldMzhWLvwpw
Alyssa Raghu – Stay by Rihanna – The judges have said she's not always memorable on stage. Her audition was SO good though. "Minor Movements Matter" Bobby says. He has her walk a makeshift runway as practice. Alyssa has a vocal tone to die for. Her dusky alto is gorgeous. She's able to convey emotion with the subtlest of phrasing. One of my favs. "You didn't have me until tonight," says Luke. Katy says her tone separates her. Katy thinks she's just figuring out how to move on stage and work a crowd. She just turned 16. Lionel compares her to a fragile bird. She's growing into a full grown chicken, he says. Uhm. OK then. Alyssa says impressing Luke, finally, was her goal.
https://www.youtube.com/watch?v=DPjHugTVpWU
Marcio Donaldson – Inseparable by Natalie Cole – Apparently, Marcio's social media habits are WEAK SAUCE. He didn't even have a photo on his twitter. Bobby makes him promise to post two Instagram photos a week. Marcio is dubious. His social media aversion is kind of refreshing to be honest. Marcio pulls out some old school soul for a very sexy, classy performance of the Natalie Cole hit. It's a slightly  different vibe from the singer. Oh. He's crying again. I mean–sure he's been through a lot.  But this dude is always crying. "I knew Natalie," says Lionel, "Natalie was watching you on that song." Katy loves Marcio so much, "I'm so proud of you…you've come so far. You're growing with leaps and bounds." Oh Katy is close to tears too. "Take on the posture of your power," she says. Marcio's tears are flowing now. "You keep surviving this competition," says Luke, "You just delivered a world class performance." The judges take the stage to hug him. "This performance meant a lot to me," says Marcio. 
https://www.youtube.com/watch?v=6PcsakGlMiA
Mara Justine – Run to You by Whitney Houston – Bobby notes her energy. "You have a lot of hairography." He suggests they watch one of her performances to illustrate that she overdoes the hairflips a bit. Ya think? She's going to scale it back by singing a Whitney Houston balld. It's a perfect pageant performance, complete with Miss America ball gown. This is definitely a singer who has competed in a lot of competitions. Sure she can sing those big notes–mostly.  But Mara is making it hard to imagine her as a contemporary artist. Luke is spellbound. "You just showed us a whole nother side," he says. "This sounds so good on you," says Katy. Oh. she pulls out the "you could sing the phone book" cliche. Katy felt she brought something raw and beautiful. "Now that the cake has been baked let's put the cherry on top." Of course Lionel knew Whitney! He appreciates that she stood still and sang. Mara is crying big tears. Her mom and sister did her hair and makeup. Does that mean the stylists haven't show up yet?
https://www.youtube.com/watch?v=UuR8UhMTw5U
Jurnee – Flashlight by Jessie J – Jurnee shares how she was bullied in school for being a lesbian. She came out at around age 14. Bobby says her fearlessness can inspire people. And indeed–Jurnee is a bonafide star. She's got an amazing instrument, beautiful phrasing and she transforms the covers she sings without even changing them up much. But her ability to own the stage is simply effortless. Not a try hard, this girl. I appreciate that. "You sing circles around everyone," says Katy. She appreciates her confidence. But Katy thinks she could sing something that would bring her to her knees. Lionel suggests that she give the audience more "attitude." Luke says she almost makes it seem too easy. "Look like you're earning it." NO! I think her ability to deliver so easily is key to her star quality. 
https://www.youtube.com/watch?v=f8J_AAzIuc4
Shannon O'Hara – All I Ask by Adele – Shannon is nervous to meet Bobby. "You're kind of famous," she says. Her dad hasn't been able to work. "This is my one shot to help my family," she confesses. That's sad. She's only 17. Bobby says to put aside the pressure and enjoy the experience. Shannon is still working out her individual style. She's still kind of an Adele knockoff at this point. Not to say she doesn't have potential. She really does! But she's just this side of underbaked. Also, there were a couple of pitch problems in that performance.  Lionel felt she was concentrating too hard, until she picked the mic up from the stand. Luke feels she's growing and doing everything they've asked. Katy thought it was a great song choice. Katy calls her a "gorgeous Goddess." She adds that there are many great singers performing, but the distinguishing thing is developing identity. She is correct.
https://www.youtube.com/watch?v=b1Ml-s1OMDk
Ron Bultongez – Dancing on My Own by Robyn – Bobby is so obsessed with the fun the contestants are having–or not. Ron doesn't smile much. But that does not mean he is not having fun! He compares himself to Bill Belichick and Kanye West. Very deadpan. But he's funny! But it's that low key sense of humor.  Fun fact: Ron  wears braces. Who knew. This is a tremendous song choice. But oh dear. His pitch is all over the place. There's raw talent here. Ron's has yet to rein it all in. Maybe voice lessons?  I like his sensibility. I like the IDEA of Ron. But the execution is still lacking "I felt you," says Luke, despite his problematic enunciation. "That was the best that we've ever heard you from top to bottom." It's true, that was a very emotional performance. But the flaws took me out of the performance. Lionel notes his new fashionista look along with his desire to make it. "You have style," says Katy. She admires his intelligence. But she still feels some of his nerves. She's right. "We don't want to forget you," she pleads. She wants to see him own it on his duet performance. 
https://www.youtube.com/watch?v=G90Wgieo7Cw
Tomorrow…the 12 sing ALL STAR DUETS and FIVE go home. Check out a preview HERE.