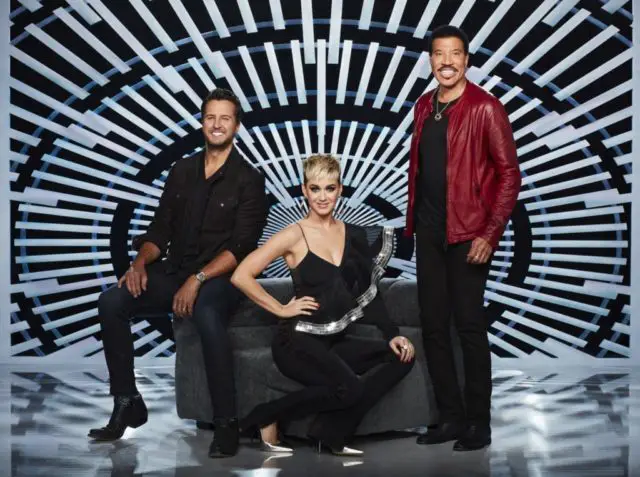 ABC has released details on upcoming American Idol episodes. On Sunday (April 22), the Top 14 contestants will perform a solo, in hopes of winning enough of America's votes to advance to the Top 10. This episode will be taped on Saturday night (April 21). So WATCH OUT FOR SONG SPOILERS. We will definitely have them here.
American Idol 2018 Top 14 Contestant List (Photos + Videos)
On Monday's (April 23) episode host Ryan Seacrest will be asking Kieran to DIM THE LIGHTS as the LIVE shows begin for real and the Top 10 contestants are revealed. How will a 2 hour show be filled aside from results? ABC explains in a newly released press release:
In this episode, America's overnight vote from Sunday will solidify the safety of the six contestants with the most votes. Those that are safe will perform a victory song, and the eight contestants who are in jeopardy will sing to impress the judges. The judges will choose four contestants to join America's top six picks, pushing 10 talented Idol hopefuls one step closer to stardom.
Six contestants will perform a VICTORY SONG HOORAY. But eight contestants will perform again for the judges, Lionel Richie, Katy Perry and Luke Bryan, hoping to be chosen for one of the FOUR WILDCARD SPOTS. 
Here's how to vote for your favorites on Sunday:
 So how do I vote?  We have three convenient ways for you to keep your favorite contestants singing. You can vote online at ABC.com, in the American Idol app or via text*. You have to be at least 13 years old and located in the U.S., Puerto Rico or the Virgin Islands to vote on ABC.com or in the American Idol app.

How many times can I vote? Each week, you can submit up to ten (10) votes for each remaining contestant per voting method (online at ABC.com, in the American Idol app, and via text voting*). For example, if you want to vote for a given contestant – you could submit: up to ten (10) votes for that contestant on ABC.com, up to ten (10) votes for that contestant on the American Idol app and up to ten (10) votes for that contestant via text message, for a total of up to thirty (30) votes for that contestant across all voting methods that week.

What if I want to vote online or in the app? Anything in particular I need to do first? To vote at ABC.com or in the American Idol app, a OneID account is a must. We've made the process pretty easy for you. In fact, if you already have a Facebook account, you can sign in with your Facebook account, connect it to a OneID account and you're ready to go. If you don't have a Facebook account, you can simply sign up for a OneID account using your email address. In addition, to vote via the American Idol app, you must download and install it to your compatible device. You can find it in the App Store and Google Play Store.
Voting will open at the top of the show, on Sunday, April 22 at 8:00 p.m. EDT, and will close the following morning, Monday, April 23 at 9:00 a.m. EDT. Click HERE for more information.
April 23 will be the LAST Monday show until the season finale on May 21. Next Sunday (April 29) the Top 10 will be back to perform songs from the Disney catalog.  America VOTES for their favorites. And then on the following Sunday (May 6), the contestants will delve into the iconic Prince catalog. At some point that night, 3 of the Top 10 will be eliminated, leaving a Top 7.
American Idol 2018: Prince Theme Set for Top 7
American Idol 2018: Disney Theme Set for Top 10 Week
American Idol 2018 FULL Season Schedule
Hm. The judges will still have their hands in the results this week. Which doesn't surprise me. During season 15 in 2016, the Top 10 was chosen in a similar fashion–4 wildcards, six singers chosen by America. I expect America to totally take over with the Top 10 performances the following week. And yes, I so much preferred the format that had America take over at the Top 24… 
American Idol airs on Sunday and Monday on ABC  (8:00–10:01 p.m. EDT). Join us as we live blog all the performances and results.