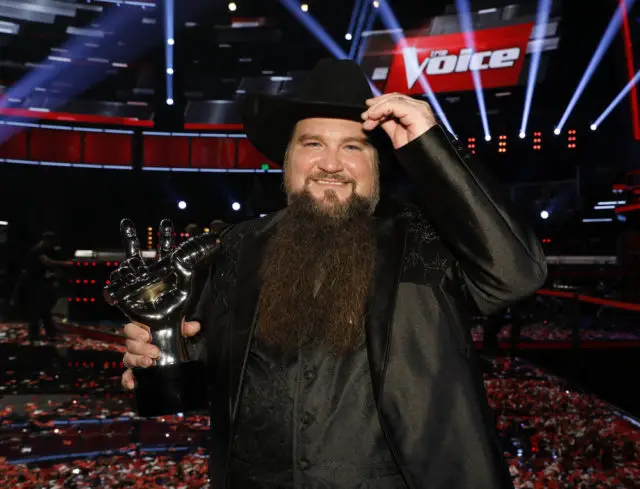 Ahead of a show in Fairbanks, Alaska, The Voice season 11 winner Sundance Head spoke frankly with the Daily Newsminer about parting ways with Republic Records and his feelings on the current state of country music.
While the singer competed on The Voice in the fall of 2016, and won as a member of (and eventually toured with) Team Blake Shelton, he's still working on his post show debut album. 
"The reason it took so long to put a record out was I wanted to make sure we had the right record for the people who put their trust in me," he said. "I didn't want to release a single to radio just to be relevant and get in the top 40. I wanted to make sure there were songs that had integrity and I could really stand behind as an artist."
Like all the winners do, Sundance signed a record deal with Republic records after winning the show. But like many winners that ended up not releasing a record with Republic, such as Jermaine Paul (S2), Josh Kaufman (S6), Craig Wayne Boyd (S7) and Alisan Porter (S10), the  "soul country" singer soon found out the label wasn't a good fit. 
"It was a hip-hop label," he described Republic records. "They didn't know what to do with me."
As far as his sound, Sundance said it's hard to pin down.
"It's not rock, it's not country, it's not blues," he said. "But I think once this record comes out, people will understand. It's kind of a throwback to when songs meant something."
His single, "Everything to Lose," that was supposed to be released on the Republic Records album, recently hit No. 1 on Texas radio. For the new album, he teamed up with top-notch Nashville songwriters.
"We tried to use the greatest songwriter we could find," he said.  One of them is Dean Dillon "who is likely the most legendary songwriter still alive," he said.  George Strait, Kenny Chesney, Toby Keith are some of the country artists for whom Dillon has penned songs.
"It's real music, and we're not trying to compress it and put beats on it," he said of the songs he's currently recording. "It's a really old-school modern country record. That's my style, man. I'm an old cat. I'll be 40 this year, and I'm really old-school. I don't really identify with the country that's currently on the radio."
"They allow people to feel emotion," Sundance said regarding his love for old school country music. "It can take you somewhere with a song. That's always been important to me. I wanted to make sure our record could reflect something like that."
"We're trying to turn it around," he said of his place in the country music scene. "We're doing it. People like Chris Stapleton, Sturgill Simpson. I actually really love that new song that Jason Aldean just put out (You Make It Easy.) It's very classic sounding. Very soulful, beautiful. I wasn't really expecting that from him. Maybe Nashville's just getting tired of the bro-country stuff, hip-hop country."