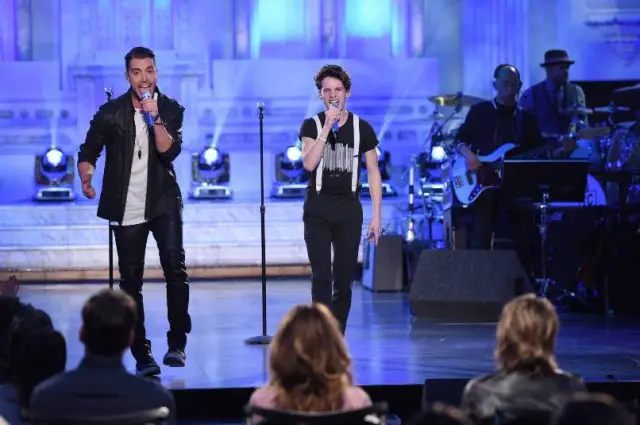 American Idol 2016 Recap Semifinals 1 Results & Duets
American Idol 15 Semifinal Week 1 continues with the 12 contestants who performed last night singing duets with "fan favorite" Idols, including Scotty McCreery (S10 winner), Lauren Alaina (S10 runner up), Fantasia (S3 winner), Ruben Studdard (S2 winner), Nick Fradiani (S14 winner) and Caleb Johnson (S13 winner).
American Idol 15 Semifinals – Everything You Need to Know
Judges, Keith Urban, Jennifer Lopez and Harry Connick Jr will choose 7 contestants to advance to the Top 14. The FIVE remaining contestants will leave the competition.
American Idol 15 Semifinal Week 1 Alum/Contestant Duet PHOTOS
NOTE: Tonight's show was taped last week. Elimination spoilers are out. DO NOT DISCUSS THEM HERE BEFORE THEY ARE REVEALED. Thank you. If you must discuss before the rest of the world knows, head to the spoiler post. Thank you.
The title tonight is….IDOL STAR DUETS! Host, Ryan Seacrest introduces the alums. Each has been paired with 2 contestants.  Harry is convinced the current group is GREAT. Keith says performing duets is a "delicate balance." Jlo reiterates how important it is to connect to the audience. Harry says tonight is about how the singers work with another performer. ENOUGH OF THE CHIT CHAT LET'S GET TO SANGIN. The song selections are tunes the returning Idol sang on the show (there are several coronation songs in the mix) or released post-Idol as a single.
Emily Brooke & Lauren Alaina – Flat on the Floor by Carrie Underwood –  Emily is super excited to sing with Lauren, who sees SO MUCH of herself in the young. "I was so goofy, I fell down the stairs!" Lauren laughs. She reminds her to make sure to communicate to the people in their living rooms. I feel like I'm experiencing three generations of Idols here. Carrie is the grandma!  Emily's lack of experience next to Lauren really shows.  The elder singer has gained SO MUCH CONFIDENCE since her Idol days. Lauren has a big voice, Emily has trouble not being overshadowed. Having said that–this is SO MUCH BETTER than last night's disaster.  Harry could tell the difference in age. He didn't think it was the right song for her (I agree. Big songs aren't her thing.) Keith felt she held her own against her, but the song was not her lane. Jlo thinks she's got the makings to be grow into someone like Lauren Alaina. Remember what a mess Lauren was on the show, though. – Click to Watch Emily & Lauren's Duet VIDEO
Thomas Stringfellow & Nick Fradiani – Man in the Mirror by Michael Jackson – Thomas is nervous. He feels the song is out of his wheelhouse. Nick suggests that he sing in the mirror. That was not EVEN a pun and actually, good advice, because Thomas has some weird ticks.  He recounts the girlfriend breakup. Nick says SAME! BONDING. Nick suggests he use the breakup to motivate himself. NICK PLEASE TELL THOMAS  TO STOP YIPPING.  These two have such different styles, it's an odd match. They work it out on the chorus, but Thomas is clearly not a duet guy. He's too stylized to blend with anyone, really. Nick is waiting for the judges to judge him! Heh. All three judges noted Thomas' struggle to meet Nick somewhere in the middle. Harry is glad he performed "Creep" the night before, because this was not his best. Click to Watch Thomas  & Nick's Duet VIDEO
Stephany Negrete & Ruben Studdard – Superstar by Leon Russell – Oh RUBEN FLIRTING WITH STEPHANY calling her a beautiful lady, and all. Ruben thinks the singer's biggest challenge is to let go.  This song brings back so many Idol feels! An in case you were wondering, Ruben continues to be an awesomely smoooooth singer. Like butter.  Will Stephany match Ruben's emotional investment?  I would say yes. She's raised her game here. Without the dance moves and sparkly "package" she's delivering a strong and effective vocal. Props to Stephany, she held her own on that. It brought tears to Jlo's eyes, remembering Ruben back in the day. She felt Stephany really blended with him. Harry loved both her duet and solo parts. Nice job, he says. Keith loved their blend too. "He brought out the best in you," he says. I agree. Ruben helped Stephany raise her game. Click to Watch Stephany  & Ruben's Duet VIDEO
Sonika Vaid & Caleb Johnson – Skyfall – Sonika is a little nervous performing a theatrical song like "Skyfall." Caleb notices she's in her head a lot and advises her not to worry about notes. "It's the emotion that counts." This IS an odd pairing. He's so comfortable on stage and a natural showman. She is…not. A beautiful voice, but she holds so much tension in her body when she sings. Here, she seems really out of her element. Some potentially great moments peaked out from beneath her fear here and there. But next to the effortless Caleb–one of these things was not like the other. I will say, Caleb was a generous and attentive duet partner. He did his best to help her feel at ease. During his season, this was one of Caleb's best performances, proving he could pull off contemporary material that wasn't necessarily in the classic rock vein. Harry enjoyed the performance a lot. He finds Sonika's nervousness "adorable."   "You really held your own with it." He notes her potential. Harry is bending over backwards not to criticize her. Keith thought they were great together, and apart. Jlo really wants her to loosen up. Agreed, if Sonika could just get rid of those nerves, she'd be tremendous. – Click to Watch Sonika & Caleb's Duet VIDEO
Jenna Renae & Scotty McCreery –  See You Tonight by Scotty McCreery – Scotty is the perfect choice for her, says Jenna. He advises her to stay in her lane No matter the theme, he found a way to sing country, he says. Oh. I remember that.  Singing a Scotty single? Talk about disadvantage! But Jenna, she's hanging in, even if Scotty is singing as if he's still a solo. She has a couple of pitch things going on, but she seems completely comfortable on stage. She brings real joy to her performances. I like that about her. Keith thought it was tricky for her. Notes the disadvantage, and finds it hard to critique. Nice voice, is all he will say. "You did the best you could," says Jlo. Harry calls it a "solid performance."  Keith is right. Scotty sang his song in his style. Jenna worked it out in a challenging situation. Click to Watch Jenna & Scotty's Duet VIDEO
La'Porsha Renae & Fantasia – "Summertime" by Ella Fitzgerald – La'Porsha's crying! They bond over the similar struggles they've had in life. "I want you to put all of that feeling into the music," says Fantasia. HOLY CRAP. They are singing "Summertime." Talk about throwing down the gauntlet! "Summertime" was Fantasia's triumph, and a major American Idol water cooler moment. But La'Porsha is up to the challenge. This is closest to even of all the matchups so far. Fantasia will always own this song on the Idol stage, but La'Porsha is a formidable duet partner and a terrific singer. They two trade off licks as if they were sangin' in church. Keith gives them a standing ovation. After, La'Porsha shares how Fantasia is her role model in life. Jlo calls the performance "mind blowing." It's reminding Harry of an old "cutting" contest. He loved the battle of runs. They both killed it, he says. "An unstoppable force met an unmovable object," says Keith about what he feels was a truly great matchup. –  Click to Watch La'Porsha & Fantasia's Duet VIDEO
MacKenzie Bourg & Lauren Alaina – I Hope you Dance by Leann Womack – Mackenzie is a little embarrassed he's not as tall as his partner. The height difference isn't bothering Lauren. She's got a little crush. "Thank you American Idol!" she gushes to the camera. "Maybe I'll give him a little smooch!" Heh. They're cute in rehearsal, but when it comes to singing together, there's no blending at all. Lauren's vocal pierces the air. He's a hushed-voiced singer, which works for the indie/folk thing he's got going.  Lauren approaches a conventional country song straight up, while MacKenzie interprets the tune like a Brooklyn hipster. It's a mismatch all the way around.  Harry gushes about the talent that's come through Idol. This was sweet, a nice duet, he says, but last night really set the bar for how talented he is. The judges noticed that she tried to interact, but was too into his own thing to notice. Keith loves the way Mackenzie does things. Jlo thought it felt "nice" together, even if it was mismatched. No. Harry is right. That didn't really work. Click to Watch MacKenzie & Lauren's Duet VIDEO
Oh look! It's mentor Scott Borchetta.  He thinks the Top 24 is a great great "squad" of 24.  He loves the duets, and how the performances force the contestants to raise their games.
Gianna Isabella & Nick Fradiani – Beautiful Life by Nick Fradiani – Gianna totally fangirled when she first met Nick! She admits the song, Nick's coronation single, is vocally challenging. There was a struggle in rehearsal, Nick admits. They had to try a few things before Gianna was comfortable. I like her singing a descant on the chorus. It adds a nice touch. But she's not singing much. And when she does, there are pitch problems and she seems unsure. Gianna doesn't seem ready for this jelly. The judges call the performance  "nice" and "good." Hm. More faint praise. The judges move quickly from critique to asking about mama Brenda K. Starr. Harry wonders about Gianna. She has a "mysterious" quality. She's goofy, yet she has a "special" gift. What is he talking about? She's an ordinary kid with a decent voice. The panel wonders whose idea it was to audition for Idol. Gianna had been rejected from so many other auditions, she was ready to give up. But her mother encouraged her to keep going. Click to Watch Gianna & Nick's Duet VIDEO
Avalon Young & Ruben Studdard – Flying Without Wings by Ruben Studdard – Ruben gives Avalon tips on controlling her nerves. He concentrated on how much fun he was having (and maybe that the judges never called you out on anything? But I digress) Ugh. Why ya'll making Avalon sing this piece of treacle? Originally a Westlife song, the tune is one of the sappiest of all the coronation singles.  Avalon is game, though. She sings enthusiastically. Sadly, this is kind of a mess. The band is really loud. The two aren't really connecting. The duet with Stephany was so much better. It's not the right song for Avalon, at all. Avalon was in 2nd grade when Ruben won. Ruben was literally her introduction to Idol. Jlo calls it an incredible and equally matched performance. Harry notes her likability. He's so right about that. "I thought that was a really strong duet." Keith likes that she wasn't intimidated singing with Ruben and calls it "incredible." – Click to Watch Avalon & Ruben's Duet VIDEO
Caleb Johnson & James VIII – Gimme Shelter by the Rolling Stones – Caleb wants to take the audience to the church of Rock n Roll! There's gonna be some guitar playing, along with the singing. HI ALLISON IRAHETA singing backups. These voice aren't well matched. Caleb's voice is piercing and fierce, where James has a laid back blues vibe going. When Caleb sang this with Jena Irene on Idol, they raised each other's games, creating a rock tour de force. Caleb dominates the performance, completely, although James guitar playing is terrific and a welcome addition. . Harry is glad he had a guitar. Yeah. That's pretty much sums up the performance. If it were "Guitar Idol" he'd have it made. Harry compares the match to himself getting on stage with Journey's  powerhouse singer, Steve Perry. Keith agrees with Harry, but he likes James' performance style. Jlo noticed the two had some chemistry together. – Click to Watch Caleb & James VIII's Duet VIDEO
Jeneve Mitchell & Scotty McCreery –  Gone by Montgomery Gentry – Jeneve is really happy to be paired with Scotty. Aw she's blushing! This isn't quite the right song for Jeneve, but she's a hoot, giving the country standard everything she's got. She's a pretty fearless performer. The mugging though. Calm down Jeneve! Keith called it bizarre. "I have no idea why you got saddled with that song….I'm going to forget that song happened." Harry and Jlo both agree but feel she's a unique talent with an incredible voice. That performance was crazy and grew more insane by the second–which is why I kind of liked it. If VFTW were still around, Jeneve would be their poster girl. – Click to Watch Jeneve & Scotty's Duet VIDEO
Jordan Sasser & Fantasia – I Believe by Fantasia – Jordan calls the moment she won, and sang this song, an important moment in his life. Fantasia helps him with stage presence, telling him to keep his eyes focused on her and the audience during the performance. Well he does keep her eyes on her. But she's singing rings around him. I mean IT'S FREAKING FANTASIA. And this song is about 1000x too big for him, but he seems to think he's Aretha Franklin, reaching for notes that aren't even remotely in his range. In Jordan's defense, he was set up to fail, but oversinging didn't help. Jlo gushes over Fantasia. Who wouldn't? She's one of Idol's greatest. "You held your own" she says to Jordan. LIAR LIAR PANTS ON FIRE.  Harry chastises him for trying to upstage her at one point. Try is the operative word here. Keith feels Jordan was trying to hard to match Fantasia. He needed to rein it in and be himself.  – Click to Watch Jordan & Fantasia's Duet VIDEO
The results are next!  Ryan says the judges had "hard work to do over the break." Oh right. As if these decisions weren't made days ago. Sheesh. The news is delivered quickly, with each of the judges advancing delivering the good news to a contestant. La'Porsha, Sonika, Avalon, Gianna, Thomas, MacKenzie and in the last moments, Jeneve. The Idol journey is over for the remaining five –  Click to Watch the Judges Advance 7 Contestants VIDEO
I would have swapped out Jenna or Stephany for Gianna. Both out sang and performed her last night and tonight. I get the rest. Poor James VIII was never meant to be more than cannon fodder. Emily demonstrated that she still wasn't ready for the competition. Jordan literally blew apart this week. He wasn't all that impressive in Hollywood either.  But this thing production has with Gianna. Hanging on to her has got to be about the drama her semi-famous mother brings. Or maybe Gianna be eliminated before the Top 10. We'll see.
Advancing to the Top 14:
La'Porsha Renae
Sonika Vaid 
Avalon Young
Gianna Isabella
Thomas Stringfellow
MacKenzie Bourg
Jeneve Rose Mitchell
Eliminated:
Emily Brooke
Jenna Renae
James VIII
Jordan Sasser
Stephany Negrete