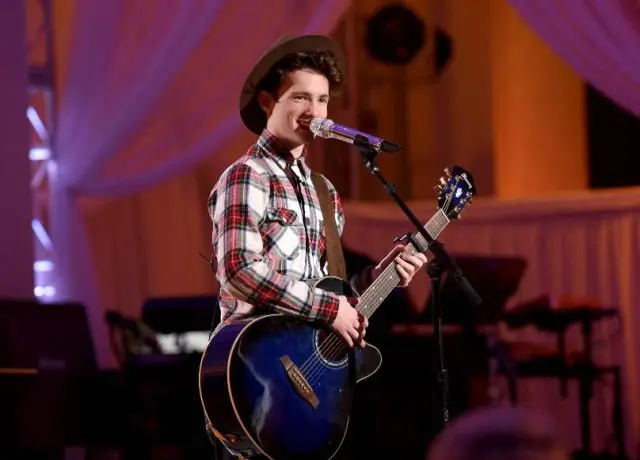 American Idol 2016 Recap Semifinals 1
The semifinal round begins tonight with 12 of the Top 24 singing for the judges votes. THAT'S RIGHT. The judges–Keith Urban, Jennifer Lopez and Harry Connick Jr.–will decide which of the SEVEN contestants will advance to the Top 24 *grumble*
The first set of 12 are: MacKenzie Bourg, Emily Brooke, Gianna Isabella, James VIII, Jeneve Rose Mitchell, Stephany Negrete, Jenna Renae, La'Porsha Renae, Jordan Sasser, Thomas Stringfellow, Sonika Vaid and Avalon Young.
We'll be live blogging all of the performances right here! It will be a quick hour. The rest of the Top 12 perform next week.
The show opens with host Ryan Seacrest lecturing the Top 24 as if they were a football team about to take the field. "Who's ready to make history?" he asks them after reminding them only one would be left standing on the stage. "You know the drill…this is American Idol.
Cut to the venue. The Viviana. Ryan is dressed down in a black leather jacket. He explains how the next two week will work and introduced the "fan favorite" Idol who will appear to sing with the 12 Idols tomorrow.
Next, the judges discuss how they will evaluate the rounds. THE DUET ROUNDS WILL FIGURE INTO THE JUDGES EVALUATION.
Stefany Negrete – Mama Knows Best by Jessie J – She loves foreign languages Her goal is to learn four by the time she's 30. This is Stefany's best performance to date. Vocally, she's strong, and she looks really hot. She's got some performance skills. Keith liked the song choice. He thought she could have loosened up even more. Jlo calls her the "full package," but she needs to be more connected. Harry agrees. He felt something was missing, but still a strong performance. –  Click to Watch Stefany Negrete VIDEO
MacKenzie Bourg – Say Something by A Great Big World –  I'm feeling about McKenzie tonight the way I did after his initial audition. That performance felt a little dull and karaoke. The judges love it, though. Jlo thought it felt really natural. Harry liked the way he changed the melody, but kept the integrity. Keith believed every bit of it. Good song choice, he says. Click to Watch MacKenzie Bourg VIDEO
Jeneve Rose Mitchell – Angel by Sarah McLachlan – She plays a slew of instruments, she tells us. She breaks out the harp tonight. Not a mouth harp. A full sized full on harp. Wow. She knows how to weild those gimmicks. And what I mean, she whips out crazy stuff and it feels natural. Her youthful, innocent angst is working well with this tune. Good song pick. Harry didn't like the harp. Keith calls her the real deal and loved that she took a risk. Jlo admits that initially, she wasn't sure about Jeneve's talent, but now she's fully on board. GOOOOSIEES Jlo says. – Click to Watch Jeneve Rose Mitchell VIDEO
Jenna Renae – My Church by Maren Morris – Keith freaks out immediately over the song choice. Jenna's got a thick, pleasing tone. She goes kinda gospel tonight, growling her way joyfully through the performance. She's good at working the stage. She looks so happy up there. I'm buying this. Keith liked the song choice, but wanted different sides from her. Jlo felt she was in her element. Harry liked the energy and enthusiasm, but felt it was a little shouty and pitch-impaired. – Click to Watch Jenna Renae VIDEO
James VIII – Love Lockdown by Kanye West – He was a boy scout. He traded sticking with scouts for a new guitar. Like Stephany, this is the best I've heard James so far in the competition. He's a bluesy guy. He's probably not very versatile, but here–great song choice for him. Plus, he's a good guitar player. It didn't grab Jlo. Harry thought it was "super easy." When will it get more complex? Keith cautions him on being indulgent? WHAT? The slamming of this performance was totally unwarranted. Poor James has been cannon fodder from day one, unfortunately. – Click to Watch James VIII VIDEO
Sonika Vaid – Safe and Sound by Taylor Swift – Sonika dressed in a long scarlet gown, is looking very fancy. This is a pretty vocal, but I wish she was working the stage more. The venue is swallowing her up. Her legs are rooted to the floor as if she's afraid to move. Between the ball gown and the arm gestures, it's like the talent portion of the Miss America pageant. There are a couple of pitchy things in there too. Hm. Not sure about this song choice. Harry thought it was a good job. Keith gushes, "Your voice is sooo good." Jlo loves Sonika, because she sings from her heart. Or something. – Click to Watch Sonika Vaid VIDEO
Could these critiques sound any more scripted?
Gianna Isabella – I Put a Spell on You by Annie Lennox – She loves to read horror stories. Gianna's upper register is kind of…thin. She always sounds out of her range when she goes for high notes. Having said that, she seems relaxed tonight up on stage. Keith felt moments were inconsistent, but thinks there's more to come. Jlo calls her voice "privledged." Harry compliments her on hitting big loud notes in the right places, but she needs to dig deeper (AGREED). – Click to Watch Gianna Isabella VIDEO
Emily Brooke – I am Invincible by Cassadee Pope – She shows off her autographed guitar. The lower notes are out of her range to the point they disappear. Oh sweetheart. I KNOW you love Cassadee, but this was not the right song. You don't have the big powerful voice or the range to pull it off.  Cassadee can barely handle it (It's not a well constructed song to begin with, to be honest.) Jlo felt it was the wrong song. Harry didn't feel it. She needs to sell the lyrics, he said. Keith likes that she's trying and exploring her artistry. That was a terrible performance at the wrong time. Emily just blew it.  But, the extremely negative judges comments makes me wonder if they are planning to ditch her in any case. – Click to Watch Emily Brooke VIDEO
Avalon Young – Love Yourself by Justin Bieber – No makeup and baggy clothes! She's not a typical girly-girl. In case you haven't figured it out by now. Avalon sits on the edge of the stage with her legs crossed, dressed down in a hoody and leggings. SHE'S OWNING IT. Girl's got charisma, a unique tone. A PILE OF SWAGGER. I'm officially on the Avalon train. Harry thought it was strong, but suggested she modulate the last verse. Keith says don't be afraid to work with the band. Jlo notes she she had the crowd in the palm of her hand, but warns her not to be self conscious. Didn't think she was self conscious at all. – Click to Watch Avalon Young VIDEO
Jordan Sasser – All By Myself by Celine Dion – He loves turtles. Jordan positions himself as a male diva with a big voice, but he doesn't have the chops to hit the big notes. There are bum notes are all over this performance and that upper register is not happening. Honestly, that was akin to a joke audition. He might have gotten away with the bad notes, if he'd connected to the lyrics, at least. He praises God as the song ends. Keith missed the heart. Too theatrical, he says. Harry thought it was too "show-offy." Jlo felt he needed to connect to the lyrics. She was concentrating on the flaws in his voice instead. – Click to Watch Jordan Sasser VIDEO
Thomas Stringfellow – Creep by Radiohead – He demonstrates his pig latin skills.  He's doing some odd things with the melody and his pronunciation of "Spayshul" is distracting. Also: QUIT YIPPING FOR GOD SAKE. Props for staying in tune, even on the odd notes. The last half of the song is heartfelt. Weird, but he hit an emotional sweet spot. Jlo felt he sang with emotion and he filled the room. Harry felt the performance was strong and CONNECTED. Keith finds the way he "leans into abandonment" compelling. – Click to Watch Thomas Stringfellow VIDEO
La'Porsha Renee – Proud Mary by Ike and Tina Turner – She LOVES film scores. I'm not thrilled she's pulled out the oversung "Proud Mary" but she kills it. Pretty much dead. La'Porsha is a force to be reckoned with. She's got a huge voice and big moves, but it's all so effortless. It never feels like she's trying too hard. Harry thinks she's either going to make the other competitors better, or want to quit. Keith feels she remains a portal for "the gift." Jlo "dreams" about voices like hers. She advises her to take all the influences she loves and make them La'Porsha. – Click to Watch La'Porsha Renae VIDEO