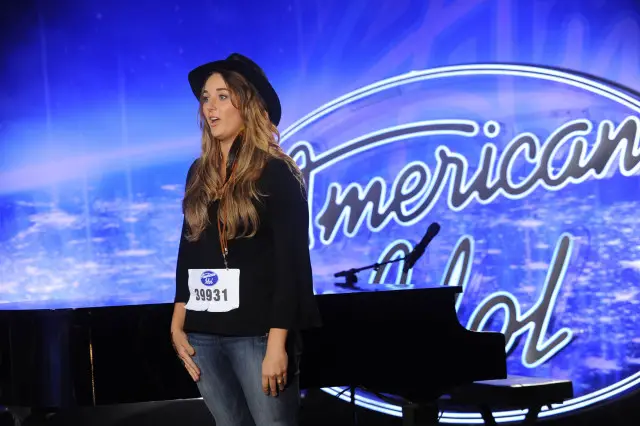 American Idol 2016 Auditions No 5 Recap
Tonight, the American Idol auditions head back to Philadelphia and San Francisco a variety of cities, including singers who auditioned at the busses, for an hour-long show. Here's hoping judges Keith Urban, Jennifer Lopez and Harry Connick Jr bring us more awesome talent. Join our live blog right here!
I like these video vingnettes that begin every audition show. They are beautifully and evocatively shot. Could do without the slo mo jlo though.
THE SEARCH FOR A SUPERSTAR BEGINS TONIGHT says host Ryan Seacrest, hearkening back to the first season.
Oh. we're doing BUS TOUR stuff tonight. Eleven cities! More contestants than we could count, says Ryan.
Philadelphia (Bus Audition)
Poh Scott – Fairytale by Sara Bareilles – Oh. Her sister was that crazy, but entertaining chick, Shi Scott from last season who didn't make it out of the Top 24. Poh is younger. They are close after a rather chaotic childhood. Poh is named after her "favorite teletubby." Shi is outside in the holding room crying. Would we expect anything less? Poh is a descent vocalist. Kind of screamy and raspy like big sis, but she might have more control over her instrument than Shi did. Harry gives Poh a lecture about referring to herself negatively. Indeed, the young sister downplayed her vocal ability in front of the judges, claiming to be more of a dancer. Maybe that's why Jlo liked her audition so much. Heh. Harry thought she was unselfconsciously refreshing. Keith liked the rasp in her voice. Poh rushes out of the audition room with her golden ticket. The sisters cry in each other's arms. The judges think Poh may have more confidence and swagger than Shi. Hope big sister's feelings aren't hurt when she watches that back! – 3 yesses – Click to Watch Poh's Audition VIDEO
It's another montage of American Idol alums! The usual. Let's watch Clay Aiken get into a totally contrived argument with a crazy auditioneer. He thinks he's Simon Cowell. Nope. Angling for a spot on a reality show Clay? The singer in question was a big black dude wearing a leather tutu. Cartwheels included. Good lord.
Amelia Eisenhauer – Many Rivers to Cross by Jimmy Cliff (singer references Annie Lennox) – Back home, she performs in her family band and has a dream to be in her 80s still rocking out on stage! The singer been playing fiddle for over 9 years. The instrument was really superfluous in this instance, she barely played it, but Amelia has a raspy, emotional and soulful delivery that's compelling. She had some issues shifting to her head voice (Agree with Harry, she was pitchy in spots) but I definitely want to hear more from this singer. Jlo likes her strong voice. Harry says her vocal has a mysterious quality. He notes some pitch problems. Keith compliments Amelia's "soulful potency." 3 yeses – Watch Amelia's Audition VIDEO
Oh. Tonight is a mixed bag of auditioners. This one is from Little Rock.
Joy Dove – Jambalaya by Hank Williams – She wants us all to know SHE'S JOY DOVE. For a minute, I thought she was a joke contestant. But she's not. She's soulful with a bit of Island and New Orleans flavor. PUT ME IN THE GAME COACH says Joy.  She's very energetic. Like, a dozen 5 hour energy shots energetic. Harry likes her energy and that she sings LOUD. Keith liked the song. 3 yeses. – Click to Watch Joy's Audition VIDEO
Back to Atlanta
Mackenzie Bourg – Judges Song Medley – We've seen Mackenzie in a preview. He sings a medley of songs by the judges, which is a cute gimmick. He reminds me of Kris Allen, but not nearly as dynamic. Mackenzie's voice is on the soft side. I could use a little more energy here, but he's a good arranger and musician. I'll reserve judgement until I see more. The songs are Stupid Boy" by Keith Urban, followed by Harry Connick Jr.'s "Come By Me" and "Love Don't Cost a Thing" by Jennifer Lopez. Oooh. This goes on longer than the preview. He ends with "Memories of Us" by Keith. He thought his "quiet thing" was interesting to watch. Jlo thought it was "pleasant." Keith joked that he liked the first song and the last song. But what were those two songs in the middle? Heh. Mackenzie auditioned for The Voice season 3. He sang "Pumped Up Kicks" to land on Team Cee Lo Green. He was eliminated in the Playoff round by public vote.  – 3 yeses – Click to Watch Mackenzie's Audition VIDEO
A montage of twins, friends, siblings auditioning together.  THE BRITTENUM TWINS OMG. I DON'T DO GROUPS FOREVER. Fun shots of Simon Cowell looking gleeful as he threatens to advance only one of a pretty blond pair.
Andrew and Aaron Birdwell – Some weird dirge – "We are nerds!" the brothers  declare, sporting long ponytails and tragic outfits. NO KIDDING. We saw this in preview too. They play D&D and engage in other embarrassing activity. They've been singing all their lives. One of the bros even went to art school. Speaking of old school. They old school Idol suck. The judges hide their faces, snicker and laugh. So old school. Keith calls the performance, which includes earsplitting harmonies, a "gregorian acid trip." These terrible auditions seem to exist almost as a homage. Too bad they couldn't surprise the bad singers with the original panel, who then went on to eviscerate them. Well. Paula would be nice. – NO – Click to Watch Andrew and Aaron's Audition VIDEO
Next, it's a montage of the judges having loads of fun while they judge. They compliment each other's artistry and impressive stardom. Let's get that plug in for Jlo's Las Vegas show! But we won't mention her other TV show on another network.
Jenna Renae – She Don't Love You by Eric Paslay – She has wanted to audition for American Idol since she watched Kelly Clarkson win. She doesn't say it, but first, she took a detour, auditioning for America's Got Talent season 10, where she was cut in Las Vegas. Here, Jenna sings a country song at the piano, with a warm, soulful delivery. Impressive. She's gained a ton of confidence, and artistry since her AGT days. Finally, she has my attention. Jennifer thinks she has the whole package. Keith notes influences other than country. Jenna explains her parents eclectic taste in music, including show tunes and more. Yes,  it's a country song, but in her hands, it had a definite pop flavor. Harry calls Jenna a "smart" performer – 3 yeses – Click to Watch Jenna's Audition VIDEO
Jenna's performance tonight made me forget she was that forgettable teen warbling elvis on AGT recently. She's grown a lot in only a year.
Mario Bonds – Inseparable by Natalie Cole – He's convinced music has "healing powers." He describes himself as a "sexy black boy." He lost his eyesight at 10 due to a degenerative disease.  He describes how he overcame his anger at losing his sight, and how his grandmother helped him lead a normal life. His backstory is more interesting than his singing, however. Yipes. This performance is all over the place. ETA: Mario was a contestant on the Glee Project 2. Eliminated in week 5, he wasn't impressive in that competition either. Somewhere Over The Rainbow (Skip to the end of the clip). Super-awkward performance that lead to Mario's elimination. Skip to 5:16. Jlo liked a lot of it but…  Oh. The judges are about to shut down the boy with the big backstory! Harry says he's a powerful presence, and he has talent, but he didn't hear what he needed. Keith loves his energy and light, but the performance didn't connect. Mario begs to do one more song. Nope. He cries right in front of them. Ouch. This is awkward. Mario tells himself over and over again that he blew it. Its sad to watch, but in no way was Mario's performance Hollywood-worthy 3 nos. – Click to Watch Mario's Audition VIDEO
After the audition, the judges sit and talk about how difficult it is to not be able to suggest that people return, considering it's Idol's last season. Sometimes they have to say no to nice, worthy people and it's hard.  I think Mario served the "SEE we can say no to someone even if they have an emotional backstory blah blah blah…" purpose. Actually, the judges have said yes to singers worse than that guy.
Ohhh. Montage of singers who were cut but triumphed in future seasons, such as Season 11's Colton Dixon, Candice Glover and Caleb Johnson (Finally acknowledging the season 12 and 13 winners, respectively. They have both been notably absent from the nostalgia promo) These second (and third and so on) chance Idols serve to introduce the last two singers, who were both controversial cuts last season.
Adam Lasher – Knockin on Heaven's Door by Bob Dylan- Adam is back with a new spiffy look and a new attitude! Gone is the headband, long hair and t shirt from last season. His hair is trimmed–the singer is clean shaven and dressed in a suit jacket. If you'll recall, Adam had played guitar with a broken finger when he auditioned for season 14. This time, hands healthy, he performs a samba-flavored version of Bob Dylan's "Knocking on Heaven's Door."  I think I liked his audition from last year more. But I get that he's offering something different to the judges they've yet to see. Adam could prove to be an interesting, versatile contestant. I have to admit, I was really surprised when he was cut in Hollywood last year. The Latin flair is fitting. You may also recall from last season, that Adam is Carlos Santana's nephew. The judges liked the arrangement and his new look. They give Adam another chance. 3 yeses – Click to Watch Adam's Audition VIDEO
Emily Brooke – Careless by Raelynn – Another returnee! Emily is the young country singer who was cut before the Top 24 last season. She was so good. Among Idol fans, there was disappointment all around when she was eliminated. She's 16 now, and ready for more. And she's still a terrific singer. The judges coo about her improvement. But honestly, she's as good as she ever was. I love the little catch in her voice. Her tone is beautiful. I'll bet she kills this live. Be afraid Raelynn. Very afraid. (For those who don't know, Raelynn was on The Voice 2, signed eventually by Idol mentor, Scott Borchetta) –  3 yeses – Click to Watch Emily's Audition VIDEO
As an aside, Emily seems like a perfect winner. Young, fresh. But then her song choice points exactly to the reason why Scott Borchetta may not want her to win. He's already got Raelynn. Nevermind that Emily can sing rings around her. He's still more or less got a young country singer in his stable.
A much much MUCH better hour of singing than last week's hour long episode. Nearly every single advanced to Hollywood had something strong to offer. My particular favorites out of a field of heavy hitters were Jenna Renae and  Amelia Eisenhauer.
After doing a little more research on each of the contestants, I realize Idol is not only bringing back a few eliminated contestants from other seasons, but they are mining the hell out of other competition reality shows, even more than in prior years. At some point, I'm going to make a list of season 15 contestants who have appeared elsewhere first. Tonight, FIVE of the NINE singers had appeared elsewhere (including idol) before.