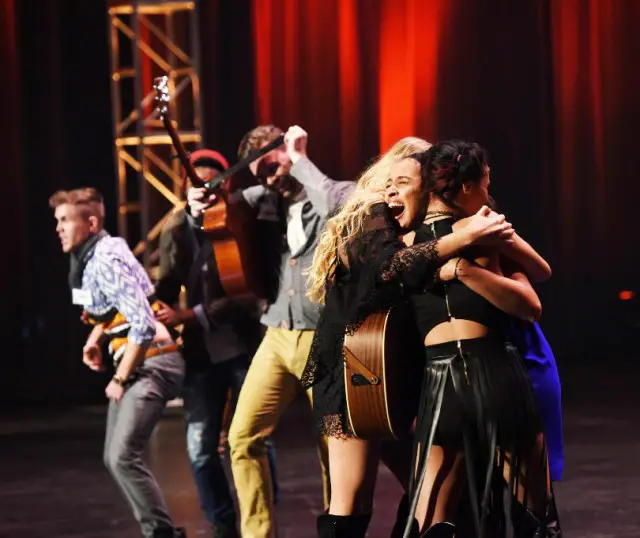 Check out a photo gallery from the first night of American Idol 15 Hollywood Week auditions.
The first hour, airing on Wednesday night, featured two days of singers–190 in all–performing in "Lines of 10" for the judges, Keith Urban, Jennifer Lopez and Harry Connick Jr. After the singers performed, the panel made their cuts from the line. Half the singers ended their Idol journey by the end of this first round. Brutal.
Click to read our full recap of the American Idol 15 Hollywood Rounds #1. Thursday (Jan 28), it's a two hour episode featuring the dramatic group rounds! It begins at 8/7c PM on FOX.
In the meantime, enjoy a photo gallery of pictures from the first episode, plus some additional fun BTS pics tweeted by the contestants.
Photo Gallery
The gangs all here for day 1 Hollywood week @AmericanIdol #HollywoodWeek pic.twitter.com/crQOnsTrs1

— Chandler Leighton (@chanleighton) January 28, 2016
backstage with La'Porsha before she crushed that @KatyPerry song…will send u link katy #hollywoodweek pic.twitter.com/UWk8v7J5cn

— Ryan Seacrest (@RyanSeacrest) January 28, 2016
season 5 vs season 15 #HollywoodWeek pic.twitter.com/bl9MWRlJ6N

— Ryan Seacrest (@RyanSeacrest) January 28, 2016
Selfie with @RyanSeacrest ?? maybe one day… any who tonight Starts… #HollywoodWeek #AmericanIdol #SmileSquad pic.twitter.com/NHQ9j650FS

— Stephany Negrete (@OGStephany) January 28, 2016
Watch out for these crazies tonight! #Squad #HollywoodWeek @AmericanIdol @JordanSasser333 @jon_klaasen @kelsiewatts pic.twitter.com/GGhQWhWFpW

— Jenna Renae (@JennaRenaeMusic) January 27, 2016
Sasser is ready, Leighton is ready, Lasher is hiding, I am ready. You ready?!? #HollywoodWeek starts tonight! pic.twitter.com/TjU7vddJqz

— kory wheeler (@thisiskory) January 27, 2016
We're so ready for Hollywood Week!! #americanidol #IdolAuditions #lovethem #getready pic.twitter.com/ewhrOiDu9K

— Kelsie Watts (@kelsiewatts) January 27, 2016
Hollywood week selfie on top of a tour bus ! #hollywoodweek as you can see this was before… https://t.co/1NigcsWcOO pic.twitter.com/hcjTyhPHTh

— Jessica Cabral (@JessiiicaCabral) January 27, 2016
Bus trip to Santa Monica #HollywoodWeek . Recognize these Peeps?! @LaurenGamage @cameroningham @TrentWHarmon pic.twitter.com/P6qeyi7dl6

— Lauren Gamage (@LaurenGamage) January 26, 2016
RT if you're ready for #HollywoodWeek on @AmericanIdol @bourgmackenzie @LaurenGamage @TrentWHarmon @cameroningham pic.twitter.com/N7Bk9rL8aF

— Lauren Gamage (@LaurenGamage) January 26, 2016
Wait whaaaat #HollywoodWeek starts tomorrow?? Who's ready @hannahbrooke145 #AmericanIdol pic.twitter.com/L9wTHNiniV

— Sara Sturm (@SaraSturm) January 26, 2016
Hyped for #HollywoodWeek! ? Tune in Wed/Thurs on FOX! Honored getting to know these talented ladies…oh & Dalton. ? pic.twitter.com/LCNmQ1D7iV

— Jaci Butler (@jacibutler) January 26, 2016
We are ready for #HollywoodWeek Are you!? @IsaacColeMusic @tristanmcintosh @AmericanIdol #Idol pic.twitter.com/oDQpTgo1sg

— Amelia Eisenhauer (@AmeliaJE__) January 26, 2016
HYPE FOR HOLLYWOOD WEEK?! Um yes!!!! @americanidol #tristanites #americanidol #hollywoodweek STARTS WEDNESDAY!! pic.twitter.com/Az3kha8MUA

— Tristan McIntosh (@tristanmcintosh) January 25, 2016
90s gangsta rap album cover with @emilybrookestar @oliviaroxstar #IdolAuditions @AmericanIdol #AmericanIdol #josiahs pic.twitter.com/fDJyYN4g3c

— Josiah Siska (@JosiahSiska) January 25, 2016