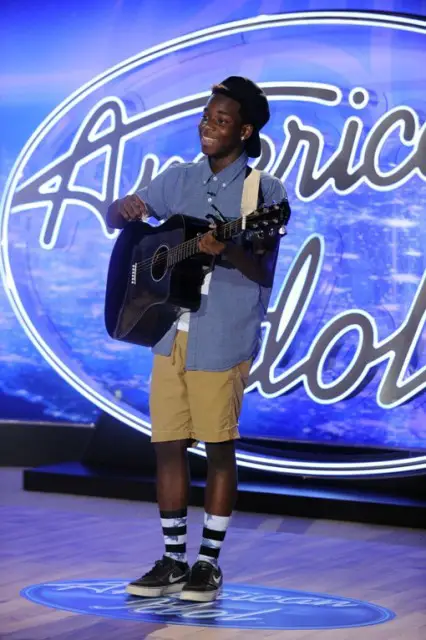 Lee Jean American Idol 2016 Season 15 Contestant
Lee Jean Jr.
is a 15-year-old singer from Bluffton, South Carolina, who is a self-taught vocalist and guitar player. Deciding he wanted to pursue music professionally when he was in middle school, Lee sometimes performs as part of a duo with best friend and fellow musician Hannah Lindsey Lane. Together, the two have put out a few covers on Youtube of songs from different artists like Damian Rice and Alicia Keys. On his own, Lee also manages his own Youtube account where he sometimes shares covers of current songs. According to his Facebook, Lee likes a very wide variety of artists, such as Demi Lovato, Taylor Swift, Chris Brown, Bob Marley, The Beatles, Michael Jackson, Drake and Bruno Mars.
Click to see the FULL LIST of American Idol 15 Top 24 Contestants!
American Idol 15 Top 24 Video Sneak Peek
In 2012, Lee's world was rocked by the death of DJ, who was an older brother in the family. Lee says that DJ was supportive of his career and believed that he would one day make it in the industry. Being so close, DJ's death had a strong effect on Lee, even to the point where he says it was like he lost a part of himself.
Over this past summer Lee auditioned for the farewell season of American Idol. Performing I See Fire, by Ed Sheeran for his audition, Jennifer Lopez said she thought Lee was talented, but Harry Connick Jr. cautioned him about singing in tune. Regardless, Lee received his ticket to Hollywood. According to The Idol Pad, Lee survived Hollywood Week and advanced to the showcase round where he performed Make It Rain, by Ed Sheeran. Giving a strong enough performance, Lee was then admitted into the top 24.
Instruments Lee Plays: Guitar, Piano
Links:
Overall Thoughts: Being one of the youngest singers this year, I can see Lee struggling against some of the more experienced contestants on the guys' side. What Lee has going for him right now though is his affable personality and his very current voice, which does give him a chance of advancing. Personally, my advice to Lee is to approach the next round of competition with the mindset of it being do or die. These next cuts are going to be brutal and Lee unfortunately isn't one of the contestants who I think will be able to get by on a safe performance. That said, this next performance of his has to be amazing. He needs to pick a song that will push him to the next level. There are some great songs out there that could give him a moment, I just hope he picks the right one.
Song Suggestions:
When I Was Your Man, by Bruno Mars
Love Yourself, by Justin Bieber
Landslide, by Fleetwood Mac
Lee Jean sang I See Fire at his Denver audition. Click to check out his FULL AUDITION
More American Idol Performances:
Showcase Round – Make it Rain by Ed Sheeran – Click to Watch VIDEO
Hollywood Round Last Solo – Click to Watch VIDEO
Semifinal Round – Runaway – Click to Watch VIDEO
Idol Star Duet Round with Chris Daughtry – Home – Click to Watch VIDEO