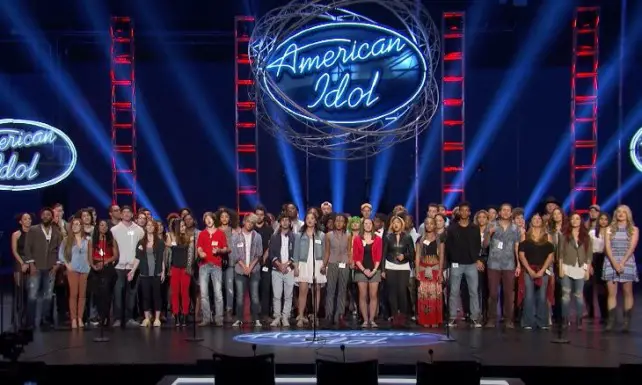 A few weeks ago, American Idol asked fans on twitter what Christmas song they'd like the Idols to sing, and the result of that informal little poll, is this video of the Season 15 Hollywood contestants performing a rousing rendition of "Joy to the World." Good choice, fans!
That large group of hopefuls were eventually whittled down, throughout the week-long round, to a Top 51. The remaining singers performed for the judges in the Showcase round a few weeks later. From that group, a Top 24 was chosen.  But at that point in the competition, before more cuts began, it was one big excited bunch of singers, wishing fans a happy holiday.
American Idol 15: Watch the Opening Sequence of the Farewell Season (VIDEO)
Watch an American Idol Farewell Season Video Documentary
American Idol 15 Preview: Michelle Marie, Alex Sasser, Josiah Siska
American Idol Farewell Season Promo Feat David Cook's Heartbeat (VIDEO)
Throwback: The Season 13 Hollywood hopefuls joined their voices to sing the perennial favorite, Jingle Bell Rock. Maybe due to Season 14 Hollywood happening that season in October, it was too early for the producers to wrap their head around holiday tunes!
The American Idol farewell season begins Wednesday, January 6, on FOX.
Hollywood Hopefuls sing Joy to The World
More Holiday Greetings from Judges Keith Urban, Jennifer Lopez, Harry Connick Jr.