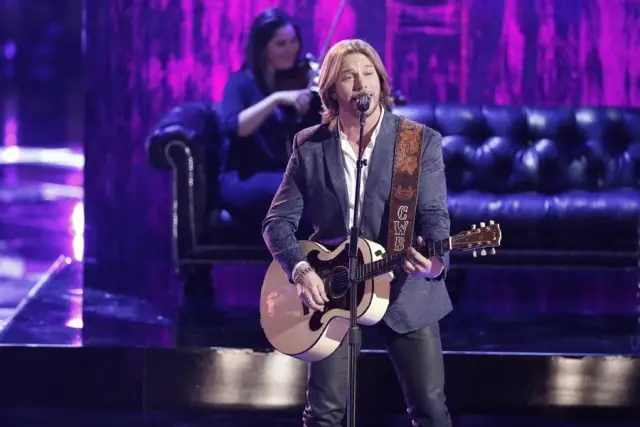 As part of a wide-ranging article on major record labels, particularly in the country realm, The Voice season 7 champ, Craig Wayne Boyd, shared his experiences with Rowdy.com on signing with Dot Records after his win, only to part ways months later. Craig said the split by a "mutual agreement" and that his attorney "was able to help me out tremendously on that."
Craig feels that maybe because he signed with Universal Republic in Los Angeles first and was then "tossed to Nashville because of contracts" there might have been miscommunication between the two labels. "The ball was dropped," he said.
Before competing on The Voice, as a member of Team Blake Shelton, Craig had been knocking around Nashville for years. He signed a publishing deal with EMI shortly after arriving in Nashville in 2000, and spent the next 10 years working toward his big break. For a time, he was signed to an indie that had a major label distribution deal, but as his first single was climbing the charts, the company lost its funding and he was back at square one. A year later, The Voice opportunity came along.
The years he spent previously in the music business taught him a lot. For instance, Craig managed to retain ownership of the album he recorded via the Big Machine Records/Dot deal. "That album is not out yet," said Craig, "because we are in the process of working with another label to get that out."
"I do have the project done. I worked with a good friend of mine named Erin Pierce. He and I have, surprisingly, done music together back when we were kids and teenagers. We grew up playing music in church together." Acts Pierce has produced include Backstreet Boys, *NSYNC, Jordan McKnight, Beyonce, Celine Dion, Jennifer Lopez, Jill Scott, Lauren Alaina and Scotty McCreery.
Craig is working on getting the album released in 2016, with a single expected in late winter or early spring. "Once I knew things were going to go south with Dot Records, I held my cards close to my chest and wanted to finish the album and do it my way."
The singer shared his frustration over releasing high-charting singles during his time on The Voice that were never serviced properly to radio. "Even the single we put out from the show, 'My Baby's Got a Smile on Her Face,' debuted high. That was one of the things that bothered me a lot. The song debuted at #1 on the sales charts. The only other person to ever do that in country music was Garth Brooks, and he didn't do that until 2007. The single wasn't serviced to radio for almost three months. So, radio didn't even have a copy of it. It wasn't that radio wasn't playing it, it was that radio didn't even have it to play. My hands were tied because I couldn't service the song myself, because I was tied into the contract."
Craig has been shopping the album to labels, and is encouraged by the move country radio has taken recently away from bro/party music. "I have been to quite a few different places, and right now, the market has been leaning to the style of country that I do. Even with the fan base behind you, when they have an idea of what they want to put out, it makes it challenging. I don't think it's not something that's possible. Most recently, with Chris Stapleton taking the country music world by storm with his CMA Awards performance with Justin Timberlake, many doors have been opened for me."
He continued, "It's nice to have a few options right now. I haven't made the final decision on what direction I want to go. I'm a big believer that the majors know how to do it. They have that connection with radio and the ability to take you to that next level. I'm definitely not anti-major label. Personally, they are searching just like the rest of us."
"As far as the music," Craig said, "you have to be true to yourself. It may be a longer and harder road, which I'm a great testament of that, but every night I walk up onstage and perform, I feel happy and excited. It's brand new for me every night. I believe in the music I'm playing and singing."
Craig is currently out on the road, playing music for his fans. Check out his non-stop tour schedule HERE. The singer is set to play the Grand Ole Opry on December 25 and 26.
Read more from Craig, and other country music artists sharing their experiences with major labels at Rowdy.com.